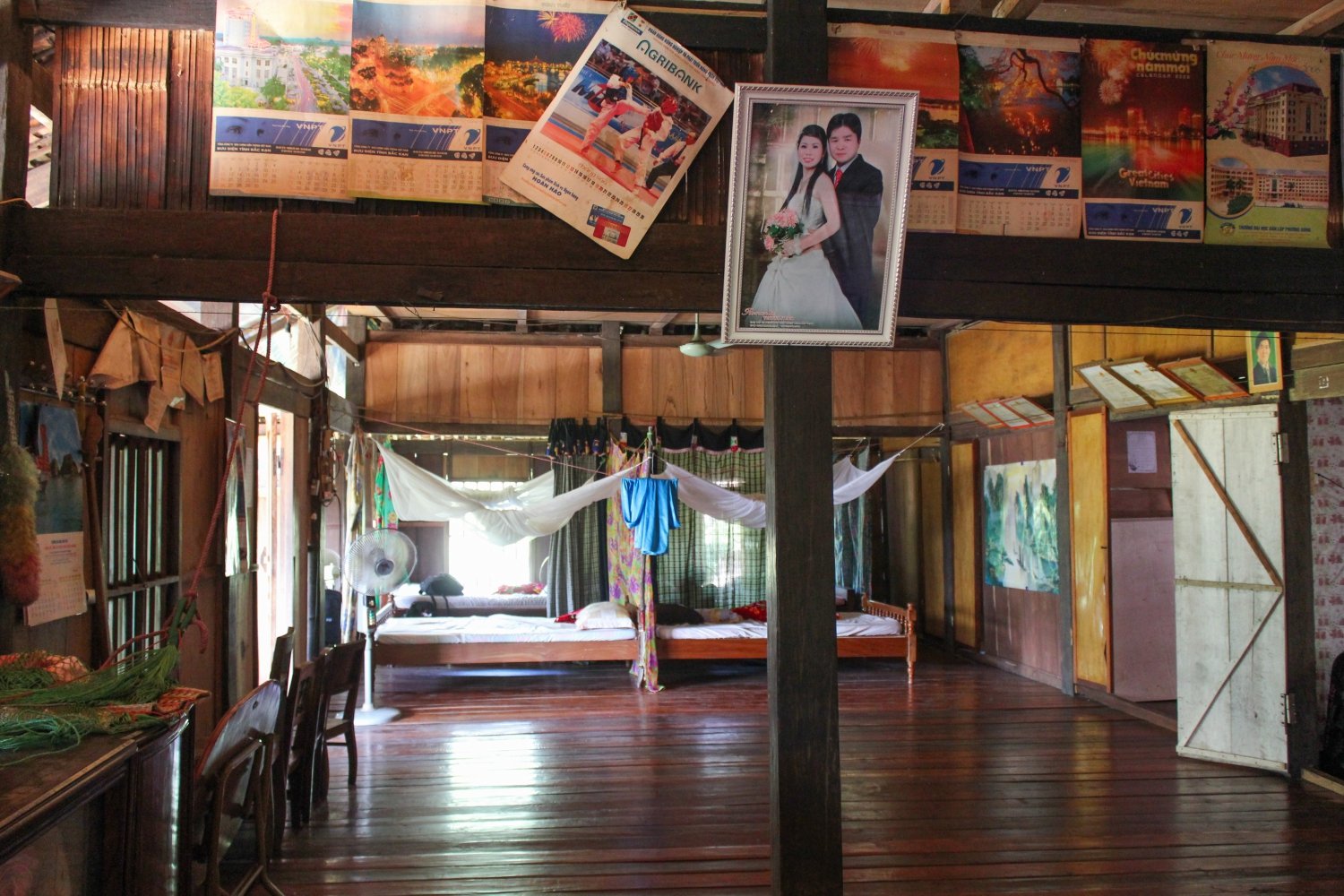 Vietnam Accommodation: Staying in a Homestay
Family Fun
Vietnam Accommodation: Staying in a Homestay
Accommodation can often make or break a travel experience. Finding the right place to stay and the right type of accommodation to stay in can help to guide an entire experience in the right direction. While we aren't going to touch on the black hole that is accommodation choice throughout Vietnam… we will touch on one of the most popular forms of accommodation, something that is popping up more and more throughout the country



The Homestay Experience in Vietnam

There's no mystery to the term, it explains its nature within its name. A homestay is quite literally a converted house that has been opened (and government approved) for lodging foreign guests. Rooms may range from quaint single-bed quarters to lavish, multi-room suites with balconies, kitchens, private living areas, and more. Generally there is a meal included (usually breakfast), a common area to relax in, and much more interaction between owners and guests than there would be in a traditional hotel. Additionally, homestays are often located a bit off the beaten path, providing guests a much more authentic and intimate experience.



Why Choose to Stay in a Homestay?

While there are many reasons people choose to stay in homestays, there are a few key elements. The main reason people choose to stay in a homestay is generally for the experience. Homestays provide unique insights into everyday life in Vietnam, from morning rituals and daytime routines to the quiet hours of the early evening when most people get back from work. Staying in a homestay not only puts local life on display, but it immerses the visitor in that life, providing a rich, rewarding (interactive) experience. Participating in daily activities, engaging in conversations about life in Vietnam, making new friends, and opening oneself up to new experiences and foreign cultures… it's all part of the homestay encounter.



People also choose to stay in homestays for the location. While big name resorts and hotels line the more popular areas of town, homestays are generally located, well, near local homes! Instead of staying within the busy tourist districts of a destination, homestays put guests in the heart of villages, down tiny lanes, amidst farm lands and rice paddies, or far off the beaten path. The homestay experience opens up an entirely new view on a destination, one that enables visitors to see beyond the "must-sees" and "must-dos" that always find themselves on travel checklists. In fact, some of the most unique and memorable experiences one can have in a destination (particularly in Vietnam) is far from these touristic areas, in places that most visitors never see. So for the savvy traveller that's looking to get a bit more local, this may be the perfect accommodation choice for you!

As with all accommodation, another main reason for choosing homestays is for the cost. Unless the homestay is offering some exceptionally lavish interiors, the price is generally equal or less than that of a mainstream, mid-market hotel. Homestays generally provide a modest form of accommodation, with fewer amenities and on-site facilities than big name hotels. While you may have to trade in the fitness center, lap pool, or sauna, you may find yourself indulging in more local homestay activities such as relaxing in a private backyard, spending time with the local family, or maybe even helping in the farm or garden!

The Different Experiences

The different experiences one can encounter while staying at a homestay vary about as much as the destinations do in Vietnam! Urban areas, coastal hubs, highland hideouts, jungle escapes, or mountain retreats… they all offer their own unique homestay experiences. While a homestay in the city may not seem like much, it can actually offer a very unique and different view on life in the concrete jungle. Vietnam is very much so a land of small communities; staying in a homestay within the city will open up the tiny lanes and hidden alleyways that you'd otherwise never dare to venture down for fear of the unknown. As opposed to staying in a standard city hotel, get a real feel for what life is like in the city with a homestay in Ho Chi Minh City or Hanoi!

Alternatively, homestays in more rural areas are perhaps the most popular. From the delta region and highlands to the dense tropics, homestays in these parts reveal a truly local way of living that get tourists far off the beaten path, revealing what life is really like in modern day Vietnam. For those looking for a more relaxing retreat, homestays along the coast are one of the best means of enjoying Vietnam's beaches. Locals have some of the best plots around when it comes to beachfront property, so look for a beach homestay and you may have a secluded path that leads from your backdoor all the way down to the ocean… at a quarter of the beach resort prices! A great way to get yourself a beautiful beach retreat for an extended period of time without breaking the bank!

Finally, one of the most unique homestay experiences is found in the far north of the country. In the mountainous area known as Sapa, visitors from all over the world find themselves sharing a roof with the country's colourful ethnic groups, who have arranged their modest homes to sleep guests. What is it like to share a house with the hill tribe people? Amazing! Simple but comfortable accommodation, mosquito netting, fans, local entertainment (maybe a taste of the local rice wine?), delicious home cooked meals, and so much more. Get to know the colourful hill tribes of Vietnam up close and personal with an overnight stay that you will never forget! Additionally, when you're staying with a local hill tribe, chances are they know the best trekking routes… which is an added bonus!

Hotel vs. Homestay

Not sure which accommodation you'd like to choose? While many homestays south of Sapa offer all the amenities of a proper hotel, if you're a traveler that simply must have the creature comforts of a hotel… it may be best to book only one or two nights in a homestay. The experience is fantastic, but it can be "full on" and a bit much to handle for those who aren't used to being entirely immersed in another's culture. For the travellers who love a challenge and don't mind total immersion- go for as many homestays as possible… each homestay offers an entirely different experience! As for Sapa, it's recommended for all visitors to try at least one night in a local homestay with the ethnic hill tribes… it will be unlike any other experience you may ever have!!
Author:
Daniel Robbins
Photos:
pinata2501, Gunther Van Assche, Jaime Kurtz, Adam Lane, miss shaw