The ancient of village Hoi An
Adventure
A centuries old picturesque beach town with a relaxing atmosphere and many cultural sites to visit.
Our Top Experiences and Tours in Vietnam:
If youʻre booking your trip to Vietnam last minute, we have you covered. Below are some of the top tours and experiences!

Only an hour flight from Ho Chi Minh City you will find this picturesque, small town that has a long history of being a trade harbor in the 17th and 18th century. Its old center is well preserved and welcomes tourists from all over the world to have a look at old ancient structures that still remain and are part of an acknowledged UNESCO World Heritage site since 1999.

To get to Hoi An you can take a flight to Danang which takes one hour. For the more adventurous traveler there are different trains leaving from Ho Chi Minh City and Hanoi that will bring you to Danang in around seventeen hours. From the center of Danang it's around thirty minutes to Hoi An by car and this taxi ride will set you back around 400.000 VND (18 USD).

A little outside the town you will find luxury beach resorts which provide all the amenities you can imagine to indulge yourself in a relaxing getaway from the busy street life. Closer to the ancient center and along the riverside there are many hotels and hostels and this wide variety of accommodation ranges in price from 8 USD to 600 USD a night.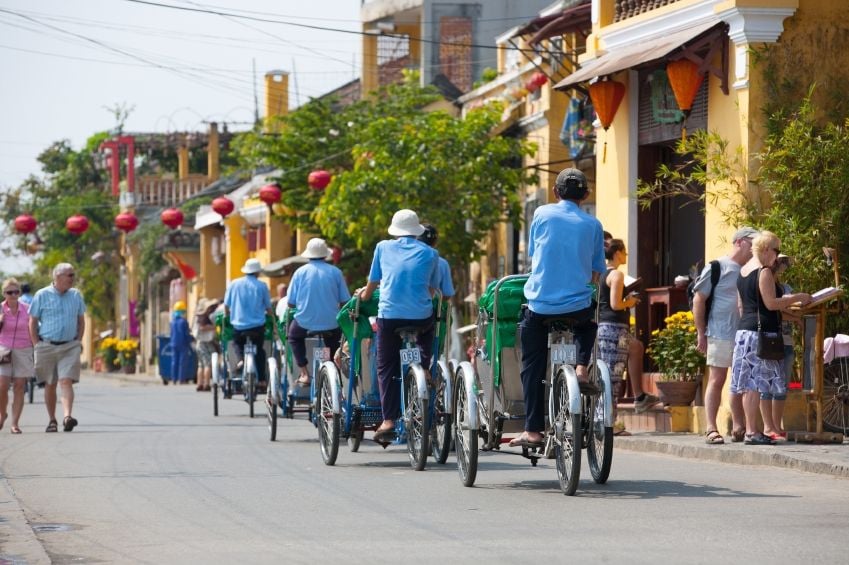 Through its history the town of Hoi An has welcomed lots of traders from Japan and China as well as the French, which left their mark on the city, obviously seen in the architecture. Due to this fact, the center therefore has wooden Chinese shop houses and temples, Vietnamese tube houses and French Colonial buildings. One of the sites that most tourists will visit is the Japanese covered bridge with its accompanying pagoda.
To enter the ancient part of the town you have to buy a ticket for 120.000 VND (5,50 USD) which will grant you entry for 5 days. This ticket includes 5 coupons that are torn off each time you visit certain pagodas or sites. This fee is used to preserve and maintain the ancient buildings of their natural beauty.
Aside from the ancient center Hoi An is also famous for its paper lanterns and custom made tailoring. By evening the center is beautifully lit with lanterns all over the town, which gives you sense of peaceful atmosphere, plenty of opportunities for picture perfect moments, and countless options for buying gifts or collecting souvenirs. This peaceful atmosphere is partially due to the fact that the center is almost completely motorbike free - they are not allowed to enter inside the perimeters of the ancient center - except for some locals on predetermined times.
On every 14th day of the Vietnamese Lunar Calendar there is a lantern festival that is worth a visit. Candle lights and multi-colored lanterns are the main source of light during this festival during which the locals honor their ancestors, monks hold ceremonies at temples and fishermen will honor the goddess of the sea 'Lady Thien Hau'.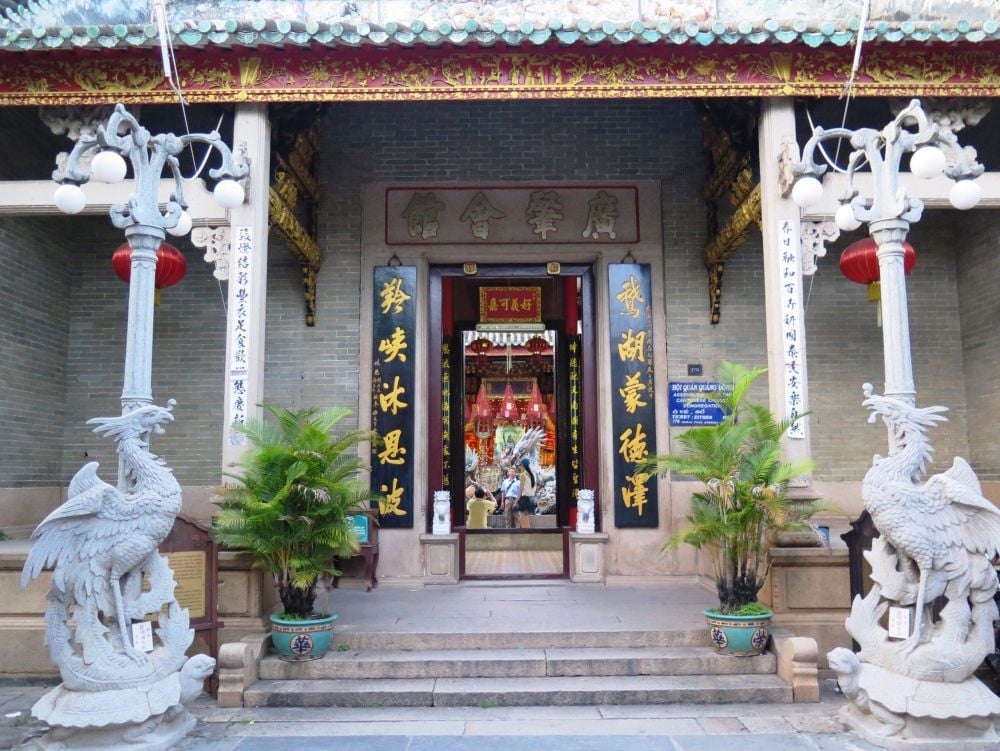 When you are looking to for a custom made suit or dress then Hoi An is the place to be as the tailors here are one of the best in the country as it has been a part of their lifestyle for centuries, tailoring a bespoke suit or dress therefore only takes a few days. After you make your choice about the type of fabric and design, the tailor will take your measurements and start working on your custom made masterpiece.
Some other activities that are worth doing while being around are cooking tours, snorkeling/scuba diving, renting a bicycle and discovering the countryside, becoming a farmer for a day in Tra Que Village and visiting My Son Sanctuary.
The cooking tour will take you to Thuan Tinh island on the Thu Bon River, you are picked up at your hotel and guided to a 'wet market' where locals produce and buy their fresh ingredients. Once you are done you will be brought to the island by ferry and row boat, during this time you can relax and taste fresh fruit juices while being flanked by coconut palm trees. Upon arrival a Vietnamese chef will explain you how to cook 3 of Vietnam most famous dishes like Pho Bo (beef noodle soup), Banh xeo (vietnamese pancake) and Nem Cuon (spring rolls).
For the snorkeling and scuba diving enthusiasts there are trips available to Cu Lao Cham island, around 45 kilometers from the shore you will find this tropical island with a white sanded beach where you can relax and enjoy nature and silence. A boat will take you to the best places for snorkeling and scuba diving to explore the beauty of the underwater world, the best time for this activity is from April to October as the water at this time is warm, calm and clear.
A good way to explore the surroundings of Hoi An is by bicycle, most hotels offer free bicycles for their visitors and if this is not the case you can rent one for only 2-3 USD per day. Take a nice ride along rice fields, fishing villages, rivers and the beach to get a complete view of the beauty of the landscape and local way of living.
Ever wonder what it's like to be a local farmer? Then the one-day tour to Tra Que village is something for you. A tour guide will take you by bicycle to the close by village of Tra Que where local farmers will gear you up the traditional way and give you instructions in how to do your job, once finished you will get a foot massage to relieve you from tension.
About an hour away from the center of Hoi An you will find My Son Sanctuary which was the capital of the Cham Kingdom between the 3rd and 14th century. This UNESCO world heritage site will give you some insights in this ancient culture and civilization of the Champas which made an impact on the political and cultural history of South-East Asia.
When visiting Vietnam, Hoi An is a place that you must visit as it has many different things to offer from ancient temples and pagodas, traditional culture and food to the beautiful nature, snorkeling and pristine beaches.