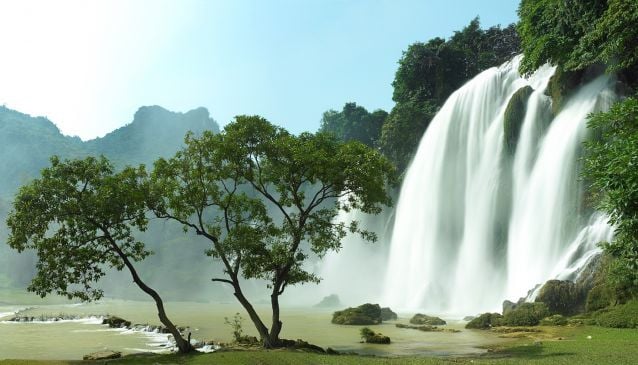 The Far North Vietnam
Adventure
Top 5 ways to immerse yourself in the fascinating Far North...
The far north of Vietnam holds a very special position in many travelers' hearts for its magnificent wild allure. The region boasts a transcendent beauty with dazzling rice terrace fields, jagged mountains and the beautiful ethnic minority hill tribes.
Coming to this destination in autumn with its golden rice fields or in spring with the forest flowers in full blossom, allows you to enjoy the land at its very best. Depending on your time and taste, it might take from one to two weeks for you to get the most out of your trip. Whether you choose to go with a group tour or explore the place yourself, make sure you have an experienced guide with you, so you don't miss out on the many attractions that await you in the rugged far north. Soon enough, you'll fall in love with this place where time seems to stand still and heaven meets earth.
Now let's explore the top 5 ways to discover the far north so it can touch the deepest parts in you.
1. Get well-prepared and properly-equipped:
You'll be away from everyday modern conveniences for a while, so it's sensible to make sure that you are in good health and fully prepared. Fresh air, wild veggies and the natural landscape will surely boost your emotional and physical state during your trip, but make sure that you have comfortable and warm clothes, and good shoes to walk and hike in. Supplements of vitamins, minerals and anti-allergy pills could be handy to carry with you along the way. Before conducting the trip, try your best to sit down with an experienced tour guide/driver and carefully plan. A well-planned route map at the beginning of your journey makes a huge difference in experiencing this vast region. What's next? Get excited and bon voyage!
2. Discover the most spectacular scenery in Vietnam. The region's natural landscape is wild, thrilling and surreal. At times it can be just magnificent!
Conquer the four greatest mountain passes: Ma Pi Leng, Pha Din, Khau Pha and O Quy Ho. These four great passes are famous for their imposing landscape and mind-blowing beauty.
Ma Pi Leng - means "horse nose" in Mandarin. It is a 20 kilometer pass connecting Dong Van and Meo Vac (Ha Giang). Its peak, looking down to Nho Que River, offers one of the most magnificent views in Vietnam.
Quy Ho – the name originated from a sad love story – is also often called Hoang Lien pass or "Cloud pass" as clouds fill the peak all year around. With a 50-kilometer length, this pass is considered to be the king of all passes. It is said that it is here where heaven meets the earth.
Speaking of heaven and earth, Pha Din means Heaven and Earth in the Thai language. This pass is splendid with its minority ethnic hill tribe villages at its feet, and wispy clouds in the middle. When you come to the top, all you can see is endless mountain peaks and the skies.
Khau Pha means Sky Horn in the Thai is one of the most stiff peaks in Vietnam. Many Thai minorities live in this region of the far north and it is from them that many of the mountain peak names have been adopted. The pass is located in an area with magnificent scenes in the Far North such as Mu Cang Chai (rice field terrace) and the beautiful Tu Le (a river between the mountains)
Terrace rice fields: one of the most splendid sceneries in the Far North is its terrace rice fields. No words can describe the breathtaking beauty of golden rice paddles mixed in lush green mountains in September. The areas for the terrace rice fields are Mu Cang Chai (Yen Bai province) and Hoang Su Phi (Ha Giang province) two of the most gorgeous areas that you just can't miss. If you are short on time, Sapa (Lao Cai province), which is ranked among the top rice terrace fields in the world, is the most convenient to visit.
3. Go to a hill tribe minority market. Going to an ethnic hill tribe market is always a fascinating experience. The market is often held on weekends or follows a special local calendar. Unlike in other regions of the country, the markets here are not only for trading but also serve as special occasion for the villagers to get together and have fun. You will have a feast for your senses in the crowd of colorful and beautiful dresses from various hill tribes such as Nung, Dao, H'Mong, Lo Lo and te La Chi hill tribe. Among the most popular and largest, you should definitely come to Bac Ha, Lung Phin and Dong Van markets. Bac Ha is famous trading horses, and is the largest market of its kind. When you are in Lung Phin, try to see if you can find Shan Tuyet tea, it's one of the finest teas in the country.
Ba Be Lake: As the largest natural lake in Vietnam, Ba Be is a wondrous scene surrounded by marvelous sights of forests, valleys and caves. Here you will have a chance to immerse yourself in the local life. Try a nice homestay in a stilt house with a Tay minority family. It is an incredible experience to do boat trips, kayaking or trekking in the pure natural beauty of this land.
4. Enjoy the local specialty. Natural resources are not abundant here in this land. Many minority families still eat one kind of veggie with plain rice every single day for every meal for the whole year. Only during Tet - the traditional New Year - or on special occasions, can they eat meat (chicken or pork) to celebrate. It is heart breaking to witness. But in a way, the scarcity of resources has its own advantage. The locals just manage to find incredible ways to prepare their cuisine. Plus, the pure air and high latitude just add amazing taste to the food here. I've had some of the best pickled bamboo, egg omelets, steamed chicken and roasted pork in this area. So don't miss the local specialties when you are in this amazing land.
5. Lastly and the most important, be there! When you are there, be there. This region is magnificent even when you are on the road from one place to another. You'll be surrounded by breathtaking scenery throughout the whole trip. Leave everything else behind and get lost in this incredible land. Breathe the air and immerse yourself in its rugged natural beauty. Enjoy the place with all your senses. Embrace the region's spirit and scenery and your time in the Far North of Vietnam will truly be an extraordinary experience!