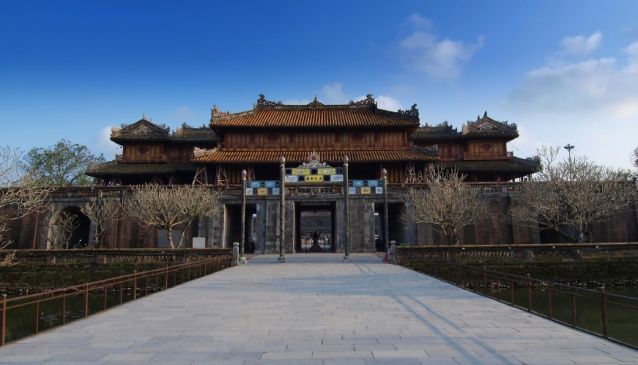 Things To Do in Hue
Adventure
Say to the mausoleums and temples, no to the tickets to enter samey tour destinations, if you have not! Instead, live and breathe like the locals, eat where they eat, and do what they do, in Hue.
Cyclo ride
Why not? Many tourists reflected that taking a cyclo ride is an indeed a bold move. However, in the end they uniformly enjoy being seated in the vehicle and towed away by a native. There, one can indulge themselves in gently crossing the tiny streets peppered with tamarind leaves snaking within the citadel of Hue. The next moment, one is transported to the road parallel to a dreamy river, or else, the garden houses of the old times
Rate: 70.000 VND per hour.
Boat Ride across the coastal lagoon
Heading toward the South of Hue City, we find ourselves in the largest mangrove of all SoutheastAsia: Tam Giang Lagoon, looking into the East Sea from which is separated by a thin piece of land. Tourists can take a service small boat to travel from Bao Vinh Old Quarters (once a bustling commercial port with the Chinese) and behold the alluring ancient houses to Te Island, adjacent Tam Giang Lagoon to fancy the local seafood specials, before a float in the glowing sunset on the Lagoon. On the way back, lie with your back down and cast your eyes upon the stars above in the city of Hue.
Foods
Hue experience is never complete if one's stomach is empty. Foods vary here, from rags to riches, from those served by two sides of the street to the ones exclusively served to the royals. One can find for themselves leapfrogging from a pavement vendor to a 30-year famed restaurant situated within an old house to enjoy a bowl of beef noodle, bánh khoái (a local variation of another local specialty: savoury fried pancake) and other leaf-wrapped goodnesses. Or else, just sit on the pavement and have yourselves glasses of colourful sweetsoup.
Beef noodle:
25.000 vnd for one bowl
Sweetsoup: 10.000 vnd for one glass
Honda ride
Many of my friends have been excited about actually riding a Honda for the first time. Took her an hour to circle Tu Hieu Pagoda, which in fact is situated, if you are not aware, in a small, uncrowded street. The next moment, she set out to visit the mausoleums right on the back of her new-found glory. I sincerely suggest you take some riding lessons before any trip!
Rental 120.000 vnd per day, gas not included.
Dong Ba Market
A place's cultural uniqueness is possibly most visible at its market. Dong Ba Market has its fair share of history with 200 years. There one can easily discover the handcrafted products unique to Hue, to stomach the finest of local offerings. Toward the back of Dong Ba Market, one can eye at rows of tropical fruits. Hesitate not, just drop in and buy some, either fruits, or the handcrafted ones as souvenirs!
A tip to follow: bargain at 2/3 of original prices.

Bach Ma National Forest

Only 50 km away, at the border of Hue and Da Nang is Bach Ma National Forest. Car ride is the only men to zigzag to the fog-filled mountaintop at 1400m above sea level. Half-way through, on one side, is an azalea forest. At the top lies a rolling waterfall. The climate is idealistic for rock climbing, or deep trekking for hear the wild birds sing, or to dip the feet into the cool water streaming beneath.

Group booking for a cab ride is 1.200.000 vnd. Or one can wait to share the trip at the foot of the mountain at 900.000 vnd/16 pax.

Pagodas
Buddhism and Hue are two inseparable entities. Hue is adorned with old pagodas that lasted 4 centuries, displaying magnificent architecture blending the royal features with the folkloric details. Located at the heart of nature, the pagodas of Hue always seem to capture the essence combining nature with the sacred self-editation. If not for religious purpose, visiting pagodas in Hue remains an engrossing journey. Pagodas to visit: Thien Mu Pagoda by the bank of Huong River, or Tu Hieu Pagoda, where eunuchs submitted their ancestral tablet.
Lang Co Beach
Bestowed with a 10-km coastal line across the wondrous contour between Hue and Da Nang, Lang Co Beach has the best that nature can offer: white sands, emerald sea color besides the greens of mountains. In short, the perfectcombination that is enlisted as one of the 30 most beautiful bays in the world by Club of the World's Best Bays. For relaxation, sunbathing or swimming in the sea, come to Lang Co!
Lang Co is 25km away from Da Nang City and 60km from Hue
Open-tour coach line to Lang Co from Hue is 70.000 vnd
Hotel fees from 300.000 to 700.000 vnd
Tea ceremonies right in Old Housings of Nguyen Dynasty
Wonderful isn't it gulping gently a cup of hot tea, or smoothies made up of local fruits at the House of the Last Queen of Nguyen Dynasty? Or embracing from afar the Royal palace from royal princes and princesses' classrooms? Or savoring tea and having your share of 5 color puddings at the former office of the dynasty's mandarins. Besides coffee served, one can also learn about the historic building, its architectural features as well as imageries belonging to a glorious era of the former Dynasty in the past.
The Last Queen's House: Nen Cu Café, 145 Phan Dinh Phung, Hue.
Mandarins' Former Office: 79 Nguyen Chi Dieu, Hue.
Nightlife
By the dream-like Huong River is pedestrian walkway where one can stroll along and find for themselves handcrafted items, spreading from the beautiful Le Loi Street to Pham Ngu Lao Street, where the bars and restaurantsare open 24/7. Grab yourselves a local beer, sit down and enjoy the nocturnal atmosphere of a former kingdom's glory, and converse with the locals to know bits and pieces about the city they call home.
Beer price: 30.000 vnd per bottle.