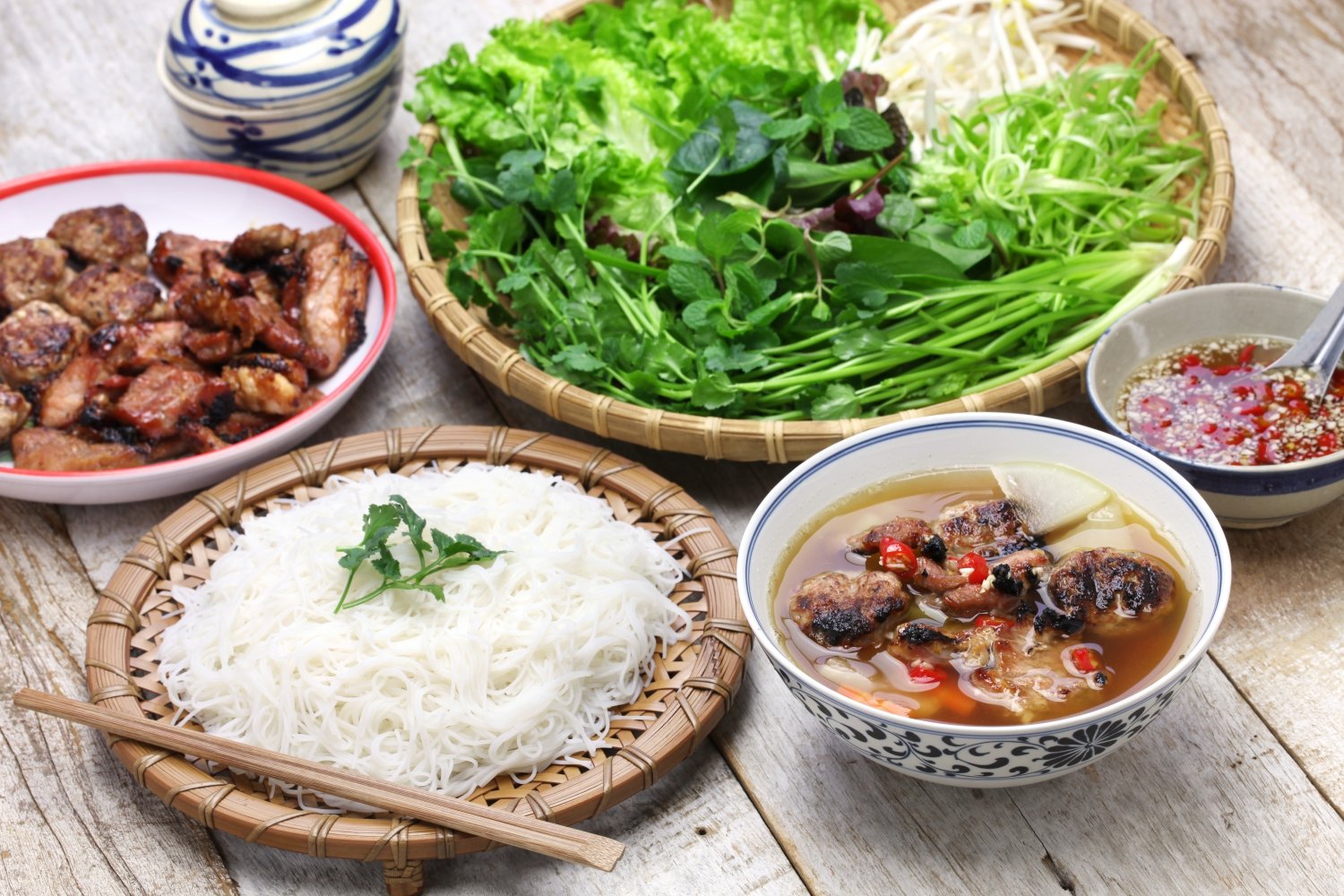 Street Food in Vietnam
Food & Drink
It's everywhere, at all times of the day, no matter where you travel to in the country. Crackling on a makeshift grill, roasting on the back of a motorbike, steaming in giant cauldrons, baking behind portable glass counters, or getting pummeled in a giant mortar and pestle. It's Street Food - and you can't escape its delicious lure.

There's nothing that quite compares to the thrill of encountering street food in Vietnam. Its scent wafting through the hot market air, its sweet, sour, and spicy flavors, its constant freshness, and, most importantly, its budget friendly prices that enable mass consumption at all times of the day. No doubt, hunting out and consuming street food in Vietnam is one of the most exciting and rewarding experiences of traveling the country. But is it safe to eat street food in Vietnam? Will I get sick? Where can I find the best stalls? All things that we will try to cover in this basic, introduction to street food in Vietnam.


Thy Hygiene Worry

One of the first things that foreigners worry about when it comes to consuming Vietnamese street food is getting sick. Is it possible you may get sick? Yes. Is it likely? Well, so long as you follow the basic street food guidelines, no. Before we get into the hygiene of street food in Vietnam, it's important to understand (and accept) the fact that many visitors to Vietnam get sick from the food not because the food itself is 'off', but because their bodies simply aren't used to eating such foreign items. Hot soups in the morning in 30 degrees centigrade, hot chillies finding their way into countless dishes, totally foreign herbs vegetables being consumed in mass quantities… be sure to give your body some time to adjust to the culinary changes. After a week or so in Vietnam, you should be able to overcome the 'hurdles' of foreign foods entering your body.

Once you are physically acclimated, then you can worry about hygiene. One of the biggest things to realize is all ingredients for street food come straight from the local market. (Spoiler: most food from restaurants does, too.) It only takes one walk through the local market to realize that meat is generally not refrigerated and vegetables sit out all day in the hot sun. When you're visiting a street food stall, be sure that everything is thoroughly cooked, and only try to frequent places that you see locals actually eating from. Though it seems slightly discriminatory, stay away from the vendors who sit streetside all day and don't get any local customers… this may be for a good reason. Also, if you're consuming something that's totally fresh (raw vegetables or herbs), do be sure that the produce is being washed with treated water before consumption. Contaminated water is a major cause of food-borne illness in both Vietnam and Southeast Asia in general. Generally anything that is being deep fried, steamed, or well cooked before your eyes should be OK to eat. Worries aside… dive in!


Breads, Dumplings, and Flour Foods

One of the staple street foods in Vietnam is the Banh Mi. A baguette sandwich, this delicious morsel clearly reflects the French roots of Vietnam. Fresh bread is delivered daily to vendors, who stuff the warm, flaky loafs with fresh and pickled vegetables, meats (generally pork), chili, Laughing Cow cheese (optional), and sometimes eggs (Banh Mi Op La.) A delicious and cheap option available all day.



Another amazing go-to is the Banh Bao. These white buns are generally filled with either minced pork and veggies or quail eggs, steamed to a soft, squishy, but delicious state. These are a great on-the-go snack that you can be certain are well cooked.

Another delicious (rice) flour-based treat is Banh Xeo. A savory rice pancake, these fried delicacies are usually filled with bean sprouts, pork or shrimp, and onions. Delicious on their own or rolled with mustard leaves or rice paper.

Rolling into the rolled treats are another fan-favorite: goi cuon or spring rolls. Fresh or fried, these rolled delights house fresh vegetables, meats, or shrimp, accompanied by a fish sauce and chili based dipping sauce that make for the ultimate snack or starter. If you're feeling healthy, go for the fresh option, a satisfyingly refreshing choice that tastes like it just came from the garden. In the north you can keep your eyes out for cha gio, the fried version that stuffs delicious minced pork into its golden wrapper.

Other flour-fried favorites are wontons (hoanh thanh), ga chien nuoc mam (chicken wings deep fried in fish sauce), or banh gio chao quay (fried breadsticks)- delicious with a hot bowl of pho. For the non-fried folks, keep your eyes out for banh cuon, a steamed rice cake that's tiny, but packs a delicious punch.

Rice & Noodle Dishes

Rice and noodle dishes are a staple in Vietnam, and, like anything else, are best eaten on a small plastic table, under an umbrella, on the side of the road. Master street-stall chefs craft crazy good batches of pho (the iconic Vietnamese noodle dish) in giant cauldrons on the street- best eaten for breakfast. For those who love pho, be sure to try its counterpart bun, a similar noodle-based soup. Riding the soup wave, another fantastic street dish is chao. A rice porridge dish, you can get everything from plain rice (bland, generally what babies eat) and chicken (chao ga) to succulent duck porridge (chao vit), absolutely brimming with flavor. A great selection for lunch or dinner.


Looking for rice at breakfast? One of the most popular breakfast foods for local Vietnamese is xoi. Translating to sticky rice, this glutinous treat is topped with everything from chicken floss, shrimp, Chinese sausage, and sweet corn (generally not all together) to shredded coconut, peanuts, and a heavy dose of sugar (generally together.)

One of the coolest rice-based street food meals is called Com Binh Dan. Also known as a 'workers meal', this meal is generally a complete stall experience with an array of dishes hiding behind protected glass. Walk up to the vendor (who automatically assumes you want a heaping plate of rice) and point out to whatever creations you want (or whatever is available that day.) From chicken leg and pork belly to fresh vegetable concoctions, tofu, fried fish, minced cakes, and more, this is one of the most filling street food choices. Excellent for lunch. If you're going big, make sure you tell the vendor how much you'd like to spend before you start picking out the selections.

Another popular lunch/dinner rice dish is Com Tam. Translating to broken rice, this filling selection generally includes a range of pork types topped with an egg, sitting on a bed of broken rice.

In Hanoi, one of the most famous street food dishes (also available in restaurants) is Bun Cha. A dish of steamed rice vermicelli accompanied by grilled pork, vegetables, and a sweet/spicy dipping sauce, this delicacy is a great lunch or dinner choice.


In Hoi An, three of the most famous dishes are Com Ga, Cao Lau, and Mi Quang. Com Ga is a rice-based dish that features rice cooked in the juices of boiling chicken. Topped with freshly chopped chicken (from the boiling pot) and garnished with onion, this simple but basic plate is just amazing. Cao Lau is a regional secret, using special noodles (crafted only in Hoi An), thin slices of pork, fresh herbs, bean sprouts, and super crispy croutons created from the same elements as the noodles. A must-try in Hoi An! The last dish, Mi Quang, is a specialty of the Quang Nam region, which features turmeric-yellow noodles, rice crackers, peanuts, fresh herbs, and a light broth, topped with either chicken, pork, shrimp, quail egg… or all of the above!

The Greens

Salads in Vietnam are called goi (or nom.) They come in a range of flavors and styles from sweet and sour to super spicy. Far from your standard 'Western' salad experience (which would then be sa lat), these fresh creations run from chicken salad, papaya salad and green mango salad to dried beef salad, prawn salad, pomelo salad, banana flower salad, and so much more. If you're looking for a refreshing, yet tastebud-tantalizing meal, always add a salad into the order. You won't regret it!!


The Grill

What's a street food experience without grilled delights? For a night out with friends, head to a ga nuong (grilled chicken) stall. Marinated chicken wings and feet in a sweet honey glaze, these delicious morsels are beautifully accompanied by a glass (or two) of iced, cold beer (yes, with ice.) Similarly, you can find stalls that specialize in grilling everything from duck (amazing) to all parts of a pig… you'll be able to distinguish what is what on the grill. On the more tame side, bananas have also been known to find their way on grills for a sweet snack while walking around town.

Hungry Yet?

Moral of this street food story, the Vietnamese are masters of streetside cuisine. No matter what time of day it is, there's something delicious waiting around every corner. Follow your nose, follow the crowds, and don't be afraid to pull up a tiny plastic chair to try it all. These are only a selection of the vast assortments available in Vietnam, so do your homework, venture out, and stay hungry!!


Author:
Daniel Robbins
Photo Credits: istockphoto.com