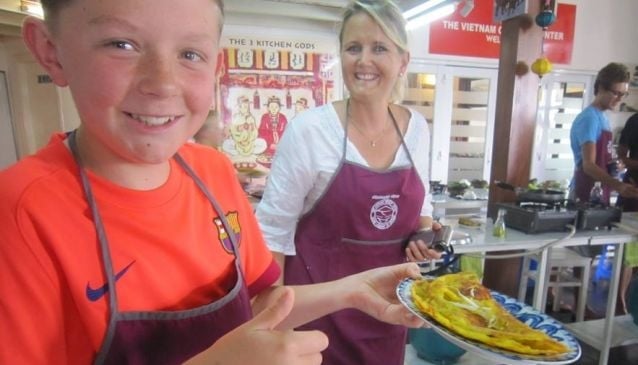 The flavors of Vietnam: Taking a cooking class
Food & Drink
Follow your belly, open your heart and enjoy traditional Vietnamese food
Many people wonder about Asia's culinary secret… what makes it so wonderfully delicious? If you're a traveler who believes eating is one of the best ways to learn about local cuisine, you should definitely sign up for a cooking course while travelling through Vietnam!

In regards to traditional Vietnamese cuisine, you may be surprised to learn of the unique balance between sour, sweet and salty, as well as the different flavors found in each region of the country. For those who've already fallen in love with
Vietnamese food
, there is nothing better than taking a cooking class to help bring the flavors back home. A cooking course is a really good opportunity for travelers to combine their passions of eating and exploring. You will not only be able to show your friends the photos, but also offer them some tasty dishes from authentic local recipes.
What better way to learn about authentic
Vietnamese gastronomy
than through a hands-on cooking class with the first cooking center in Vietnam? Vietnam Cookery Center is located in the heart of Sai Gon, offering a welcoming atmosphere that evokes true feelings of home. Start your day at Cho Ben Thanh (the local market) alongside your guide who will show you where the ingredients come from. You will be greeted by well-presented stalls which will show you the various herbs, local teas and coffees, different kinds of dried and fresh foods and so much more. Everything will be explained clearly by your enthusiastic guide with detailed and practical information. After exploring the market for around an hour, you will head back to the cooking school. Relaxing in the airy, comfortable space, you will be served lotus tea with ginger jam (being invited to tea & snacks is a local custom still practiced throughout Vietnam today).
On top of that that, you can learn about Legend of the Kitchen God and understand more about Vietnamese culture. The kitchen is a very important place in Vietnam; it not only brings everybody in the family together, but also instills warmth and happiness to everyone who enters!
The experienced chef will then teach you (step by step) how to cook traditional dishes such as beef noodles soup (Pho), spring roll (cha gio), broken rice with grilled pork (com tam suon), sweet and sour soup (canh chua), caramelized fish in clay pot (ca kho), Vietnamese pancakes (banh xeo) and so on.
During the cooking course, all of the ingredients and equipment will be prepared very well to give you the best chance to focus on learning the cooking techniques. Condiments are lined up and clearly labeled to ensure there will be no confusion. Putting on the apron, you will become a true chef and will be able to taste and season all of the dishes you've prepared following the chef's instructions. Then, the most amazing part, you can enjoy your home-cooked meals with all the other participants! After finishing the course, your efforts will be rewarded with a certificate of achievement and a small gift including a recipe book and reference materials on common ingredients in Vietnamese cuisine.

The standard class lasts around 4 hours, including the market visit. If you don't have enough time to spare, you can either join the standard course without the market visit or choose a custom course with shorter time. If you are a professional chef or connoisseur of the kitchen, you can create your own course based on personal skills and levels.
Taking a cooking class in a foreign country is the best way to bring your memories back home- way more than just reading a recipe book! Smelling the fragrances as the ingredients combine and cook together, your senses will be entirely stimulated. Give yourself a chance to enjoy traditional Vietnamese cooking with the freshest local ingredients; you will have a great time both learning and experiencing something new while travelling!