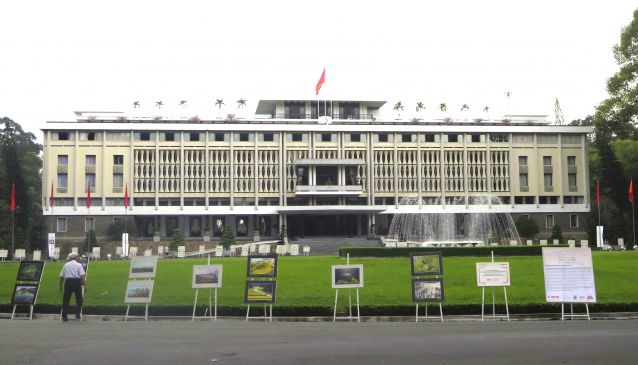 Top Ten Sights to See in Ho Chi Minh City
Adventure Arts & Culture
The Top 10 Must See Places in Saigon!
These iconic city sights are not to miss, including: The Reunification Palace, Notre Dame Cathedral and the old Central Post Office. The latter two are right next to each other, so they won't take much time to see, and then the palace is only a short walk away, which should be easy to navigate with a tourist city map.
The Reunification Palace is one of the most interesting of the iconic buildings in the city, as it holds a heavy history and atmosphere; a walk through its deserted rooms can provoke a slightly eerie mood. This is the building where, on the morning of April 30th, 1975, the first Communist tanks to arrive in Saigon crashed through the iron gates and General Minh dramatically took his reign.
The Notre Dame Cathedral was built between 1877 and 1883; the neo-Romanesque building's two spire-topped towers rise up 40 meters into the sky of the heart of Ho Chi Minh City. You can find English-speaking staff with tourist information here from 9am to 11am, or catch a local mass at 9:30am on Sundays.
The Central Post Office is right across from Notre Dame Cathedral, and it too is a period building, built around the same time by Gustave Eiffel- that's right, the one is Paris isn't the only building he ever built! This building still stands as a major post office for the city, and is a sight to see, with it's painted walls and barrel-vaulted hall interior.
Few museums depict the honest brutality of war as well as the War Remnants Museum. While those with a squeamish threshold for graphic photos should tread tentatively, all visitors are bound to be moved by the displays on offer at this educational place. While the feeling is obviously biased/one sided at times, many of the most outlandish photos are actually from US sources. There are also real US armoured artillery pieces and vehicles to explore, as well as infantry weapons (including some terrifying experimental weapons) and bombs, straight from the war. Many photography collections are highlights here, including one on the prisons from Phu Quoc and Con Dao islands and also a remembrance for legendary war photographers who were killed in the conflict.
For more information about the Cholon District, including the list of temples to Cholon (literally meaning 'big market'), also called the Chinatown of Saigon, is mostly in District 5, West of the Saigon River and also stretches into District 6. This area not only boasts one of the largest and most popular markets, Binh Tay, yet it's complete with a myriad of historic Chinese pagodas and temples and the most concentrated Chinese community in the country (many of whom settled in the area since as early as late 18th century). If you crave for some Chinese specialty foods, District 5 is the place to go! Cholon is also a place of great historical and cultural importance; during the American/Vietnam War, Cholon was a thriving 'black market' for US soldiers, as they traded in American Army-issued supplies here. During the late 70's, the anti-Chinese campaign had as many as 70% of the Chinese minorities fleeing the country, and subsequently, the area and community have had to rebuild ever since.
Unfortunately, this event has left Cholon decidedly less Chinese than it once was; however, it is nonetheless very interesting to visit this side of Ho Chi Minh City and the sensation of Chinese language shop signs and temples will have you feeling like you're in a distant land. Many of the surviving Chinese began selling a variety of products, and there are many unique places to explore, including the strip along Hai Thuong Lan Ong street, lined with traditional Chinese herb shops. (This street is specifically between Luong Nhu Hoc and Trieu Quang Phuc street).
You can try Chinese style noodle dishes served in this district, and if you like, add some unusual herbs or exotic foods such as dried seahorse and 'thousand year old eggs' (aka salted duck eggs)! Take a taxi to tour around this Chinatown by foot or take a traditional cyclo ride to make it an interesting and relaxed experience. Good shoes and light clothes will help make your trip more enjoyable and comfortable, especially when visiting Binh Tay Market, as it can be hot and very crowded most of the time. Look for the clock tower and central courtyard with gardens in the market, and remember that many of the goods here are for wholesale, so it may be best for browsing.
see here, check out our District Overview here
These three sights are on the same site (Nguyen Binh Khiem in District 1), so that's why we've combined them to make one of your must-see places!
The History Museum is just inside the main gate to the Botanic gardens and zoo. This Sino-French museum showcases an interesting collection of artefacts from ancient Vietnamese civilization. Displays illustrate the cultural evolution of country, and highlights include a perfectly preserved mummy, which was excavated from Xom Cai in District 5, of a local women who died in 1869 and also a branch of the wonderful gift shop, Nguyen Freres. There is also a mini-puppet show here too! (Admission: 15,000 VND, open 8-11:30 am & 1:30-5 Tues-Sun)
The Botanic Gardens are sure to impress and rejuvenate, as you can stroll beneath giant tropical trees and take in the olfactory-stimulating scents of fresh gardens and flowers. (Open 7 am-7 pm daily).
As for the Saigon Zoo, the elephants and white tigers are sure to tickle your heart, and for 30,000 VND (one ticket price for both the zoo and gardens), it is a total bargain for a few hours of entertainment! Some animal enclosures could use an update, and this is in process, but overall, it is a very well-maintained zoo with a nice selection of beautiful creatures.
In the Da Kao area of District 1, you will find one of the most awe-inspiring temples in Ho Chi Minh City. The Jade Emperor, the Taoist god, Ngoc Hoang, (King of Heaven), inspired this pagoda, built for praising him, in 1909. Woodcarvings, statues of gods and grotesque heroes from both Buddhist and Taoist religions and burning incense set the scene for your visit to the pagoda. The nature of the multifaith-aspect of the building is evident in all of the different figurines, statue and displays. Look out for the fascinating rooms, like the one that contains the famous Hall of the Ten Hells, which has wooden panels with scenes depicting the various torments awaiting the evil people in the Ten Regions of Hell. There are many more interesting displays like this- so make sure to head over here and experience this unique place for yourself.
This centrally located market in District 1 has a history of 17th century street vendors gathering together and it still is the city's most popular market, thanks to it's legacy, it's convenient location and it's diverse range of products on offer. Come just to browse and sample inexpensive local food, or find all of your souvenirs here- as bamboo and coconut lacquerware, wood and handicrafts, clothes, fabrics, and locally-produced foods like coffee, tea, coconut candy and more are all on display. Over 3,000 stalls and a (heavily- touristed) crowd may get you sweating, but don't worry, a moment of rest to people watch and enjoy a freshly blended fruit smoothie at one of the food stalls will have you rejuvenated in no time.
Given Saigon's interesting sight of eclectic mix of buildings, simultaneously charming setting on the Saigon River, and the entertaining, never-ending street traffic, you are left with one interesting bird's-eye sight! Head over to Bitexco, the 68 - story, 282 m high skyscraper, designed by architect, Carlos Zapata. It's in District 1 at 2 Hai Trieu Street - but we don't think you will have a hard time finding it - it rises above the whole downtown skyline, shaped like a lotus bulb with a helipad! When you visit the building, stop in to the London brand Top Shop store, on the main floor, for modern street style fashion, or catch a movie at the theater on the 4th floor and then take the elevator up to the 48th floor. Here, a 200,000 VND ticket fee will let you in to Saigon SkyDeck where you can take in the view of the city from a 360 degree. Or choose to see the view from the 52nd floor windows of Alto Heli Bar and enjoy a coffee or cocktail in this relaxed atmosphere, high above the city. For a real treat, make a reservation for the 3 course dinner at Cirrus, the stylish and classy restaurant on the 51st floor.
Officially known as the Municipal Theater, but referred to by locals as the Saigon Opera House, this well-preserved yet antiquated edifice, built in 1897, sets a romantic tone to the city center. Look at the website (http://www.hbso.org.vn/default.aspx) to see which live musical performance or regular show you can catch. We recommend the vibrantly entertaining AO Show! Or for a ticket-free delight, head over with a Vietnamese coffee in hand to experience the traditional Vietnamese Music being played on every 7am-9am on Saturdays and Sundays.
The locals and expats alike will agree that the atmospheric difference of Phu My Hung (District 7) and An Phu/Thao Dien (District 2) is that of an alternate universe, when compared to the iconic downtown District 1 which we all usually associate with Ho Chi Minh City. The streets become wider, the plant life more lush, the air less polluted, the stores more Westernized, the apartment complexes more modernized....the people who are live in these developing areas who are willing to make the commute to come to the happening District 1 sure are living the good life! Our local experts suggest that visitors should make the trip to visit at least one of these eye-opening places- it should cost less than 200,000 VND to taxi to either district. In An Phu, try to pop in for an event at Saigon Outkast, an experimental outdoor music and art venue, to gain an understanding of the youth culture of the city, and then have an amazing dinner at Villa Song Bistro or The Deck, both restaurants on the river.
Alternatively, in Phu My Hung, runners can enjoy the beautiful pathway around the small lake behind the impressive Crescent Mall, a lunch at Boomerang, an Australian restaurant on the water.