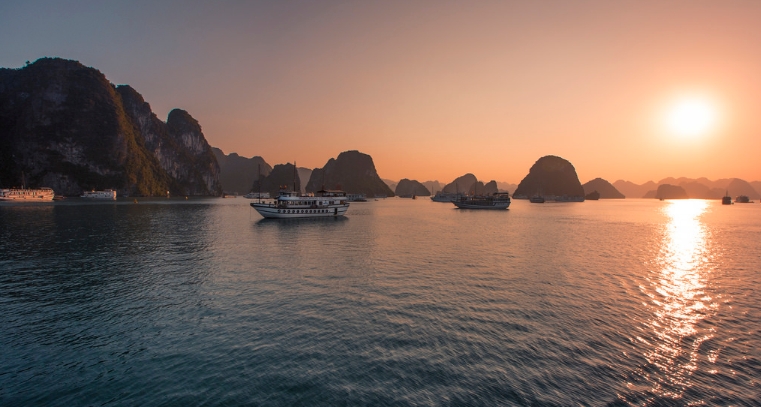 Which One to Visit… Sapa or Halong?
Adventure
So you've made it to the capital…

As you wander the maze of tight, humid alleys made even tighter by the pinch of motorbikes overtaking motorbikes overtaking bicycles overtaking pedestrians… politely declining souvenir purchases, searching endlessly for Old Quarter food options and trying to overcome the daily fog of too much bia hoi… you wonder to yourself, "maybe I should visit the countryside!?"

…but do I have enough time?

For the Tight Itinerary: Sapa or Halong?

Note: Before we get into the thick of it, it's important to state that both destinations are amazing; one is not better than the other. Also, booking tours ahead of time is imperative for Halong, recommended for Sapa.
Halong Bay captures the ancient mysticism that is often associated with Vietnam: timeless limestone formations supposedly leftover from jade and jewel deposits expectorated from the mouths of primordial dragons protecting the country from invaders (true story). The attractions are entirely water-based; breathtaking islets jutting from the bosom of Halong Bay, accessible only by hired boats and water-bound vessels. While the waters are often busy with cruise liners, the natural attractions remain unspoiled.
Sapa, in stark contrast to Halong Bay, is entirely land based. It is not just one collection of attractions, but an entire region that sprawls across the north country (just south of the Chinese border.) Home to a range of vibrant and authentic minority groups, majestic mountain landscapes and iconic tiered rice paddies, this northerly attraction is Vietnam's coolest oasis in the sky.

Getting There

If time is tight, the choice may be made for you. Halong Bay is accessible via rented vehicle- a drive that can take only 3.5 hours. Pickup comes directly from your Hanoi hotel, heading straight to the highway and arriving at the docks where you can quickly catch your boat. For those who are extremely pressed for time, day trips to Halong do exist. Super early pickups, drop off in Halong by mid morning, heading out for a day cruise and back in Hanoi for night.

Sapa, on the other hand, requires a bit more commitment. The classic means of transport to Sapa is via Lao Cai (just northeast of Sapa) on an overnight train. Passengers are dropped off at Hanoi's train station in the evening, board the sleeper train to the town of Lao Cai (which arrives quite early in the morning), are collected in Lao Cai by hired van and driven south to Sapa for a morning arrival. The trains aren't the most comfortable in the world and the drive to Sapa is a slightly serpentine, but hey, it's all part of the experience, right?

As of recent, there is another mode of transport added to the mix. A brand new highway has been built and opened between Hanoi and Lao Cai, cutting the trip time virtually in half. For those who can't stomach the sleeper train, you are given the option to ride the roads instead.

The Halong Experience

You've escaped the grips of the city and survived the monotonous drive out. After a presumably hectic boarding process, you enter the sanctum of your private tour boat. The quality, number of passengers, meals, activities, days and itinerary depend entirely on the package you've purchased (prices generally reflect the quality of the trip). Excursions go from 1 day to 1 week (or more), boat amenities go from simple wooden cabins to floating luxury dens, staff can be slightly lax or five-star… but the natural attractions never disappoint.

Cruising through the tranquil waters of Halong, you're suddenly surrounded by ancient rock islets that take on different personalities and formations (two of which are featured on the 200.000 VND note). You can kayak, dive, swim, fish or just chill out on the rooftop deck of the boat- and the surrounding scenery never gets old. Sunrise and sunset are particularly notable from the ship's quarters, as Halong's sky turns red and golden in the reflective light.

Meals and entertainment on board may be slightly restricted, but are exciting nonetheless (keep in mind you are in the middle of the water.) Light breakfasts, basic veggie/meat lunches and local seafood spreads are generally the order of the day, with non-alcoholic drinks included and alcoholic choices a slightly inflated option.

Visitors can take the normal route of touring around the islets and sleep on the boat or they can touch land with overnight options on Cat Ba Island (home to the critically endangered langur.) Whatever choice you go for, you're guaranteed to get that "down" time you were seeking from the city.

Tips:

-Be aware of the weather when you visit: Winter (Nov-Mar) is chilly and the weather/fog can be unpredictable- swimming is not possible during certain months. Spring (April/May) is a great time to visit for moderate temperatures and visibility, while summer (June- Sept) is excellent for swimming and visibility… but it's hot!
-If swimming, be aware of jellyfish in the hot season
-Don't get your hopes up that you will catch squid during late night fishing

The Sapa Experience

You've made it to Sapa (how you've made it is up to you). Enjoyment of the area is now in your hands. You can either hang around Sapa's central town and get acquainted with the sellers and townsfolk (nice for a visit, not for an entire stay)… or you can book yourself an excursion into the wilderness.

Guided tours through Sapa are undoubtedly the biggest draw. With very well educated guides, you can take for the hills, minority villages and tiered paddy mountain faces, soaking in some of the most brilliant landscapes in the world. Hikes are rated on a scale of difficulty, so your journey should reflect the amount of effort you want to put into it.
While many of the minority villages have appeared to be tainted by the grips of tourism (if you hang around central Sapa), you can get a beautiful feel for the authenticity of their tribes and customs when you start getting further out. Local families are more than happy to display their hard working lives in the midst of Vietnam's harsh landscapes… and do so with a smile! Accommodation ranges from basic Vietnamese hotels in town and upscale resorts to home stays and eco lodges way out of town that really give you a feel for life in the mountains.

Your itinerary truly depends on how much time you have to offer… a single day in Sapa is honestly not enough to capture the full beauty of the area. If you have the luxury, the ideal trip is around 2.5 days: arrive, settle, go on a long day hike and spend the evening at a local homestay. Wake up the next day for more light hiking and mountain experiences, returning to Sapa town that evening (or the next morning). Spend the final day exploring Sapa town, buying some knick knacks and chatting with the locals before heading to Hanoi later that afternoon.

Tips:

-Take a hiking tour to fully appreciate the locals' lives as well as the unbridled beauty of Sapa's landscapes. If you're hiking, be sure to wear/bring the appropriate gear (at least a pair of sneakers with good tread)
-Want to get very active? Hike to the top of Mt. Fansipan- at 3,123 meters, it's Indochina's highest peak!




-Remember where you are… in the mountains! Sapa can get very cold depending on the season, so bring appropriate clothing! The best time to visit is between March-May & Sept-early Nov when the days are warm, nights are cool and visibility is good. Late Nov-Feb is winter- weather is cold, visibility can be low and it's been known to snow!!

Conclusion

With only one to two days to spare, Halong Bay may be your best bet. You can still capture the beauty of the destination in a crammed visit, where Sapa requires a bit more commitment. If you have 2-4 days, both destinations are a possibility. If time is on your side during your travels, go crazy and visit both!!

Author: Daniel Robbins
Photo: Alan Doyle, Fernando De Castro, Philipp, Huongbeo