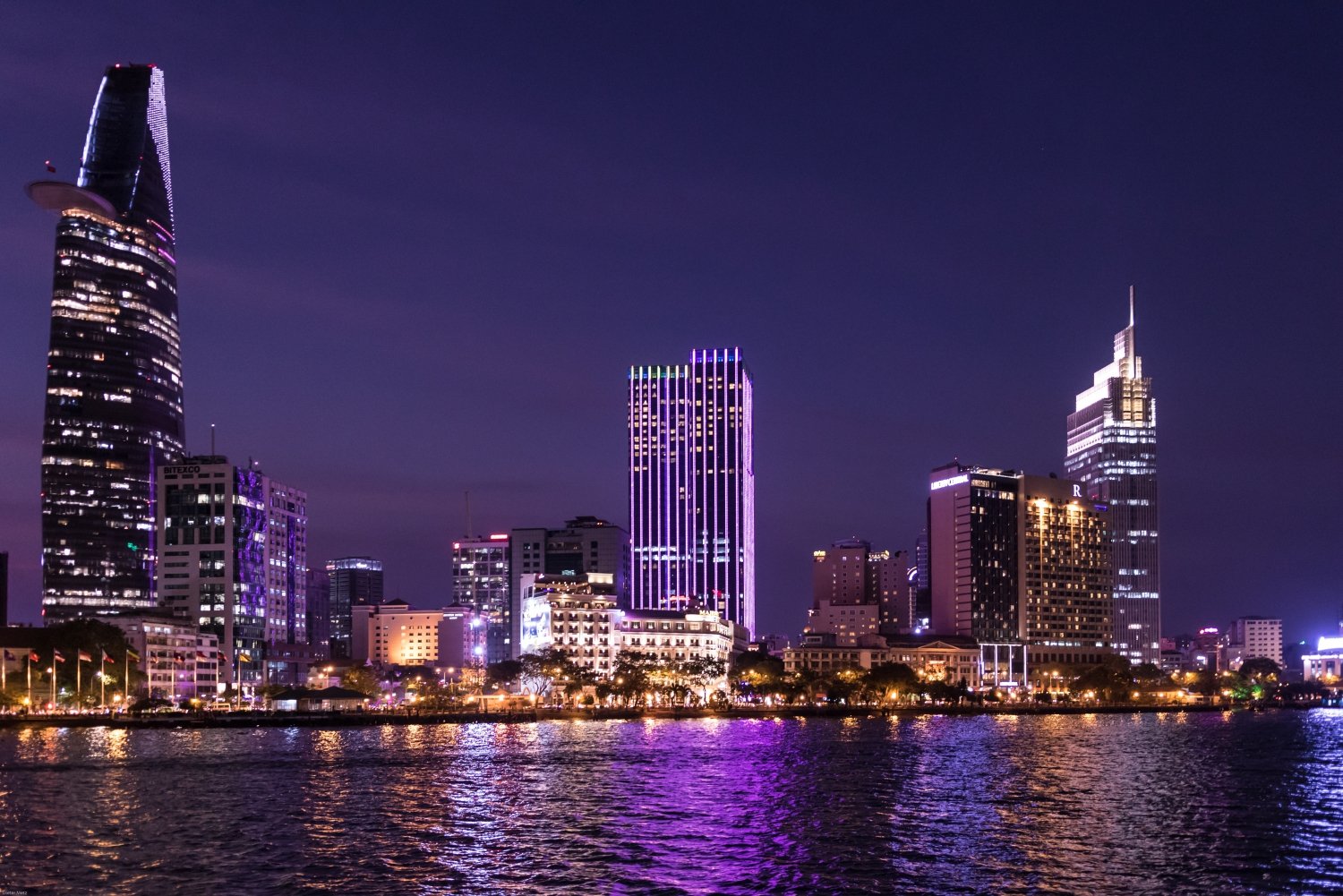 Nightlife in Saigon
Adventure Editorial
Vietnam's bustling, southern city has a long reputation for its nightlife and entertainment - one that far precedes the country's influx in tourism. Always the most "westernized" destination, Ho Chi Minh City, better known as Saigon, was and still is Vietnam's go-to spot for a fun night out. Whether you're looking for a high-end party or a street side brew, there's something to be found for everyone in this southern hub. Spend a night and explore the lively Saigon by night.

Where to Go

While most tourists spend their entire holiday hopping between Districts One and Three, Saigon is actually comprised of 24 different districts, many offering their own unique styles and personalities. Districts One and Three certainly offer the most tourist-friendly experiences with their copious amounts of restaurants, bars, shops, and close, walkable streets, but sometimes getting away from the tourist cluster exposes some more authentic Saigon encounters.

District 2, for example, is a hotspot for young, hip Vietnamese and expatriates calling HCMC home. The district houses chic restaurants, swanky bars, and alternative, artsy hangouts that are well worth exploring. Additionally, District 7 is another unique spot, with a much more contemporary, high-end range of restaurants and bars that attract the business crowd.

For those who are visiting Saigon for the first time, however, it's probably a good idea to stick within the more touristic districts… simply so you don't miss out on the iconic experiences! For those who are return travelers to Saigon, do branch out and experience some other areas that this lively city has to offer by night.

When to Go Out

When does the party start in HCMC… 5 o'clock?

Not really.

Saigon is a city that doesn't sleep. With travelers coming in and out at all times of the day, there's always something going on; some place somewhere is buzzing (literally) with activity. From pickup fresh beer stalls and musty pubs to the effervescent Pham Ngu Lao and Bui Vien regions, locals and foreigners are always ready to get into some excitement.

When it comes to nightlife, Saigon does offer some excellent happy hours, particularly in the more upscale establishments. Score two-for-one drinks at some super ritzy bars and enjoy a bit of the highlife (usually between 5-7 PM), before sliding back down to the 20.000 VND beers on the street. Clubs and music venues generally start a bit later (from 10PM onwards), going into the pre-dawn hours of the morning.

While it's very easy to stay out until the sun comes up in Saigon, do be cautious with how you spend your evening. The later it gets, the more unsightly the crowd becomes. Pickpockets, carefully-schemed thefts, and purse/valuable snatching have been known to occur to the unsuspecting late-night dwellers, who may have had one too many Saigons to know what's going on. Be sure to keep your wits about you, even if you are staying out 'til the wee hours.




Choose Your Night Out

A night out in Saigon can be as diverse as the city itself. Don't get fooled into thinking that every night must be spent traipsing through the backpacker district… there's way more to be experienced in the city!

Live Music

Whether you fancy jazz, latin, acoustic, rock, or traditional Vietnamese music, there are a number of unique venues tucked into Saigon's districts that are well worth a visit. From the iconic Seventeen Saloon Bar and the Sax n' Art Jazz Club to the totally unique Carmen Bar… live music abounds in Ho Chi Minh City. Can't find what you're looking for? Head to one of the endless karaoke bars in the city and make your own sweet, sweet music.




Sky Bars

Looking for a drink with a view? Saigon has a number of stunning skybars that overlook the giant city sprawl. The most famous (and distinguishable) skybar is EON 51, located in the Bitexco building- Ho Chi Minh's skyscraper that appears like a diving board in the middle of the downtown. Additionally, the Rex, Caravelle, and Sheraton Hotels host some great views, as do a few bars located along the Bui Vien region. Keep your eyes open for flashing lights at the peak of a building… that's where the party will be!

NightClubs

For those seeking a proper night out (strobes, lights, dancing, smoke, sweat, and lots of drink), Saigon has a handful of clubs that will not let you down. Perhaps the most famous two, however, are Lush and Apocalypse Now. Head here if you're looking for a loud and late one.

Beer, Beer, and more Beer

Vietnam as a whole loves beer. Saigon certainly does not stray from this love affair, and offers a plethora of places to sit back and sip on this golden ambrosia. Street side bia hoi (fresh beer) stalls are not as prevalent in Saigon as they are in the capital, however you can still nose out a few of these uber-cheap fresh beer vendors in Bui Vien. The beer is fresh daily, contains no preservatives, and is often brewed on site. Don't expect a strong beer, but its cost and atmosphere make up for its shortcomings.

On the more commercialized side of bia hoi, beer lovers can head to any one of the hundred "Draft Beer" joints that are popping up around the city. These expansive restaurant-cum-beer halls serve name brand beers in mass quantities, usually in chilled towers. The purpose to these beer swilling spots is to drink hard and drink long, so bring your A Game! (Vomit trofts are provided.)

On the higher end of the beer scale is Pasteur Brewery. Saigon's famous craft brewery, Pasteur makes their own delicious beers on site, changing with the seasons. You can find their beers in most up-scale establishments or pay a visit to their brewery on, you guessed it, Pasteur Street. A must-visit for any beer lover in Saigon.

For those seeking the middle ground, Saigon by night offers an endless array of simple bars/pubs that sell local beer (Saigon, 333, etc.) Enjoy frosty cold beverages at anywhere from 10.000-50.000 VND a pop (more costly at upscale establishments), while soaking in the buzzing atmosphere of the southern hub.




The Backpacker's Night Out

Last, but certainly not least, is the aforementioned Pham Ngu Lao and Bui Vien area. This somewhat infamous corner of Saigon is home to what is considered the "backpacker's" region of the city: a large collection of budget-friendly hotels, restaurants, and bars that cater to the penny-pinching traveler. Perhaps the most popular area to stay in the city, you can find just about everything between these two streets, from upscale eateries and wine bars to street food carts, 10.000 VND beers, dried squid vendors, and much (much) more.

A visit to Saigon is not complete until you spend an evening on the street side here: sipping ice-cold beer, eating the local fare, watching (literally) the world pass by before you… all while sitting on miniature plastic chairs at a miniature plastic table. Travelers from all parts of the globe congregate here to relax, have fun, and interact… so enjoy being part of this global melting pot, if only for one night.

———

If you're in need of some more activity during the evening, Ho Chi Minh City has a range of night markets, river cruises, live performances, and calendar events in the mix at all times. Check local listings, chat with your hotel, or refer to our website for regional updates.

Please note: While Saigon at night is an essential part of the Vietnam travel experience, do be wary of your belongings at all times. The city is growing to become quite infamous for its petty theft and bag snatching. Don't let a bad night ruin your entire trip!

Author: Daniel Robbins
Photo: pixabay.com