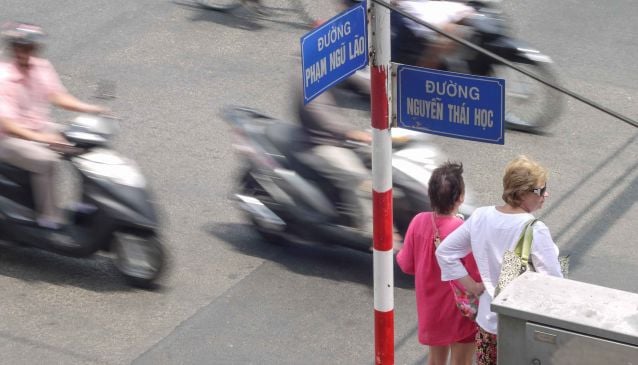 Vietnam's National Heroes Remembered
Inspiration
There's more to a street name than one might think
If upon visiting Vietnam you experience an extreme sense of deja-vu or a 'groundhog day' effect, you're not alone. You can get it throughout your day, whether it be from any one of the familiar sights like a legendary Banh Mi stand or a cute old lady wearing a conical leaf hat but also in the form of the recurring questions you'll repeatedly get asked from curious locals.
After opening a guidebook, online map or a simple wander around some streets of a city or two, you should notice another quirky, recurring theme in Vietnam – every city has the same street names! Why?
Almost all the streets of Vietnam's cities are named after national heroes and occasionally after certain events that helped shape this great nation (Hanoi's Old Town is an exception, where many streets are named after what was commonly traded there). As a general rule, the bigger and more central the street is, the more significant and historic the title will be. It not only helps the older generations to remember the past but it also allows the younger generation to become familiar with and not forget their country's rich history and mythology.
"Nguyễn Huệ" was the emperor of Vietnam 1788-1792. He was also one of the Vietnam's greatest military commanders who with the support of his brothers led the famous Tay Son Rebellion which brought peace to Vietnam for almost 100 year until French occupation. The most central and undoubtedly most imposing street in Saigon, Nguyen Hue runs from city hall towards the Saigon River and is where the Lunar New Year flower street is set-up every year.
"Hai Bà Trưng" (Two Trung Ladies). These famed sisters became national heroes after rebelling against Han Chinese rule between the years 12-43AD. Vietnamese legend claims that after a one of the sisters' husbands was wrongfully executed so the two women decided to lead an almost completely female regiment to overthrow the regime. For a few years they succeeded in their struggle but their reign was short lived as they would soon be overrun by a much stronger Chinese force. The exact dates of their deaths are unknown but one story recounts that after their loss they were unable to continue to live under Chinese rule so they committed suicide and sunk together to the murky depths of a deep river.
"Nguyễn Du" was born in 1766 and would later become a national ambassador to China. He's more well-known for his poetry though and is most famous for his time-worn masterpiece, "Tale of Kieu", which helped earn him become the father of Vietnamese literature after receiving the title of "The People's Poet". The street runs beside Reunification Palace and Tao Dan Park.
"Lê Lợi" was a courageous military commander who is credited with overthrowing the Chinese Ming Dynasty rulers of the early 1400's. After independence was gained, he would become Emperor till his death in 1433, though the new Le Dynasty would flourish for the next 350 years. Historians refer to this time period as Vietnam's 'golden age' where the lands true freedom from China was realized. Hoan Kiem Lake in Hanoi is named after an event which saw Le Loi's mythical golden sword taken from his side by a large mythical turtle and taken down to its depths, never to be seen again.
"Nguyễn Trãi" was a Vietnamese Confucian scholar, a genius military tactician and well-known poet. He became one of Vietnam's most important figureheads after his close friendship with Emperor Le Loi and was revered for his promotion of nationalistic sentiment and open support of rebellion against the Ming Dynasty leaders in the 1400's. The street links Saigon's District 1 and 5 and is one of the city's most popular shopping streets.
"Trần Hưng Đạo" was the supreme commander of Vietnam during the Tran Dynasty (13th century). He led the largely volunteer and peasant Dai Viet armies successfully against three Mongol Invasions, while the Khan's had been barbarically conquering the rest of the nearby world. A member of the Tran royal family he's widely regarded as one of the greatest military tacticians of all time. A large, leafy street, Tran Hung Dao is one of the city's busiest thoroughfares running from Ben Thanh Market to Cho Lon.
"Phạm Ngũ Lão" is a street in Saigon's District 1 which has now become a collective name for the entire backpacker area. Pham Ngu lao was a famously skilled general during the Tran Dynasty where he fought beside Tran Hung Dao against the Mongol invaders. Like many military generals in Vietnamese history, he is also a celebrated poet which helped him quickly rise as a national hero.
"Cách Mạng Tháng Tám" is a busy street named in memorial of the August Revolution of 1945. After the Japanese surrender at the end of WW2 Vietnamese nationals were keen for Vietnam to regain its independence and prevent the return of the French. Within two weeks, the Viet Minh had regained control over most of the country and President Ho Chi Minh declared independence for the newly unified Democratic Republic of Vietnam but it wouldn't last long.
After figuring out how to cross these roads, remembering and learning how to pronounce these names are the next challenges. I'd recommend that when you need an specific address, write it down and make sure you put all the correct accents in place – it makes it much easier for a taxi driver or local to read it later on. Don't rely too much on online maps or a saved screenshot - most drivers won't be able to read it but they are usually pretty good with just a street name and number!