Eating Your Way Through Hoi An
Food & Drink
A Foodie's Guide to The Ancient Town
Our Top Experiences and Tours in Vietnam:
If youʻre booking your trip to Vietnam last minute, we have you covered. Below are some of the top tours and experiences! Don't let its size fool you; Hoi An has an enormous amount of food options to choose from!

It's a rather unassuming drive crossing through Quang Nam's outlying villages into Hoi An. Concrete houses, sun­tattered construction barriers, brief glimpses of empty beach, skeleton frames of resorts to come and crumbling foundations of resorts that will never be. It's not until the single stretch of Hai Ba Trung crossing over the salt river leading into expansive rice paddies that the beauty of Hoi An really starts to emerge. After a few minutes of "playing chicken" on the exceedingly narrow roads, the brilliance of the ancient town fully blossoms.

Hoi An's main attraction, the riverside ancient town, only takes up a small area of land. With only three main streets in the old town itself, visitors may wonder how there could possibly be a plethora of eateries. Once you start exploring Hoi An, however, you quickly realize how much the tiny town has to offer. Instead of breaking down the "best" restaurants in all of Hoi An, this guide aims to break down the best eateries quarter by quarter; you'll never go hungry... regardless of your whereabouts!

The Ancient Town

Where the majority of visitors will be headed, Hoi An's pedestrianized ancient town has a fantastic array of eateries to choose from. From upscale restaurants to street­side food stalls, foodies should head directly for the ancient town for the most varied food options.

Local Specialties: Hoi An's Famous Dishes

Cao Lau: Hoi An's iconic dish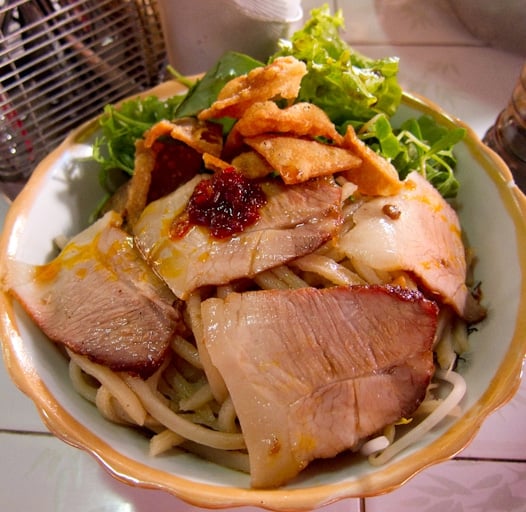 Cao lau - Charles Haynes
Originating in Hoi An and only (authentically) made in Hoi An, this dish combines locally crafted noodles using special well water, organic herbs, street­dried croutons, five spice and various cuts of pork. It's a taste that compares to no other Vietnamese dish. The best part of this dish is... you can enjoy it on the street for only 20.000 VND!

For Cao Lau with a view, head to the stall directly in front of the Japanese Bridge (11:00­14:00)

Mi Quang: The Province's Local Dish
Mi Quang literally means Quang Noodles (Hoi An is part of Quang Nam province). This dish combines rice noodles, spices and veggies with an array of quail egg, meat, seafood­ usually shrimp and pork. A go­to option for breakfast and lunch, you can find a delicious bowl of this in the ancient town inside the covered Hoi An Market (Cho Hoi An.)

Com Ga: Chicken Rice
Chicken rice is a deliciously filling meal that you can find all over the country. Hoi An, however, does an incredible version of the classic, in which the rice itself is cooked in chicken stock. Combined with fresh herbs and shredded chicken, it's a must­try.

To make things easy and picturesque, you can find a delicious Com Ga at the same stall as the aforementioned Cao Lau, in front of the Japanese Bridge. Scrumptious and only 30.000!

White Rose: Steamed Dumplings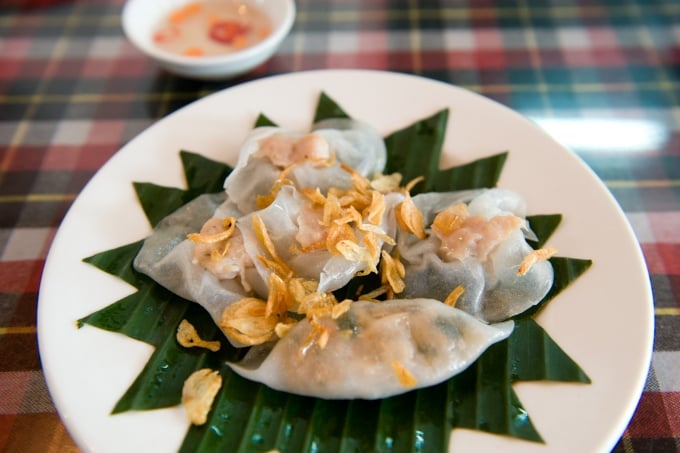 White rose - Jungmin Hwang
A final must­try in Hoi An is banh (bao) vac, or White Rose. A steamed rice dumpling filled with shrimp, this delicious treat is usually served with a side of fish sauce and topping of fried shallots. Its partner, banh bao, comes filled with pork (also delicious). Find White Rose at the restaurant of the same name on 533 Hai Ba Trung.

Restaurant hopping in the Ancient Town

Madame Vy is Hoi An's most famous chef & entrepreneur. She has opened four restaurants, and each one is unique and fantastic:

The Market: Set up in the classic Hoi An market­stall style. The Market offers every street food option of Hoi An, prepared in a hygienic manner, in an upscale setting. A great place to sample all the different foods: try the all you can eat option!! 3 Nguyen Hoang Street

Mermaid: Ms. Vy's first restaurant, Mermaid offers Hoi An classic dishes in a very local setting. 2 Tran Phu St

Cargo Club: The more westernized of Vy's restaurants, Cargo offers Vietnamese and international cuisine, plus some amazing desserts. Also great for breakfast! 107­109 Nguyen Thai Hoc

Morning Glory: Her famous Vietnamese restaurant, Morning Glory offers a brilliant array of Vietnamese dishes with a high end touch. 106 Nguyen Thai Hoc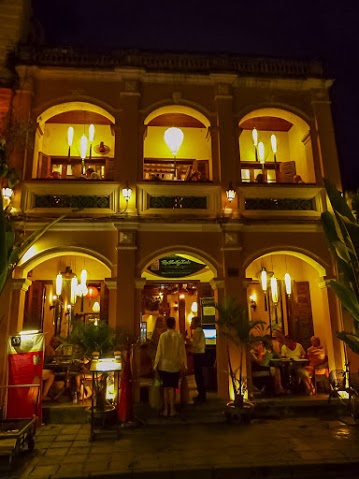 Morning Glory Restaurant - Steve Swayne
The Market is quite large, so reservations are not generally needed. For the other three restaurants, however, make sure you call ahead!

Chef Duc is another Hoi An mastermind. He is known for his high­end eateries producing internationally acclaimed dishes. His restaurants are as follow:

Mai Fish: The more laid­back of his restaurants, this riverside oasis serves upscale local specialties with few international touches. 45 Nguyen Thi, Minh Khai

Mango Mango: High end Vietnamese fusion 45 Nguyen Phuc Chu

Mango Rooms: A taste of the entire world with a Vietnamese flare 111 Nguyen Thai Hoc 

More Ancient Town Selections:

Ms. Ly's Cafe: Run by the lovely Ms. Ly, this quaint restaurant is in the heart of the old town and serves excellent Hoi An specialties! 22 Nguyen Hue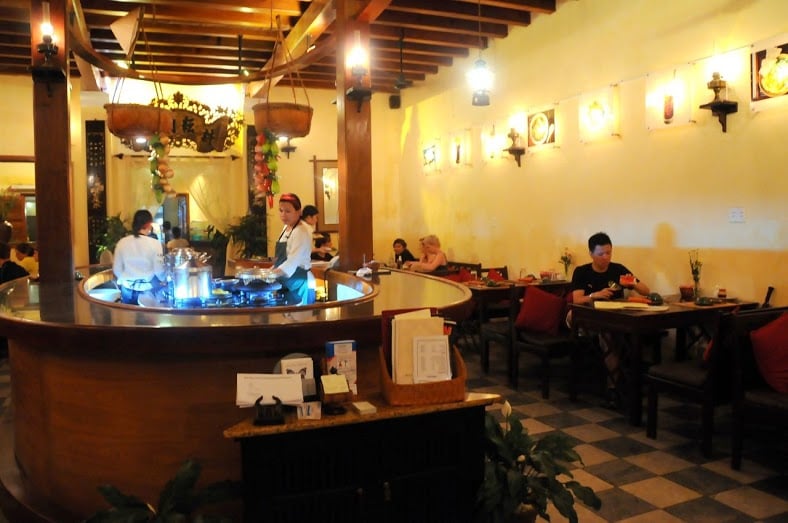 Ms Ly - Janine Cheu 
Green Mango: Sister restaurant to the same name in Hanoi, this upscale eatery serves beautiful Vietnamese cuisine in a brilliant ancient house setting 54 Nguyen Thai Hoc

Banh Mi Phuong: Hoi An's most famous Banh Mi vendor; a must­try for breakfast/lunch! 2B Phan Chau Trinh

Nu Eatery: Boutique eatery with a super cool location! Excellent take on Vietnamese specials that you might not find anywhere else! 10A Nguyen Thi Minh Khai

Three Dragons: Great pub setting and western favorites... for when you need it! 51 Phan Boi Chau

Fusion Cafe: Upscale international food with great coffee and desserts! 35 Nguyen Phuc Chu

North of the Ancient Town

Once you start traveling out of the Ancient Town, it can get a bit trickier to find delicious eateries. This doesn't mean that they're not available though! Below are some excellent go­to's in the area north of the Ancient Town:

Aubergine Restaurant: New addition to Hoi An; beautifully prepared, high end Vietnamese cuisine­ 49 Ly Thai To

Ganesh: Hoi An's best Indian restaurant­ a classic for over five years! 24 Tran Hung Dao 

Ba Le Well: All you can eat deliciousness; the ultimate banh xeo destination in Hoi An! 45/11 Tran Hung Dao

Streets Restaurant: Delicious Vietnamese cuisine with an amazing concept backing it; getting disadvantaged youth off the streets and into the hospitality industry! 17 Le Loi

Hola Taco: Tacos in Hoi An... why not?! 5 Phan Chau Trinh

The Kebab Shack: Delicious Kebabs! 38B Thai Phien

Baby Mustard: Though it's sort of northeast (towards An Bang beach), this Tra Que Herb Village restaurant grows their greens on site and has some deliciously fresh options to choose from. Very few other restaurants around this, so if you're in need of a good meal­ this is the spot! Hai Ba Trung­ - part of Tra Que Herb Village.

East of the Ancient Town

If you're traveling Cua Dai Road out to Cua Dai Beach (or what once was Cua Dai Beach...) the following are great choices:

328 Restaurant: Patrons often call this their "favorite meal" in Vietnam... amazing local food prepared by the lovely Ms. Ha and her family. A must­try for anyone in the Cua Dai area. 328 Cua Dai Street

Dingo Deli: Hoi An's first western eatery; excellent food, great bakery and wonderful coffee 277 Cua Dai

The Field Restaurant: A bit tricky to find, but worth it for the food and views: right in the heart of an expansive rice field! Tong Van Suong Street, Cam Thanh

Red Bridge: One of Hoi An's classics; excellent Vietnamese cuisine and a great cooking school. Thon 4 Cam Thanh Village

Son Hoi An: Slow food for slow life; great place to sit back and enjoy passing the time in Hoi An with delicious Vietnamese food. 232 Cua Dai

...and the Beach!

For those who aren't too familiar with Hoi An, there used to be two main beaches: Cua Dai­ the "tourist" beach and An Bang­ the "local's beach." Unfortunately, due to typhoons, natural erosion and construction too close to the water's edge, Cua Dai beach has all but disappeared. All eyes are on An Bang Beach now, which has some excellent restaurants. All are located along the beach stretch (not too hard to find!):

Soul Kitchen: Great combination of Vietnamese, seafood and western options; excellent bar and live music at nights. Luna: Amazing pizza on the beach; the original Luna location, currently undergoing a facelift­ so check it out!

La Plage: French/UK/Vietnamese run restaurant (all the way to the far right) with a great bar and nice, fresh menu options. H'mong Sisters: A new addition to the An Bang stretch; Vietnamese fusion cuisine with a cool bar scene

Conclusion

Didn't know Hoi An had so much to offer, did you?! From brilliant Vietnamese fusion and local street eats to western comfort food and quick snacks, Hoi An has a lot to offer the hungry traveler.

Tips: ­

- Want to try some more traditional Vietnamese food? Watch out for the stalls with the most local people eating there: those will be the best options. On a similar note, if there's a stall where you never see patrons... that might be for a good reason.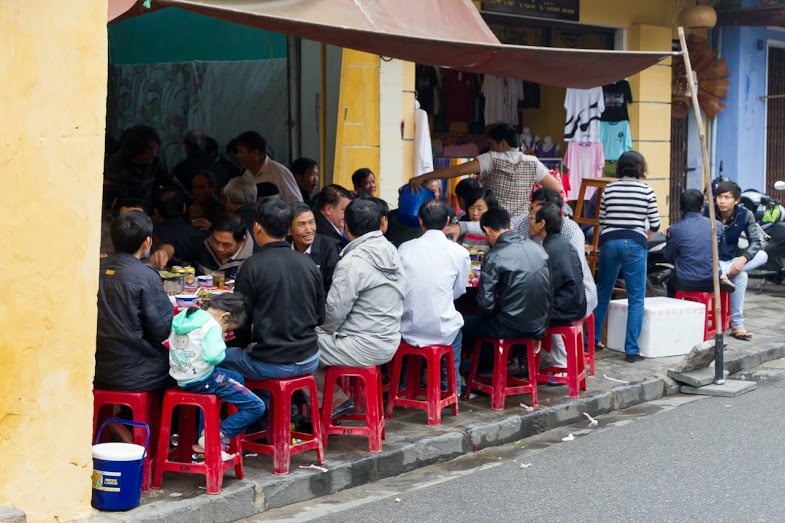 Street restaurant in Hoi An - Anthony Gurr
- Understand the cultural timing: Vietnamese wake up early and nap during midday. Don't be surprised if you're looking for somewhere to eat for lunch (outside the ancient town) and see nothing but closed shops. The Vietnamese nap/go home between 11:30­14:00; local stores and restaurants often close during this time.

Author: Daniel Robbins
Photo: Charles Haynes, Steve Swayne, Janine Cheung, Anthony Gurr, Jungmin Hwang