Saigons Must Eat Foods
Food & Drink
Make sure your curiosity is matched with an equally healthy appetite.
These days many people are willing to travel this wide world in search for the ultimate in gastronomical experiences. Vietnam is one of the countries always nestled near the top of the 'must-eat' lists and in every corner in this diverse country you'll find countless tasty and sometimes painstakingly prepared dishes. From North to South, every region has their own special dishes and ways to create them but keep in mind; everything's a little sweeter in the South.
If you like dining alfresco, then you'll love it here.  Saigon's quite well-known for its fold up tables and small plastic stools perched beside busy roads or along a small alley. Whether they're rich or poor, eating 'out' is unmistakably the most popular option for locals.  
When you visit Saigon, be prepared to eat a lot of food. You'll also be spending a decent part of your day discussing what you ate or carefully planning an itinerary around your next meal - It's OK because this city and its people's lives also revolve around food.
The complete list of "must-eats" here  is huge so let me just give you a quick run-down of some of the best and the easiest found street eats in this city –
Com Tam (Broken Rice)
This grains of rice used in this dish are actually smaller - about half the size of regular grains – hence the name "broken." These small grains of rice used to be considered as inferior quality and like all of the world's best foods, Com Tam used to be the food of the poor.
Enjoyed for breakfast, lunch or dinner, it's usually served with grilled pork, cucumber, tomato and an extra side of pork skin or a fried egg. It's entirely up to you how much you douse with your helping of fish sauce. If you don't like pork, perhaps Com Tam with Chinese sausage (lap xuong) or chicken (ga) is more up your alley?
18,000-25,000 VND/plate
Hu Tieu (Pork Noodle Soup)
If Pho was King of the noodle world then Hu Tieu would have to be its Queen. The smaller noodles and lighter, saltier soup are easier to get your head around. Usually only served with a side of crunchy lettuce, tasty bean sprouts and fresh chili it's much less intimidating for the noodle-novice.
Like many dishes in Vietnam, Hu Tieu is also open to many scrumptious variations. A standard bowl will have thin vermicelli noodles in a pork based broth; served with thin sliced pork, liver, Chinese celery, chives and a quail egg or two. If you're lucky, you might get a shrimp atop your noodles.
15,000-25,000 VND/bowl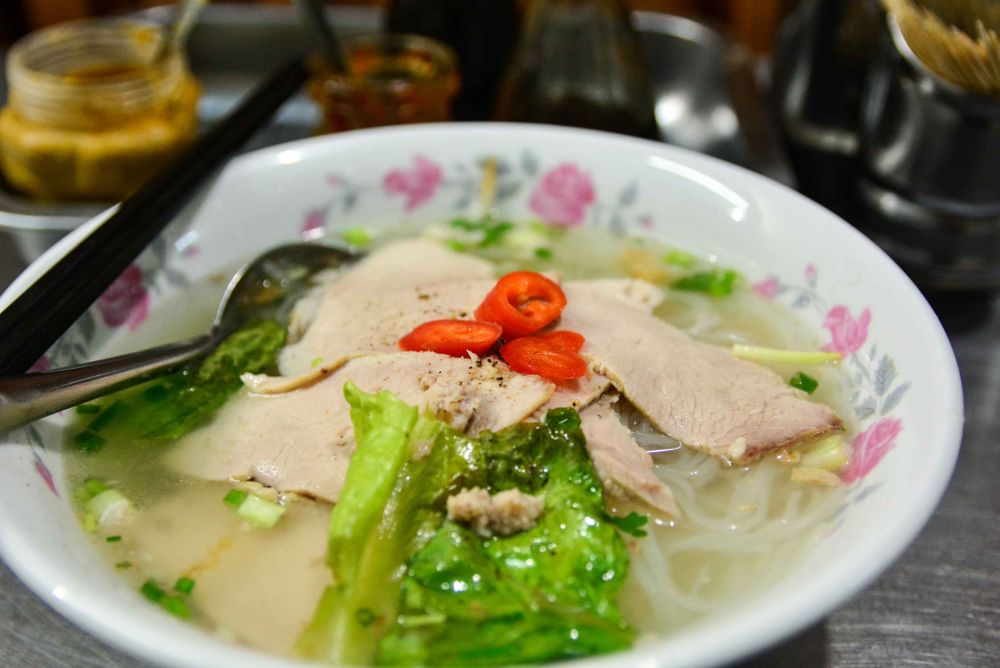 Lau Thai (Thai Hotpot - Saigon Style)
If you only eat one meal on your trip to Saigon it must be the ever-popular "Thai Style Saigon Hotpot". Yes, one of the best and probably most popular dishes in Saigon carries a name that sounds like a nearby country. Don't let it confuse you. The name refers to the ingredients and flavours that are used… it's quite similar to a traditional Seafood Hotpot in Thailand albeit done in a uniquely Saigonese Style.
Usually the highlight of any birthday or celebration, it's brought out and left in the middle of the table. The large bowl of broth is cooked on a small gas burner and diners can add any vegetables or noodles as they want.
The flavorsome soup is full of prawns, scallops, crab and squid - all common ingredients but like most dishes, slight variations can be found. Hotpot is usually enjoyed with at least a few beers so I'll give you a handy phrase: "Mot, hai, ba, yo!" (1,2,3, cheers!)
150,000-250,000 VND/pot (can be shared between 4-5 people)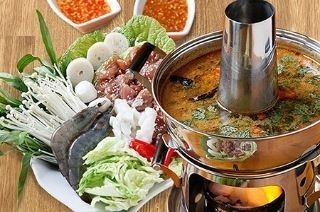 Bun Thit Nuong (Noodles with Grilled Pork)
If, like me, you love your noodle soups you'll often feel frustrated as the daytime temperature hovers on the plus-side of thirty degrees. The last thing you want to do in this kind of weather is to hang your head over a steaming bowl of boiled soup - luckily there's option with Bun Thit Nuong.
The soup-less noodle dish is made with small, round rice noodles ("bun"), grilled pork ("thit nuong") and fried spring rolls ("cha gio"). You then mix it all together with fresh basil, mint and shredded lettuce. On par with many other Vietnamese tables you'll also get a helping of fish sauce and chilli to add for individual taste.
20,000-25,000 VND/plate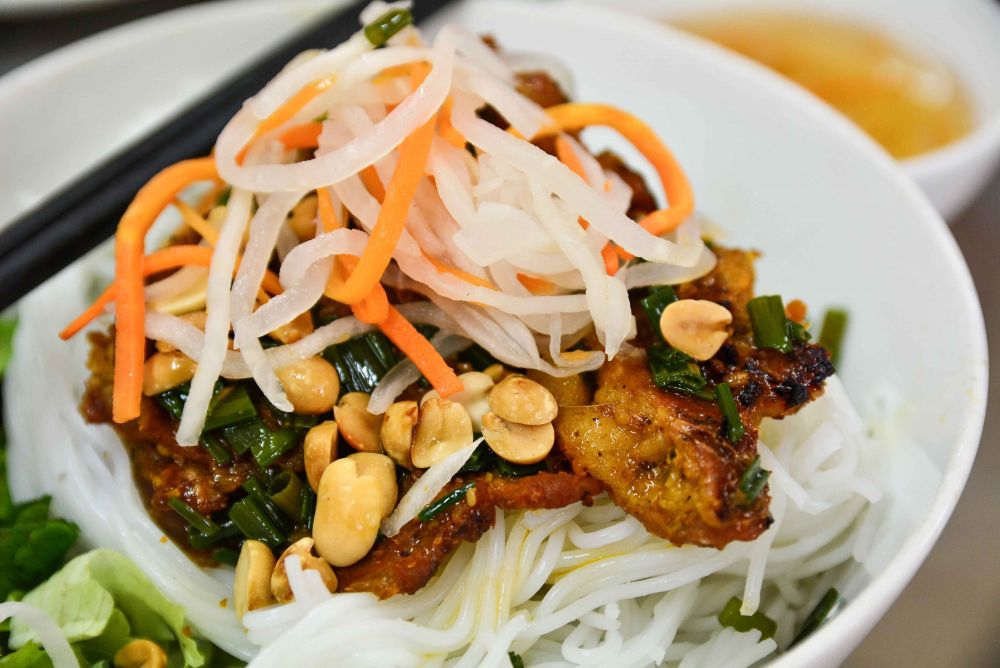 Goi Cuon (Fresh spring rolls/Rice paper rolls)
In my experience the best place to eat "Goi Cuon" or Rice Paper Spring Rolls is in Ho Chi Minh City. Perhaps it's the freshness of the rice paper (famously made on the outskirts of the city) or maybe it's the lushness of the southern lettuce.
These rolls are usually wrapped fresh to order with pre-cooked pork, thin rice noodles, mint, chives, lettuce and a sliced shrimp. You'll also get a little dish of hoisin dipping sauce mixed with carrot and daikon shavings and crushed peanuts to compliment one of the most delicious and healthiest foods in Saigon.
7,000-10,000 VND/roll
Dessert: Che (Sweet soup-like desert)
No visit to Ho Chi Minh City is complete without trying Vietnamese iconic desserts 'Che'. Referring to any sweet soup or pudding, delectable Che has dozens of different varieties. Made with green, black or red bean, tapioca, jelly, corn or fresh fruit it's usually served iced but you can also find some amazing warm banana Che from specialized sellers. Sugar and thickened coconut milk are added for sweetness and if you don't like Che at first, I recommend trying another kind - there are so many!
10,000-15,000 VND/glass
Banh Mi (Vietnamese Sandwich)
"Banh Mi" as we know it today became popular with locals during the French colonial period and is without a doubt Saigon's most popular breakfast. You'll never have to walk too far out your front door to find a little old lady lathering up fresh rolls with pate and mayo and then stuffing in as much meat, pork sausage, egg, cucumber, carrot and cheese as she can fit. It's cheap, fresh, filling, found on almost any street corner and for me it truly defines the term 'fast-food.'
10,000-20,000 VND/sandwich
Final Note: The price ranges listed are street prices. These dishes can also be found at many other vendors and restaurants but prices may vary a little to the quoted prices.