A Tale of Two Saigon Streets
Arts & Culture
The travellers to Saigon are as contrasted as the city itself
Our Top Experiences and Tours in Vietnam:
If youʻre booking your trip to Vietnam last minute, we have you covered. Below are some of the top tours and experiences!

Central Saigon is probably one of the most polarising places in Vietnam. In some parts of town you can find yourself a US$3 dorm bed while a few doors down there's US$600 a night-hotel suite. Outside on the street, a glistening Rolls Royce Phantom glides past a smoky 1978 Honda Cub, held together by little more than rust. Where the tour buses stop, you'll find poor street sellers hawking cheap postcards to tourists whose one week holiday cost them more than one seller earns in a year. The distinctions are just as stark when you look at the tourists and the two very different streets where they usually like to hang out.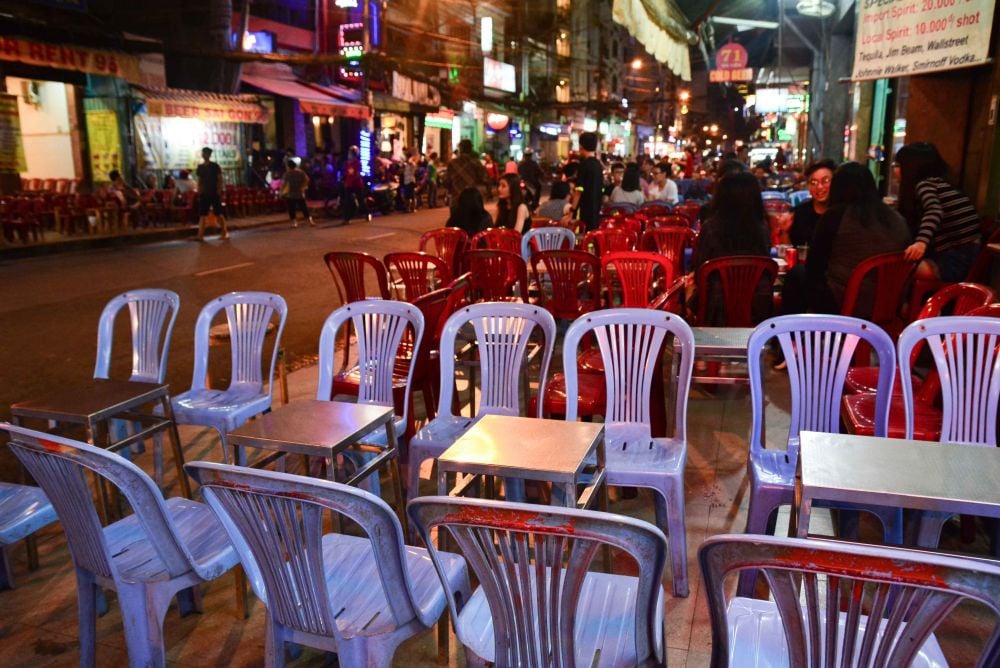 Right at the heart of the only backpacker area in Saigon, Bui Vien (Pronounced Boo-i Vee-en) is often referred to by Vietnamese as 'Western Town'. Attracting droves of young and old travellers alike, Bui Vien is where most of the tourist action is but it still has a local feel to it and remains quite 'gritty'. The area expands outwards down nearby alleys and streets to create a comfortable sized 'backpacker quarter'.
For a large part of the day around Bui Vien you'll find dozens of friendly and well-priced bars, restaurants and cafés serving either excellent Vietnamese or tasty international fare. There's loads of street food too, but always ask the price before you purchase. In the afternoon the street can be eerily quiet amongst the city's madness and is a nice place to relax.   
Bui Vien is well-known for its cheap beer and a tasty bottle of Saigon Red (Export) or Saigon Green can be had from 10,000 VND ($0.50). The only things more famous than the cheap beer on this street are the hundreds of small plastic drinking chairs that by about 10pm, overflow out of the shop-fronts and onto the streets. It's a good thing that most of the city's budget hotels and hostels are also found within a few minutes walk from Bui Vien!
What a traveller also needs is a place to book transport to their next destination. If you're after a bus, plane, train or rental motorbike to get around, you'll be hard pressed not to find it on Bui Vien or the adjacent De Tham and Pham Ngu Lao Streets (Note: Saigon is definitely not the city for a beginner motorbike rider!) Every second door seems to be a travel agent capable of booking local tours, buses or flights around Vietnam and even further afield.
Bui Vien is an excellent place to try some street snacks and you'll find sellers peddling up and down the street offering anything from grilled squid to the famous and 'must try', Hot Vit Lon ('duck-fetus' egg).  If you don't want anything from street vendors, just say a polite "no thank you". If they become pesky, avoid eye contact or looking at their products and just ignore them. It's not rude and they will simply move on.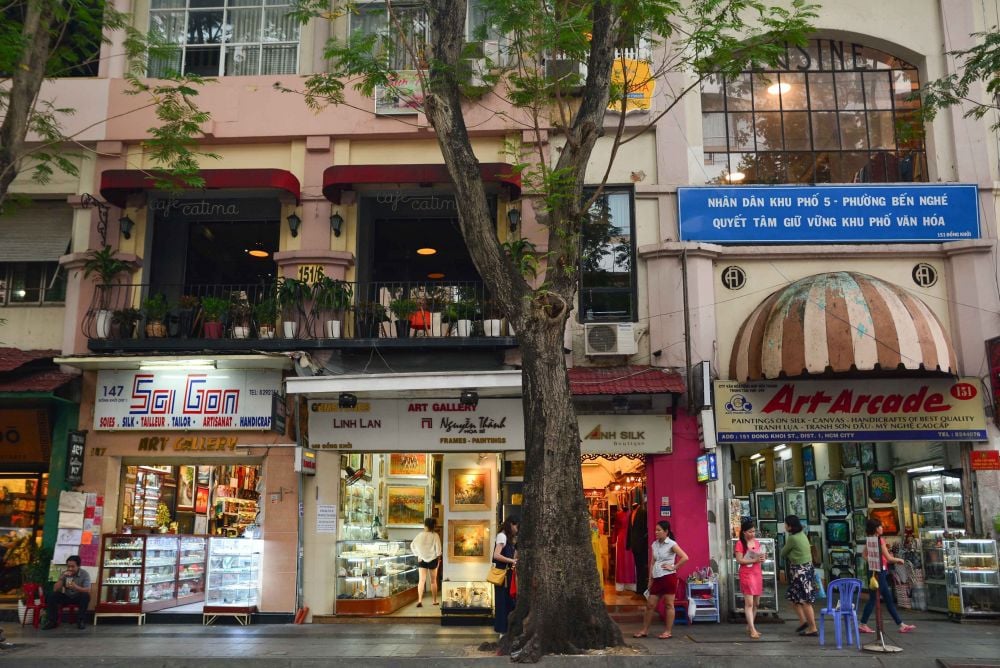 Across the other side of Saigon's relatively small but busy District 1 you'll find the posher Dong Khoi St. Only a short walk from City Hall and the CBD it's a popular place for high-end and business travelers to stay. The tourists who stay here are quite different to the stereotyped and overindulging party animals on Bui Vien, although there are vices to be had there too.
In French colonial times, Dong Khoi St originally went by the name Rue Catinat and was the place to be seen. As they were slowly developing the area in their style, this street was the centre of sophisticated culture and is still lined with fancy cafés and boutique stores, some whose early shop fronts can still be seen.
Beneath the thick overhanging trees, Dong Khoi St is a great place to go shopping for unique gifts and still retains the reputation as a place for fashionistas with high-end stores like Gucci, Versace and Louis Vutton.
If shopping's your thing, make sure you stop into Saigon's largest underground shopping mall in the stunning Vincom building. If eating's your thing, it's got the best food courts in the city with a huge range of well-priced restaurants and snack bars.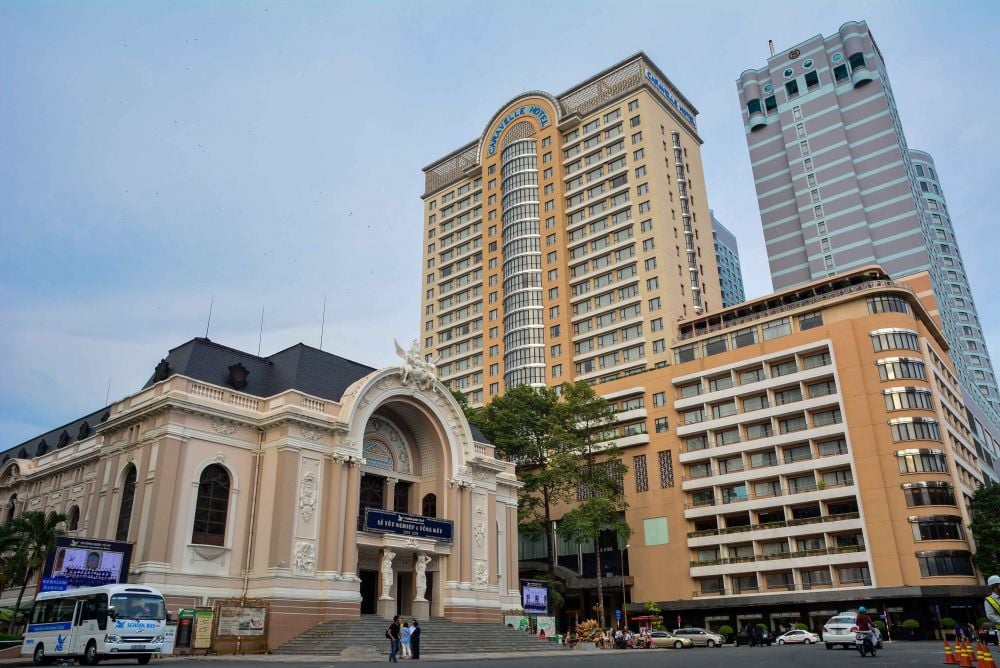 Dong Khoi was also the place to stay for visitors to 'French Saigon' and the oldest, most exclusive hotels with the best beds in the city are still found here. Sitting proudly beside the Saigon River, the palatial Hotel Majestic dates back to 1925 while further up the road the towering Caravelle and the charming Continental Hotels share the same square with the impressive Saigon Opera House (locally referred to as the "Municipal Theatre").
Finally, at the most northern end of Dong Khoi St you'll find one of Saigon's most famous landmarks, the striking Notre Dame Basilica. Built using materials imported from France was completed in 1880 and is as popular as ever with locals, Catholic or not. It's a great location to meet with friends and admire one of the oldest standing buildings in the city over a coffee.
Enjoy your time in Saigon and make sure you get a chance to visit and experience the life on both of these alluring and different areas.