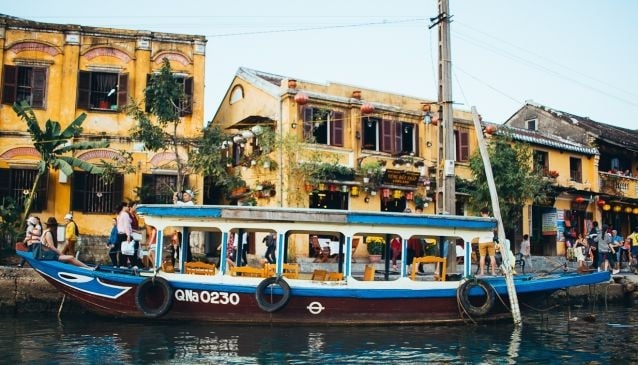 72 Hours in Hoi An
Adventure
Since its origins, Hoi An has been charming & captivating; a magnetism still experienced today.
Hoi An, Vietnam: you've read about it, seen the antiquated photos or perhaps know someone who's traveled there. It's one of the country's most popular tourist destinations— and for many different reasons. History & culture are extremely well preserved, the locals are sweet & welcoming, the food is great, the attractions vary and, like very few other popular tourist destinations, it still retains its innocent charm.
72 hours in Hoi An
Day 1: The Introduction
Morning:
Start your day off in true Vietnamese fashion: with a bowl of noodles. You'll have a selection of dishes to choose from, but either go for the classic Phở Bò (beef noodle soup) or the local specialty: Mì Quảng ("Quang Nam Province" noodles with beef, chicken, pork or shrimp.) Dish should cost 20.000-30.000 VND.
Both are easily found in Hoi An's central covered market- a sort of all-in-one place for tourists & locals to eat. With your belly full & adventure sparked, head out straight towards the river for a walk through the market (the earlier the better, as activity lessens towards the midday hours.) Explore the open-air fish & seafood stalls, covered meat & vegetable sections, peruse the surrounding sections for kitschy trinkets and unique souvenirs… but watch where you step and keep an eye on the traffic!
After getting your market fix, take for the iconic mango-colored streets of the Old Town. Tran Phu, Nguyen Thai Hoc & Bach Dang are your main areas to explore and are pedestrian/bicycle only between 9:00-11:30 & 14:30-21:00. You can either purchase a ticket from one of the entrance stalls (to explore the historic buildings, museums & temples) or just walk the streets on your own… there are plenty of attractions that don't require entrance fees.
Don't Miss:
-Japanese Bridge
-Assembly Halls (choose a couple to visit)
-Tan Ky Old House
-Quan Kong Temple
Tip: Don't be afraid to get lost! The ancient alleys and side streets are all OK to stroll… plus they provide some beautiful photo ops!
Lunch & Afternoon:
Head for 22 Nguyen Hue and enjoy a delicious local lunch at Ms. Ly's Cafe. All items on the menu are spectacular, so don't be afraid to go overboard. If you fancy a coffee and a bit of people watching, head for Mia Coffee (20 Phan Boi Chau) or Hoi An Roastery (135 Tran Phu)- both sell local beans & roast their coffee in house.
Spend your afternoon soaking in the old town charm, pop in to get some clothes made, grab a ridiculously cheap "fresh beer", walk the river promenade and enjoy all the charms that make Hoi An so unforgettable.
Evening:
Evening in the Old Town is magical. As the sun goes down, lights begin to dim, lanterns come out and true Hoi An charm comes to life. For dinner, grab a fantastic meal at Green Mango, Mai Fish, Mango Mango, Mermaid or Morning Glory- all are delicious, authentic and popular… so call ahead for reservations!
Day 2: Cycling Day
Depending on your personal comfort levels, there are two ways to approach today's itinerary: a guided tour or on your own. If you prefer guided adventures, contact Heaven & Earth Bicycle Tours. Options range from half to full day, so contact them directly.
Otherwise, for the ambitious type:
After you hire a bicycle (20.000 VND/day- can generally rent from a hotel), start your day by grabbing a Vietnam essential: the Banh Mi Sandwich. Combining the French-inspired baguette with delicious local ingredients, the banh mi is a quick, easy and filling meal.
Recommended spot: Banh Mi Phuong (2 Phan Chau Trinh.)
Options for the day:
-Take the ferry to Cam Kim Island. Explore what old world Hoi An really looks like on this beautiful, quiet island. Home to reed mat makers, incense producers, farmers and the Kim Bong Carpentry Village, where amazing hand carved woodworks are done. Break periodically for food & drinks at any cafe on the island. (Ferry is located on Bach Dang Street- east of the fish vendors)
-Head to Tra Que Herb Village. Off both sides of Hai Ba Trung Street (just after the rice paddies if you're heading away from Hoi An city), Tra Que is where most local restaurants get their herbs & vegetables. Tours are available (call ahead) or just stroll the brilliant organic gardens. Lunch recommendation: Baby Mustard Restaurant.
-Cruise the Paddies. Head for the rice paddies along Hai Ba Trung Street and turn onto their dirt paths. While the pathways are bumpy at times, you will get as close to nature as ever. Roads connect to the opposite side of town on Cua Dai Street. Make sure you bring lots of water for this trip! Grab lunch at 328 Restaurant on 328 Cua Dai Street.
-Ride the Coast. Cycle to Cua Dai Beach and turn right towards the Victoria & Sunrise Resorts. There are beautiful rides along the water with few people and great views of Cham Island. Grab lunch at 328 Restaurant on 328 Cua Dai Street.
-Explore the Villages. If you cycle along Nguyen Dieu Hieu, you will ultimately hit the village of Cam Thanh. Here you will encounter super friendly locals, sprawling rice paddies and a feel for life in Hoi An's countryside! Grab some lunch at "the Field Restaurant & Bar"- located in the middle of the rice paddies of Cam Thanh Village.
After a long day's ride, head back to the hotel for a brief rest & clean up. For dinner, head to The Market (3 Nguyen Hoang- An Hoi Islet). Absolutely amazing food options… go for the all you can eat option!
Alternative to Cycling: If you prefer to get motorized, Vietnam Vespa Adventures offers some amazing tours!
Day 3: Time to Chill
After two full days of exploration, your final day in Hoi An is for relaxing! Head to Cargo Club (107-109 Nguyen Thai Hoc) for that long, delicious western breakfast you've been waiting for. Coffee, juice, toast, Eggs Benedict, pastries, fruit, yogurt- it's all here.
Spend your last Old Town hours picking up a few final souvenirs (Hay Hay Hoi An, Metiseko, Reaching Out, the O Collective, Kimmy Tailor & Bebe Tailors & Jewlery are a few local favorites.) For a light lunch, grab a bowl of Hoi An's famous Cao Lau noodles at the stall in front of the Japanese Bridge- a must try for anyone visiting Hoi An!
With a half day still left, hail a taxi and head for An Bang- Hoi An's most beautiful beach. Grab a lounge chair at any of the beachfront bungalows and soak in your final hours. There are some excellent restaurants along the beachfront that offer everything from Vietnamese & French to burgers, salads & wood-fired pizza, so don't hesitate to linger! Enjoy a delicious final meal, have a few sundowners and reflect on an unforgettable 72 hours in Vietnam's Ancient Town!
Photo : Pham Minh Khanh _ from Hoi An, Vietnam