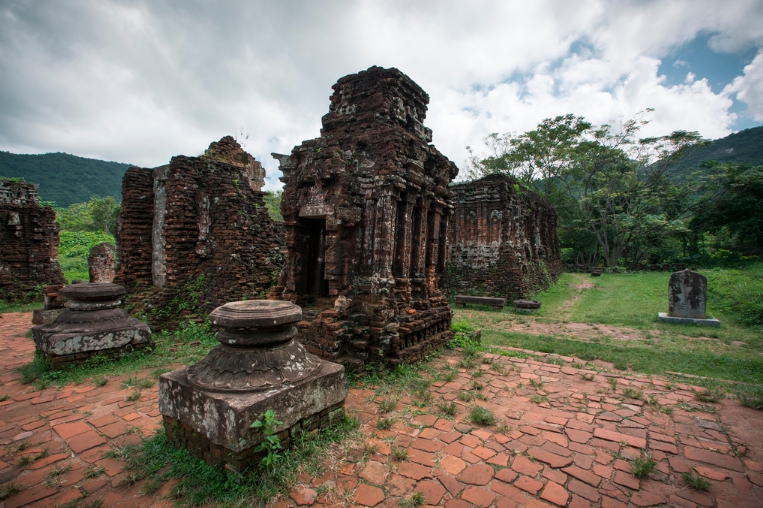 Off the Beaten Trail: Day Trips in Central Vietnam
Adventure
No matter what type of adventure you're looking for, Central Vietnam has a day trip for it
You've landed in Da Nang, tackled the eye-popping beaches, eaten your way through the city and meandered down to Hoi An. After ancient town visits, you trekked to Hue for a few days and enjoyed the laid back ambiance. But what now? You're not ready to leave the Central region yet, but feel as if you've already tackled the "must-see's" of the area…

Time for a slew of Day Trip!

If you're feeling adventurous and are looking for a truly unique addition to your Vietnam holiday, there's a great range of cool, single-day excursions awaiting. Whether you want to get motorized, take a guided tour, traipse the jungles or conquer the mountains, there's something for everyone.

Two Wheeled Adventures

For many travelers visiting Vietnam, there's nothing more unique than taking a motorbike journey. While the activity can be dangerous (don't say we didn't warn you), it can also be one of the most memorable aspects of your trip. For Danang/Hoi An based travelers looking for a short journey, head for the Lady Buddha statue! Son Tra Peninsula is a picturesque, historic destination that has a number of beautiful attractions within it. To reach Son Tra, ride the beach road (Vo Nguyen Giap into Hoang Sa) passed the endless seafood restaurants and beyond the pungent fishing village up towards the colossal Lady Buddha statue.

It won't take long before your eyes are treated to some of the best views of the city and sea. Wrapping around the winding, ascending roads, panoramas of Danang will appear around every bend, with photo opportunities arising every 30 seconds. If you want to visit the Lady Buddha, feel free to cruise up to the parking area and enjoy the tall vistas under the Buddha's gaze. This is only the beginning though! Continue on the road towards the Intercontinental Resort (ultimately passing it on your left), to what appears to be a dead end. The road turns sharply to the right, descends and develops into little more than a sidewalk… which after about 5 kilometers will bring you to one of Da Nang's coolest secrets: The 1,000 Year Old Tree.

This ancient ficus tree looks as old as it claims to be. A former revolutionary hideout, this area is a super cool visit that is guaranteed to wow. With dense surrounding jungles and beautiful waterfront vistas, this moderate motorbike trip is a great starter package for the adventure seeker.




If you're looking for the ultimate motorbike trip… head for the mountains! Leading out from Da Nang's Nguyen Tat Thanh Street is Central Vietnam's most infamous cruise: the Hai Van Pass. An arduous stretch of hairpin turns and winding mountain roads, this iconic highway has been deemed one of the most dangerous roads in the world. Luckily, thanks to the opening of the Hai Van Tunnel, most of the trucks and busses that made the stretch so hair-raising are taking a different route.

Make sure your bike is fueled up and reliable… and start the grand ascent. The roads are generally in good condition, however their winding nature requires slow speeds and lots of attention. Your motorbiking efforts will be rewarded after a few hours of driving when you reach the peak of the mountain. Beautiful vistas overlook both Da Nang and Lang Co, with a few restaurants and quick stops available at the top (snacks and drinks). Take the road back down the other side (still part of the experience) to get the comprehensive Hai Van journey. If you're heading into Lang Co (opposite of Da Nang), you can continue the drive a short distance longer (towards Hue) and treat yourself to some of the most pristine (and empty) beaches in the country. Enjoy a cooling swim in Lang Co Bay… you deserve it!!

If you're feeling a bit worn out, feel free to take the tunnel on your return trip. Motorbikes are transported by truck and their riders are bussed (for a small fee) to the other side of the mountain. If you decide to take the pass over again, make sure to refuel, let the bike cool down for a bit and hydrate yourself!

Tips:

-Be aware of the weather. Warm, sunny days are the best for riding the Hai Van Pass: the views are amazing and the roads are easier to maneuver. You definitely don't want to get caught on the pass during a storm!!
-Always make sure you rent a reliable motorbike (test it out, both brakes and engine, before taking on a long adventure), keep an eye on the gas and always, ALWAYS WEAR YOUR HELMET!

Cultural Adventures

If you're looking for a more packaged adventure, one excellent (half to full day) visit just south of Hoi An is the My Son Sanctuary. A collection of ancient Hindu/Buddhist temples from the 4th to 14th century, this cultural gem is a beautiful glimpse into Central Vietnam's more distant history. While Hoi An was once considered the trade/commerce capital of the region, My Son was considered the religious capital. Flourishing under the reign of the Champa Kingdom, this brilliant cultural collection has some amazing structures, temples and statues, which visitors are able to explore on foot. Unfortunately, a large number of the temples were destroyed by bombings during the Vietnam/American War (you can still see the bomb craters in the surrounding town)… however preservation and rebuilding projects are underway.

Package tours are available through Hoi An and Da Nang (contact tour agents or hotels), however the adventurous sort can rent their own transport (private car or motorbike) and explore the site on their own accord. Entrance fees are 150,000 VND (a recent price hike) and hours are from early morning until 17:00.




Another unique visit near Hoi An/Da Nang is the Marble Mountain complex. Jutting from the generally flat terrain between Hoi An and Da Nang is a cluster of 5 separate limestone mountains (hills, really), offering both visual and historic appeal. Named after five natural elements (metal, water, fire, earth and wood), these unique crags are worth a half-day visit.

While only two of the mountains are actually open to visitors, they still make for an interesting (and tiring) visit. Follow the rocky stairs to various levels of caves, grottoes, temples, monasteries and vistas, each with their own unique attractions. Depending on your level of interest and physical fitness, you can climb to the peak of both for some breathtaking views of the surrounding Ngu Hanh Son area and coastline.

Make sure you fully explore the Marble Mountain area: there are some very unique areas with different entrance points that you don't want to miss (the ascent into the Buddhist heaven and descent into hell realms is particularly a fascinating visit!) Guided tours are available for those who want the full history of the mountain areas (a former Viet Cong hideout during the war)… while DIY-ers will have no problem trekking around the mountains on their own (small entrance fee.) For those who cannot physically trek the stairways up, an elevator is available to a lower viewing platform.

Tip: If you're climbing to the summit, bring water, wear sunscreen/UV protective clothing and make sure you wear shoes with good traction!




But Wait, There's More!

For further Central Vietnam explorations, visitors can take the cable cars to Ba Na Hills, drive out to various springs near Hue City (Suoi Voi mountain springs or the hot springs of Thanh Tan & My An) or take a more rural (package) trip to Bach Ma National Park. Whether you're looking to totally relax, get hands on, learn a bit of local history or combine it all, Central Vietnam has a whole slew of wonderful day trips to offer!

Author: Daniel Robbins
Photo: Alan Doyle, Nguyen Minh Son, Ho Ngoc Hoang, Le Phuoc Hoang Tuan