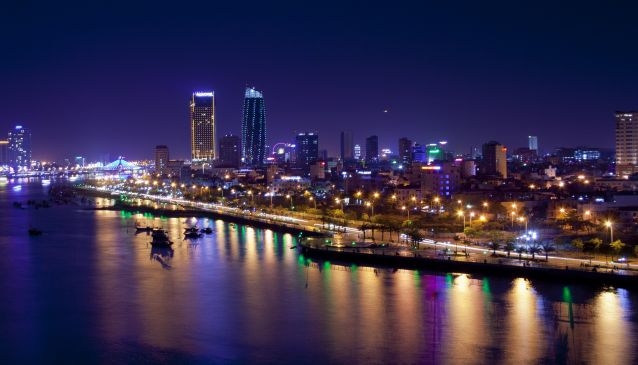 Top Ten Things To Do In Da Nang
Adventure
Da Nang represents Vietnam's promising future: modern development infused with culture & heritage.
Only a few years ago, Da Nang was a mere hub for reaching Vietnam's ancient town of Hoi An. Tourists would pass through the city in steady streams, staring perplexed out bus & taxi windows at a pristine, yet totally deserted coastline. But big changes were underway…
First came the shining new airport, then came the bridges, followed by resorts, restaurants, bars… and finally the tourists. In a few short years, Da Nang has grown from an urban ghost town into one of Vietnam's hottest new tourist destinations. Which begs the question:
What to do in Da Nang?
1. Explore the Beaches
Whether you're an avid collector of Vitamin D or prefer to don the palest skin possible, Da Nang's beaches have a lot to offer.
Vietnamese prefer a fair complexion, so they tend to head to the beaches in the early morning and late afternoon. Impromptu volleyball, football and exercise games erupt, thousands take collective dips in the ocean while others stretch out on the sparkling sands.
For those who like a solid sunbathing session, the beach is your oyster. Chairs, umbrellas and makeshift huts line the beachfront with eager owners ready to rent their views at around 40.000-60.000 VND per chair. Drinks & light snacks are often available.
Tip: Keep an eye on the flags! Red flags mean dangerous currents & riptides; stick to the designated swimming areas.
2. Get Acquainted with the City
Whether you're walking, driving, taxiing or cycling (not really recommended), Da Nang city is a fun place to explore. Split by the Han River, locals designate the city by East & West. The Eastside is dominated by the beach & ocean and houses some excellent seafood restaurants and tourist hangouts (look for the An Thuong Area).
The Westside is much more urban with great shops, restaurants and cafes scattered throughout. Popular areas are Bach Dang and Tran Phu street- boasting the most restaurants and cafes.
Tip: Infrastructure can be cool! Da Nang is known for its bridges, most famously the Dragon Bridge. Watch this architectural marvel breathe fire & spray water on the weekends around 9 PM.
3. Sample the Food
Every month that passes sees a new (delicious) restaurant opening in Da Nang. Whether you want to try amazing local Vietnamese food, super fresh seafood, Japanese, Korean, Italian, American, French or a combination of it all, Da Nang has some amazing options to choose from. For a full list of the best places to eat in Da Nang, please see our Culinary Guide to Da Nang
4. Experience the Nightlife
Da Nang comes alive at night! Bars line the popular An Thuong area, Bach Dang street & Tran Phu, with great drink specials and nightly happy hours around 4-6 pm. Resorts offer romantic getaways (open to outside guests) with delicious meals that often come with a view. Partiers can head to Novotel's Sky36 (Vietnam's highest sky bar), Seventeen Saloon (76 Tran Hung Dao) or the infamous late night New Phuong Dong (20 Dong Da.) For the singing sort, karaoke joints are more prevalent than taxis.
5. Take in the Views
Da Nang has some amazing spots to capture beautiful city views. Look for the tallest buildings and you're bound to fall in love. On the Eastside, A La Carte offers a rooftop restaurant, bar & pool area where guests are treated to panoramic views of the ocean & city. On the Westside, the Novotel boasts the country's highest sky bar with equally as stunning views.
6. Take a Motorbike Trip
Da Nang is a hub for amazing day trips. If you're feeling brave, rent a motorbike (around 100.00 VND/day) and take off in any number of directions:
Hoi An: 30 minutes down the (breathtaking) beach road and you're in the UNESCO ancient town of Hoi An. You'll pass Marble Mountain(s) along the way, where you can pop in for a couple hour "hike" for a small entrance fee.
Son Tra: Head towards the iconic Lady Buddha Statue for one of Da Nang's most memorable trips. Incredible roads wrap around the peninsula providing some of the country's most beautiful ocean/city views. Visit the Lady Buddha or head all the way passed the Intercontinental Resort to visit the incredible 1,000 year old Banyan tree!
Hai Van Pass: The ultimate motorbike trip! A long stretch of road crossing the mountains between Da Nang and Lang Co, the Hai Van Pass has long been hailed one of the world's most beautiful roads. Stretches can be a bit dangerous at points, but the ride is super fun and the views are unforgettable.
Tip: Wear sunscreen, protective clothing and drink a lot of water!
7. Ancient History: Learn the Roots!
Pay a visit to the Cham Sculpture Museum (#2 9/2 street- near the Dragon Bridge) to learn a bit about the Cham Kingdom and its people, who inhabited the Central Vietnam region for hundreds of years. The museum is home to many beautiful sculptures dating from the 7th to 15th century.
8. The Spa
No visit to Da Nang is complete without pampering yourself! A huge list of spas are available in Da Nang with treatments ranging from massages for 100.000 VND/1 hr. to five-star, half-day treatments. Local spas can be found all over the city, while upscale experiences should be sought out in the range of resorts located along the beach road. Reservations required.
9. Coffee
Coffee culture is a way of life in Vietnam! Sit roadside and watch the world go by as your Vietnamese filter coffee drips slowly into a tiny glass filled with ice, sweet milk, both or none. The nation's favorite pastime, at some points it feels there may be more cafes in Da Nang than people to fill them!
Local coffee- anywhere! Upscale Vietnamese experience: Highlands Coffee (Indochine Plaza, Bach Dang Street). Western-style Coffee: Wonderlust Cafe (101 Tran Phu); Mia Coffee (9 Quang Trung); Waterfront (150 Bach Dang)
10. Get Your Shop On
Don't leave Da Nang without giving yourself the market experience! Han Market (Cho Han) or Cho Con (across from the Big C Plaza) are two excellent local market experiences. Find everything from fish sauce, dried shrimp and freshly butchered meats to coffee, kitchenware and knock-off apparel. Even if you don't want to purchase anything, it's still worth a walk through!
If you're looking for souvenirs in a more palatable location, head for Da Nang Souvenirs (34 Bach Dang.) Great selection of local goods from local suppliers.
Da Nang is a safe, beautiful & fun city to visit. Don't be afraid to explore the back roads and tiny alleys, sample local cuisine or strike up a conversation with locals. If you drive, do so carefully; if you swim, be aware of the strong currents; if you walk… stay hydrated!
Photo : Pham Minh Khanh _ from Da Nang, Vietnam