Central Region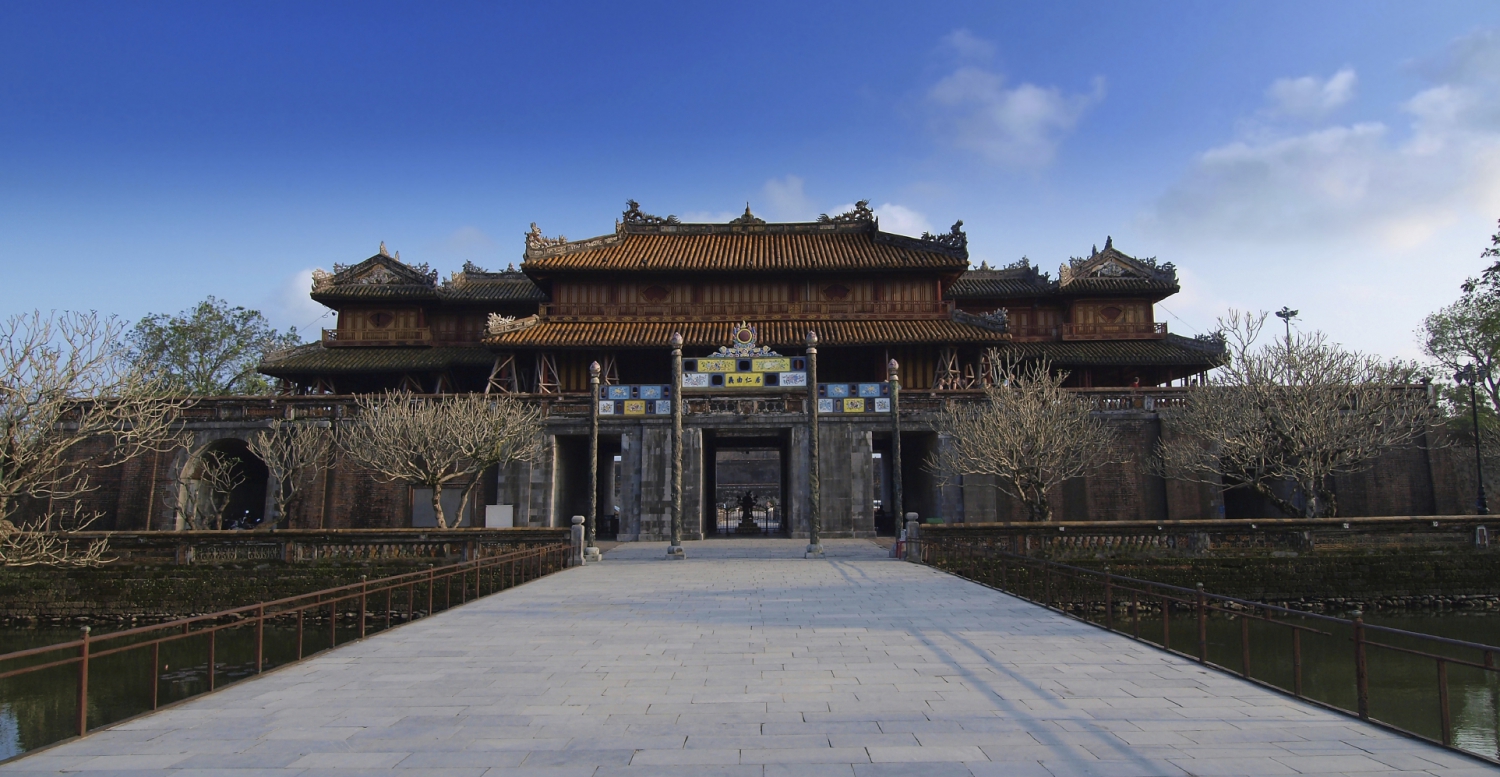 With breath-taking beauty and heart-breaking history, the bridge between North and South Vietnam is a wonder of sights, sounds and textures. At one time referred to as the land where "Dogs eat rocks – Chickens eat stones" (Chó ăn đá – Gà ăn sỏi) for its poor natural resources, it has nonetheless earned the region with the most destinations recognized by UNESCO World Heritage. Central Vietnam never stops surprising us with its hidden natural treasures and the best seafood offered in the country.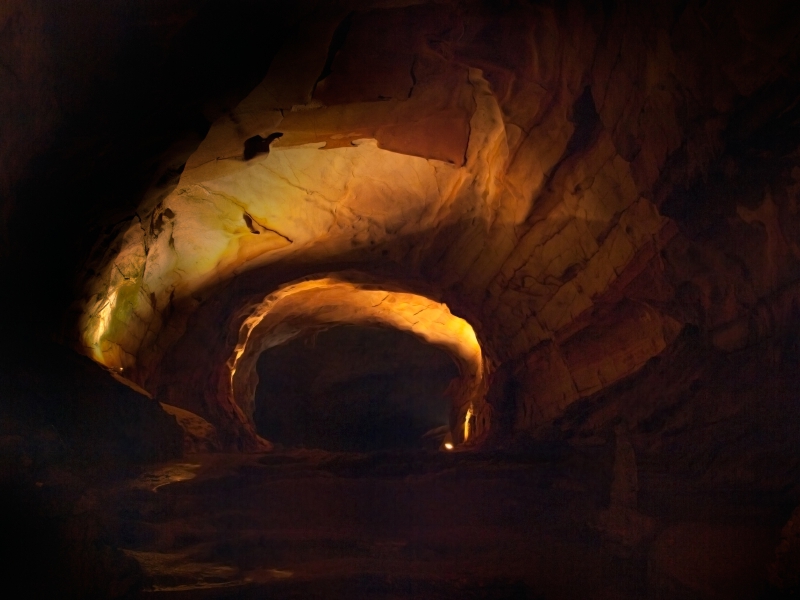 Phong Nha – Ke Bang National Park
As a UNESCO World Heritage site since 2003, Phong Nha – Ke Bang National Park is one of the most spectacular natural destinations in South East Asia. The park boasts an abundant collection of underground caves and rivers, stunning karst formations and fascinating tropical jungles. The area is uniquely impressive with the world's largest cave - Son Doong, the oldest karst mountains in Asia - 400 millions years old, the longest underground river on earth - Hang Re Ky and the largest combined caverns and passageways.
At once thrilling and tranquil, you will have the most remarkable adventure here in one of the two largest limestone regions in the world. The Park contains 100 types of mammal, 81 types of reptile and amphibian, and more than 300 varieties of birds.

As for food, it's definitely worth a ride of 100Km from the park to Quang Tri for the fresh tasting squid and crab. Quang Tri is a very moderately priced place to get your seafood fix.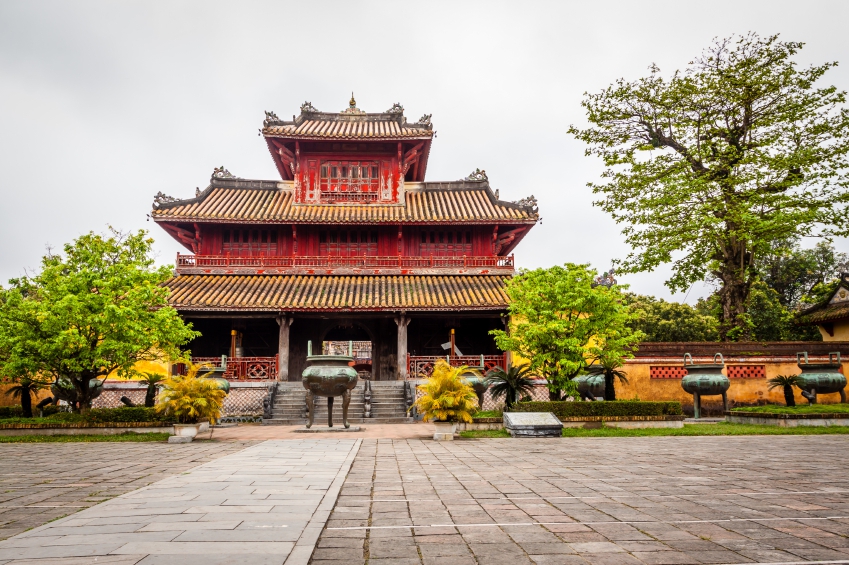 Hue - A UNESCO World Heritage site
Vietnam's capital until 1945, Hue is a real feast for those who are fascinated by historical and cultural discovery. Though much of its finest architecture was destroyed during the war, there are plenty of palaces, royal tombs, pagodas and temples for you to visit.
One of Hue's greatest attractions is the collection of Nguyen Emperors' imperial tombs such as Khai Dinh and Tu Duc. The special architectural merit of these tombs in Hue's tranquil atmosphere will afford you an interesting peek at Vietnam's ancient royal lives.
Another visually impressive site is the Imperial Citadel – formerly a location for royal ministries - with Hue Capital Citadel, Royal Citadel and Forbidden Citadel. Today, it has become a quiet residential area with evergreen gardens and parks. Walking in the tunnels of the Demilitarized Zone – previously one of the world's most militarized areas – can be another unforgettable experience.
If you happen to visit Hue in an even-numbered year, don't miss the Festival of Hue. This is a delightful art festival with many local and international artists and performers.  Another cultural option is the night boat trip on the tranquil and beautiful Perfume River. The ride is especially enjoyable when, as often is the case, it is accompanied by live traditional court music.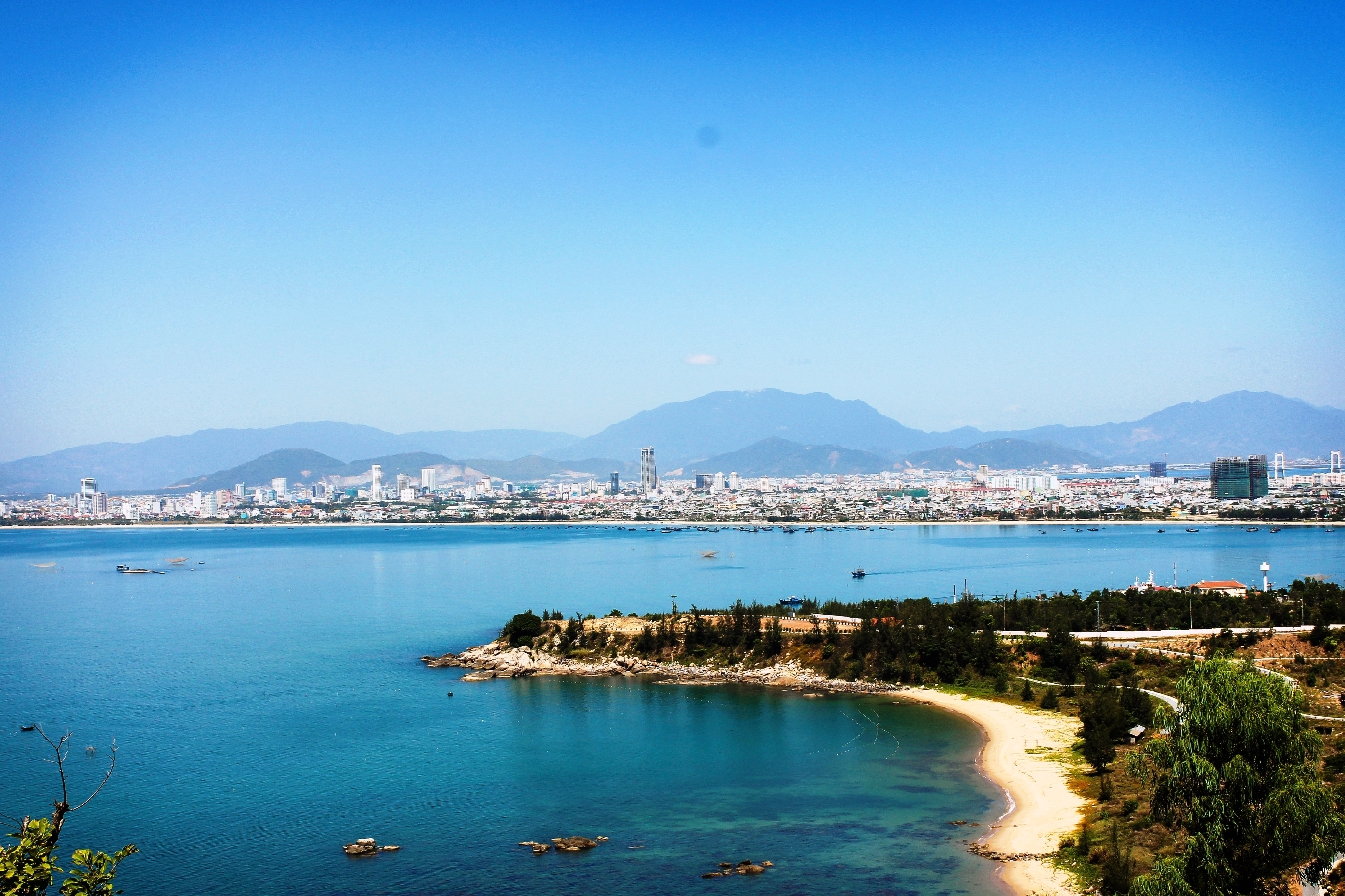 Da Nang
With an international airport, Da Nang - the third largest city in the country, is a perfect destination for you to start your journey to the Central region. While here, don't miss the stunning views from the many beaches and the rejuvenating fresh air from Son Tra Peninsula. It is an untouched natural scene with crystal sea and complex coral reefs.  For a quiet and relaxing time visit the popular nearby crystal- clear turquois lagoon, Lang Co.
Another gorgeous place you can enjoy is the invigorating atmosphere found at Ba Na Hill. Stay a night here on top of the hill and you'll see clouds floating inside your bedroom window! That's just so cool.
Formerly an important base for the Vietnam military, Mable Mountain is another popular site for both locals and foreigners. Named after the five essential elements of the universe: earth, water, fire, mental and wood, this is a fascinating complex of mountains, caves and tunnels.
In town, you can explore the local life by visiting Han market, which holds a very important position in the history of the city. Cham Pa Museum, the last collection of Cham Pa arts in the world, is another attraction you won't want to miss. The museum's architecture was very elegantly constructed by the ancient Cham Pa tribe, the people who used to inhabit the region prior to the Vietnamese invasion.
Before heading to other destinations in the Central region, do take the time to enjoy delicious local cuisine at one of the largest street food areas in Vietnam.
Along Vo Nguyen Giap Street to the new coastline roads in Son Tra District is probably one of the best places to satisfy your seafood cravings with the most tasty soft-shell crab in tamarind sauce, steamed clams with herbs, charcoal grilled fish and many more.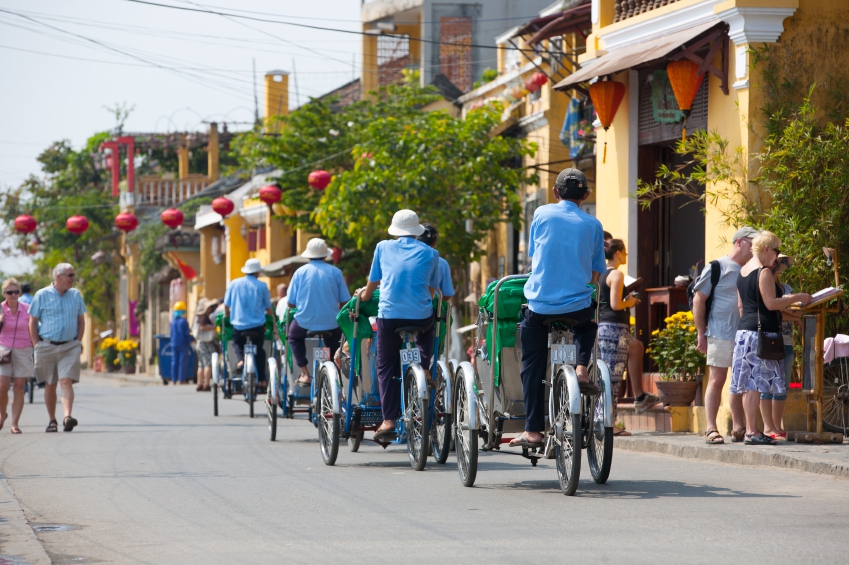 Hoi An – UNESCO World Heritage Site
Once a major port of the Cham Kingdom, Hoi An is the most charming and atmospheric town in Vietnam. The complex mix between Cham, Chinese and Vietnamese cultures has made Hoi An an alluring destination for locals and tourists alike.
Hoi An was voted the best city on earth by Wanderlust (a leading U.K Tourism Magazine). The place offers you an ancient town experience, with its exotic cuisine, antique architecture and golden sandy beaches.
While here, you must try Cao Lau, a noodle soup made from a mysterious recipe created from Chinese, Vietnamese and French influences. The boast of Hoi An is that it is only here that Cao Lau can be found (a claim which is not quite true, but charming nonetheless) The town is just adorable when night falls, decorated as it is with colored lanterns that line its enchanted streets.
Especially in the 1st and 15th lunar calendar, electrical power is off and the place is full of lights and adorned with the beauty of flower garlands and lanterns floating on the river.
Riding a bicycle a bit out of the town center is also a fascinating adventure. You will discover dazzling countryside with fishing villages, rice paddle fields and amazing beaches, especially in Cua Dai and China Beach. Visiting Cham Island and Kim Bong Island are among the favorite day-tours in Hoi An. Lavish forested hills and craftsmen villages along with the pure refreshing air, will aid to rejuvenate both your body and mind.  So do take the chance to immerse yourself in this wonderful atmosphere.
About fifty kilometers from Hoi An, in My Son is a collection of ancient Hindu temples, constructed between the 4th and 14th centuries. This spiritual capital of the Champa rulers was much destroyed during the war. However, this remarkable site remains, with its beautiful red bricks and craftsmanship - it is a more than worthwhile day trip.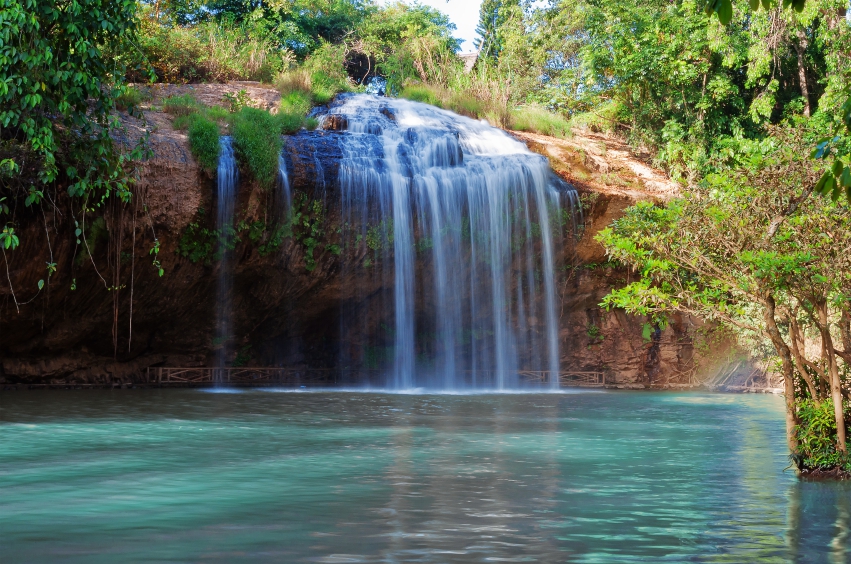 Da Lat
Da Lat is a beautiful green area in the Central Highlands and is among the most romantic of destinations for locals in Vietnam. This mountain town was originally built up by the French as a resort center to escape from the heat of Saigon.
Its high altitude and rich soil makes Da Lat an ideal land for a wide range of agricultural products. You'll find its vegetables, fruits, tea and coffee all over Vietnam and as far away as Bangkok, where especially its tomatoes and strawberries are regularly shipped.
Here also is a unique opportunity to discover how plants are grown and harvested, as this region boasts a plentiful and colorful assortment of agricultural delights.
Da Lat is also well known across the country for its irresistible Flower Festival every Christmas. Surrounded by lush green pine trees and tea and coffee plantations, Da Lat offers some of the best mountain biking and hiking trails in Vietnam.
Don't forget to taste grilled mountain chicken, tasty stuffed snails and beef hot pot while you are there – it will complete for you a memorable journey to the Central region of Vietnam.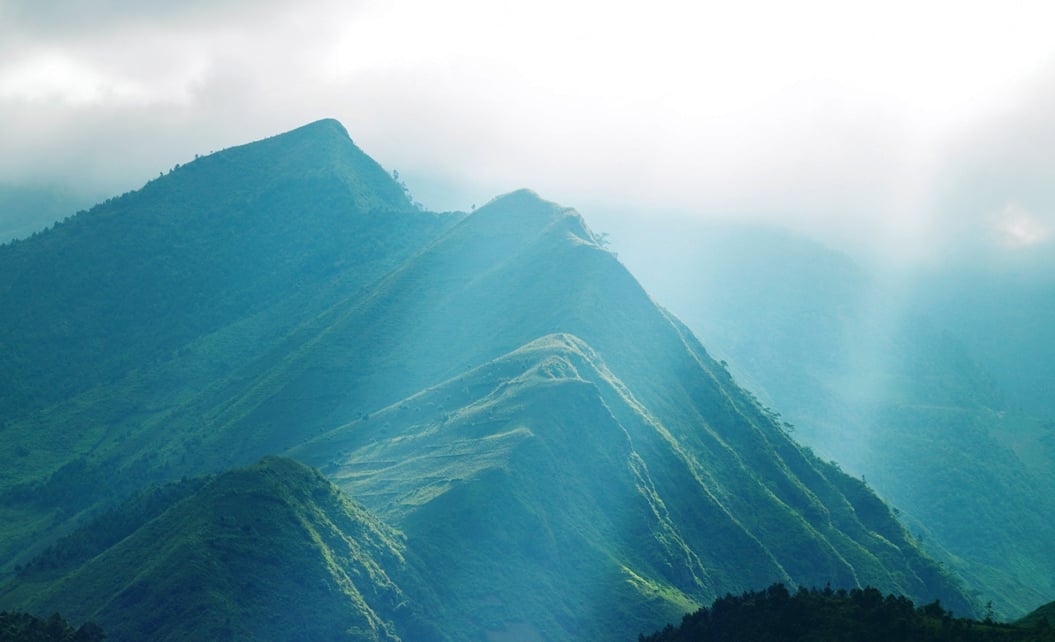 Annamite Range
The Annamite Range (Dãy Trường Sơn in Vietnamese) runs parallel to Vietnam's coast, curving gently in tandem, and cutting between the basin of the Mekong River and the narrow coastal plain which is lined by the South China Sea. Also called the Annamese Mountains, this is a mountain range which rolls through Laos, a small part of Cambodia, as well as Vietnam. During the American War, many Vietnamese would use hidden paths through this range to secretly transport weapons, food and people from the North to the South. The range forms a vital tropical rainforest ecoregion which is home to rare creatures that have only been recently discovered, such as the Annamite rabbit, the antelope-like saola, and the Indochinese tiger. The most adventurous backpackers who are willing to "rough it" can explore caves and hiking, but don't expect to find any Western accommodations along many parts of this area!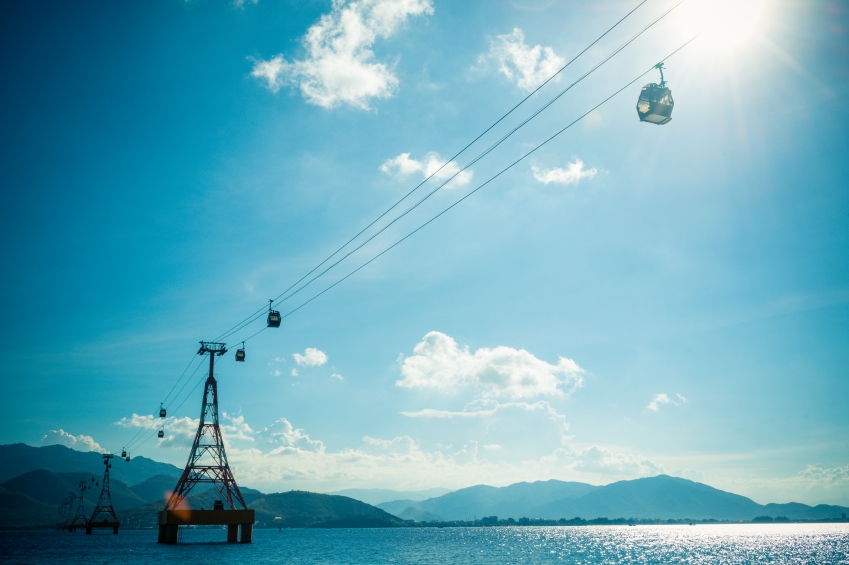 Nha Trang
This city has long been one of the most favorite places for international tourists in Vietnam, this lively beach town makes a perfect destination for the "sun and fun" seekers.
With its miles of beautiful turquoise coastlines and nearly 20 islands, Nha Trang has it all, either for a relaxing trip or an adventurous journey. Beach sports of all kinds, scuba diving and snorkeling are enjoyable past-times here. With its clear-aqua ocean, colorful coral reefs and very moderate climate all year round, this beach town is the quintessential Vietnamese summer vacation spot.
Many have enjoyed a boat trip to cruise the bay and its various islands. Rarely known by foreigners, the island of Binh Ba is becoming very popular among the locals for its beautiful (very cheap!) lobsters and interesting homestay experiences. What else on earth could be more pleasant than having fresh grilled lobsters while watching a golden sun-set on a crystal blue ocean?
For more relaxing activities, I would recommend a leisurely bike ride around this charming and lively town. Also a visit to Po Nagar Cham temple – an amazing sculpture and architecture complex –is well worth the trip.
Nha Trang is definitely a heaven on earth for seafood lovers. An abundant collection of fresh seafood of all kinds combined with the local special recipes is liable to satisfy each and every one of your taste buds. Besides the spectacular seafood, these local specialties are well worth trying: Nem Nuong (Grilled fermented pork), Banh Can (thick small pancake with eggs, vegetable and special sauce), Bun Cha Ca (Rice vermicelli with grilled or steam fish and jellyfish).
Last but not least Nha Trang is a very fun late night town with various interesting bars and clubs. Or try dancing on the beach in the middle of the night around an open bonfire fire - it's fun!