Saigon's Best Parks
Arts & Culture Family Fun
Escape the frantic streets and enjoy Saigon's vibrant park life
Our Top Experiences and Tours in Vietnam:
If youʻre booking your trip to Vietnam last minute, we have you covered. Below are some of the top tours and experiences!

For the past decade Saigon has been one of Asia's fastest growing cities and luckily for us, it has retained a lot of its green spaces. Many inner-city streets are lined with century-old trees, canals are bordered with lush grass and tropical plants. The numerous parks is a showcase for the love and strong connection the Vietnamese people have with horticulture. Let me give you a run-down on some this city's best parks:

23/9 Park (Located Between Pham Ngu Lao and Le Lai St)

Named after the anniversary of Ho Chi Minh's independence speech in September 1945, 23/9 Park is often used for major events and seasonal activities. Although the park is several blocks long, it's quite narrow and being located next to the backpacker area, it's certainly the most popular with tourists. As a result, on weekends you will find local teenagers wandering around in small groups looking to practise their English with willing foreigners. I encourage you to take some time from your day, take a seat and have a nice chat with them.

The park gets pretty busy on Saturday and Sunday nights with a free variety show from 8-9:30pm on the central stage. These entertaining shows are in Vietnamese and often feature magicians, dancers and singers and although designed for kids, they're a true highlight for all ages.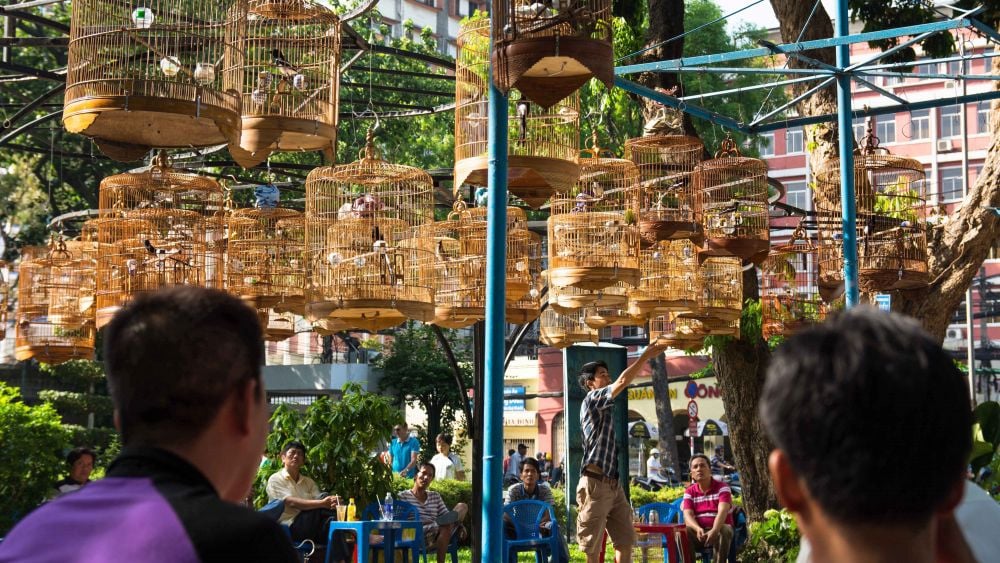 Tao Dan Park (Truong Dinh St)
Only a short walk from Ben Thanh Market and behind the Reunification Palace, you'll find one of Saigon's biggest and most pristine parks. As you wander around the beautifully manicured gardens of Tao Dan Park you'll pass a small but beautiful temple dedicated to the former Hung Kings as well as a cute replica Cham tower.
Further on, beside the emotive modern sculptures are some equally inspiring pieces of exercise equipment and no trip to Saigon is complete without a test run on some of these peculiar machines.  Quiet afternoons are a pleasant contrast to the busy mornings in this park, and there is always a nice spot to relax in the shade of one of the huge tropical trees scattered throughout.
The highlight at Tao Dan Park though, must be an early morning visit to see scores of women converges to practice Tai Chi together, counting aloud as they hold each pose. On the opposite side of the park, hundreds of men gather from early dawn with their beautiful birds and cages by the old wooden café. They'll spend the next few hours quietly chatting and sipping their iced coffees whilst listening to the charming bird songs.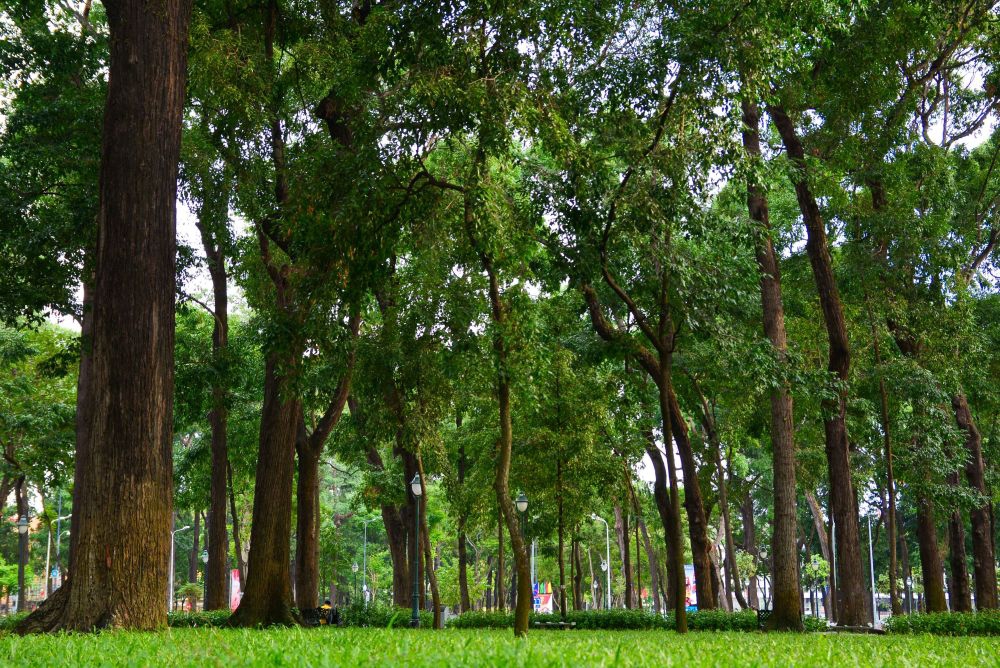 30/4 Park (Located on Le Duan St)
Probably the most important park for many Vietnamese, the historic 30/4 Park sits between the prominent Notre Dame Cathedral and Reunification Palace. It was here on the 30th of April, 1975 that the North Vietnamese Army famously paraded down the streets and smashed a tank through the palace's main gates, liberating the south and officially ending the Vietnam War.
During the day, it is a quiet affair but you'll often see several future brides and grooms posing for pre-wedding photos under the shade of the towering Dipterocarp trees. Most of the city's oldest trees are actually found within this park along with most of its squirrel population!
Unlike Tao Dan Park, 30/4 Park is definitely not a place for exercising and most of the action here happens at night as crowds of teenagers and students gather to enjoy a "Ca Phe Bet". Unique to this part of the city, this style of drinking coffee is where drinkers simply sit on and a sheet of newspaper placed on the edge of one of the walkways while being attended to by one of a number of snack and drink vendors.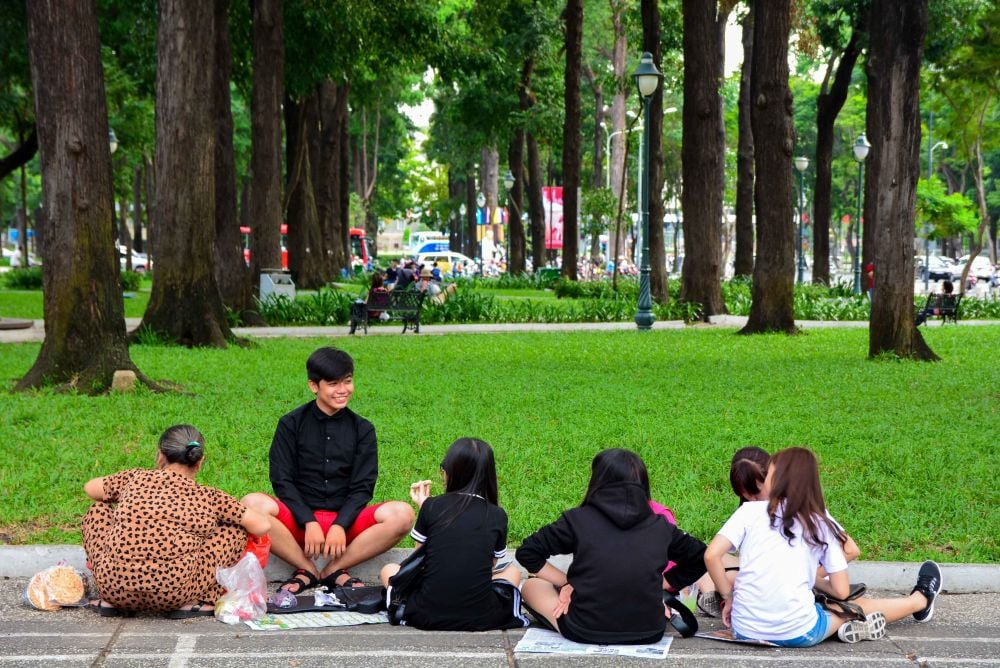 Le Thi Rieng (Located on Cach Mang Thang Tam St, District 10)
Not too far from District 1, this park encompasses a large lake, several coffee shops, a small but impressive eucalyptus forest and the popular Tho Trang night carnival. Le Thi Rieng is great park for walking, badminton, rollerblading, relaxing and even fishing! During the day it also attracts school groups who come to use the huge shaded terraces as open-air classrooms.
The Carnival is truly the jewel in the crown of Le Thi Rieng Park and the action kicks off from sunset till 10pm every evening. There are about a dozen classic rides including a small roller coaster, dodgem cars, carousel and a large space in the centre of it all packed with arcade games.
Next to the lake is a quaint temple showcasing photos and memorabilia from the park's history as well as the story of Ms Le Thi Rieng herself.  Built on a reclaimed mass graveyard from the war, this park carries some painful memories that shouldn't be forgotten.