Ha Noi
Enjoy Hanoi's alluring delicacy in autumn.
Being Vietnam's most important political center as early as 1010, Hanoi is probably the richest historical and cultural destination in Vietnam, with a mix of Chinese, French and Northern Vietnamese all influencing everything from the food to the architecture.Autumn – early winter (September – December) is the ideal period of time for you to visit Hanoi.

Despite the city's recent booming development with its hustle and bustle, the capital is famous all over the country for its romantic and dazzling delicacy in autumn. It's easy to fall in love with the poetic allure of this city. Blame it on the golden sunbeams shining through the colorful leaves of the old trees along the French Quarter, the aroma of Alstonia flowers and the young green rice in lotus leaves. And you will not soon forget the lovely image of the young girls in their traditional Ao dai dress, flowing in the cool and pleasant breeze.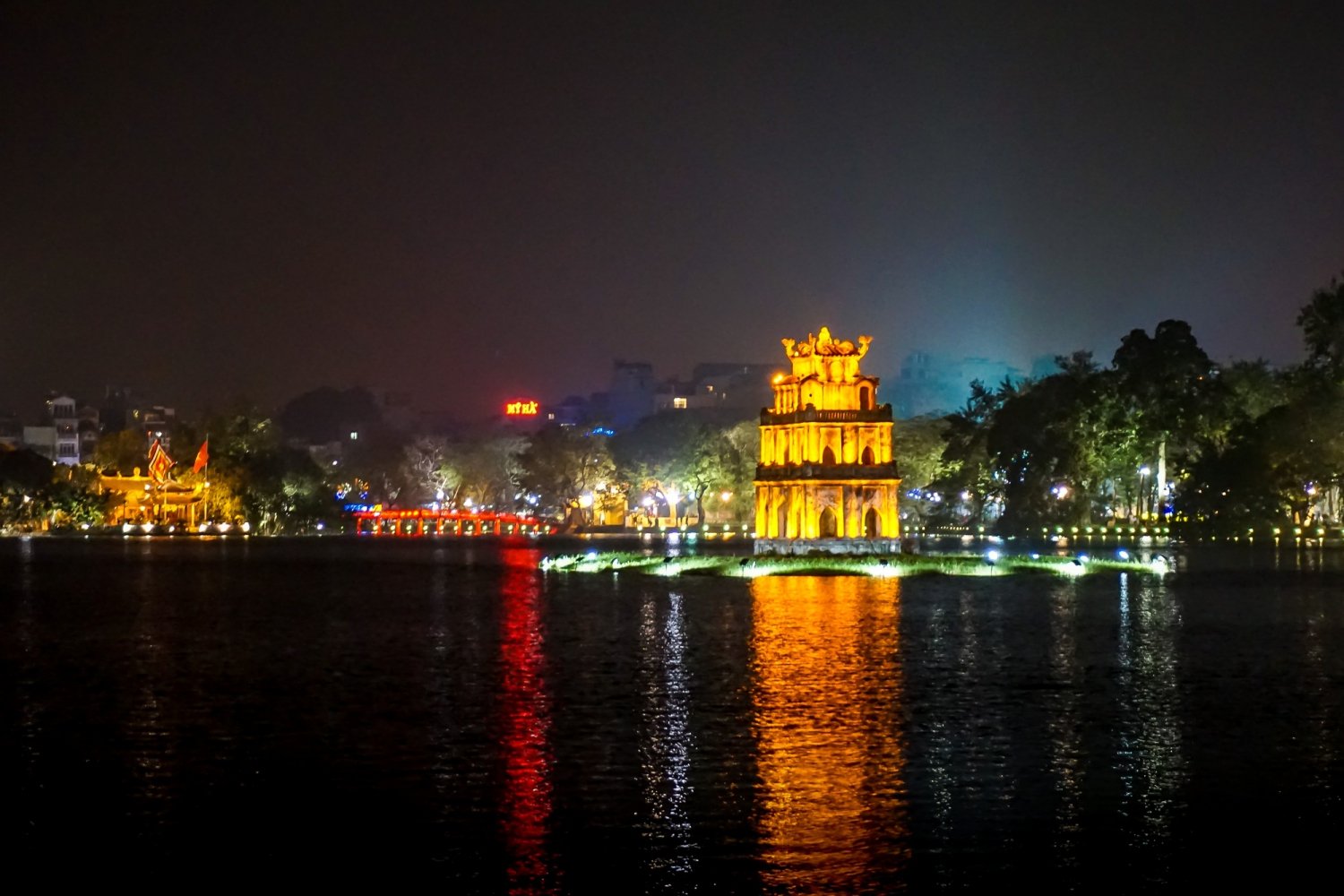 Almost any Hanoians who are far away from the city have this "autumn nostalgia" for its fragile beauty when September comes. There just aren't enough words to adequately describe how beautiful Hanoi is during the fall season. I'm feeling the "autumn nostalgia" right now writing about it and terribly missing Hanoi. Go there once and soon, you just might experience that too! That's the best time.
Here are the Top Ten ways to truly, madly and deeply fall in love with Hanoi…
Explore the charming Old Quarter's maze of streets and alleys. This is one of the most iconic areas of Hanoi for locals and foreigners alike. At the very beginning of 20th century, each street resided a particular trade such as silver, bamboo or sugar. Nowadays, though a few of them remain exclusively in their initial commerce, the street names still reflect the original business. This charming little zone promises great fun and surprises for any who take the time to walk around and explore its small alleyways, sampling street food, watching vendors with colonial hats hawking goods and checking out various delightful shops.
Ride around in French Quarter: previously an administrative center for the French colony of Indochina, the area is filled with beautiful French architecture such as the Grand Opera House, St. Joseph's Cathedral, the Presidential Palace, the State Bank of Vietnam and the historic Hotel Metropole. Really feel Hanoi the local way in its beautiful autumn by riding a scooter or a bicycle along the three-lane boulevard of Phan Dinh Phung, enjoying its shade from the old green tree lines and breathing in the aroma of Alstonia flowers along the way.
Get up early in the morning and go to - watch (or better yet- join) the mass exercise on Hoan Kiem Lake. Breathe that morning fresh air; refresh your eyes with the greenness of the trees along the lake. Listen to the crowd's lively sound. Feel the wonderful energy of the place. Do what the locals do - have a tasty pho and a nice cup of coffee, then simply sit back and relax.
Ride or walk around Ho Tay (the West lake) and enjoy a romantic and relaxing afternoon, or maybe go visit Phu Tay Ho pagoda when the sun sets.
Explore various museums:
Thang Long Royal Citadel
Presidential Palace and Ho Chi Minh's House on Stilts
Ho Chi Minh Museum
Vietnam Military History Museum
Hoa Lo Prison (Hanoi Hilton)
Vietnamese Revolution Museum
Ho Chi Minh Trail Museum
Visit Pagodas and Temples:
Pho Linh Tay pagoda
Tay Ho
One Pillar Pagoda
Ngoc Son
Bach Ma temple
Thay and Tay Phuong
Enjoy local cultural delights:
Puppet show: Thang Long Water Puppet Theatre, 57B Dinh Tien Hoang, Hoan Kiem.
Art galleries such as Apricot Gallery: 40B Hang Bong, Hanoi Studio: 13 Trang Tien and Tadioto: 24B Tong Dan.
If you are an extremely early bird or a super night owl, try exploring wholesale markets in the early morning. By "early" I mean really early, around 3 – 5AM, before the markets open for retail. Walking around Dong Xuan, Long Bien or popular flower market Quang Ba - and watching the local merchants preparing for a new working day among fresh vibrant flowers, vegetables and fresh fruits will be an unforgettable memory. You'll be experiencing the local life and people at its most authentic best.
A day-tour to Bat Trang – a village well-known all over Vietnam for beautiful ceramics.
Taste exotic local cuisines. Hanoi is a veritable heaven of street food. If you haven't had a crush with the city yet by doing the above things (I can't imagine that, but anyway), check out the must-try list below…
Pho: Wherever else you've tried this before, whether you like or dislike it - you nonetheless just have to find an authentic Pho in Hanoi! The taste is very different from other parts of the country. Pho ga (chicken), pho bo (beef) and pho cuon (pho in roll).

10 Ly Quoc Su,
49 Bat Dan,
Pho Thin 13 Lo Duc, Hai Ba Trung District.

Cha Ca (Spiced Fish grilled or fried)
The most popular one for tourists is Cha Ca La Vong 14 pho Cha Ca but don't hesitate to check out other locals' favorite restaurants for Cha Ca such as:
Cha Ca Thang Long, 19-21-31 Duong Thanh, Hoan Kiem.
Cha Ca Anh Vu: 116K1 Giang Vo, Ba Dinh.
Cha Ca Kinh Ki: 25 Duong Thanh
Cha Ca Lao Ngu, 171 Thai Ha, Dong Da.
Bun Cha Ha Noi – A round shaped soft rice noodle with very tasty grilled pork served with fresh veggies and herbs.

23 Nguyen Bieu, Ba Dinh.
Alley No. 2 Hang Khoai, Hoan Kiem: the only place that serves Bun cha in the morning (from 6 –14h) if you wake up and suddenly in a mood for it.
Tuyet: 34 Hang Than, Hoan Kiem: delicious and cheap for lunch.
Hang Nga: Dong Xuan, Hang Chieu, Hoan Kiem
Bun Cha (the noodle) + "Nem Cua Be" (fried spring roll with crab meat) can be found at: 23 Nguyen Bieu, Ba Dinh;  29 Cau Go and 67 Duong Thanh.
Egg coffee: This is a must-try! It's egg and coffee - nothing else to say.

Giang café (109 Yen Phu and 39 Nguyen Huu Huan);
Café Dinh (2nd floor, 13 Dinh Tien Hoang);
Café Pho Co (11 Hang Gai).

Young green rice in lotus leaf sold by vendors in the Old Quarter area.
Young rice and green bean Ice cream:

Kem Trang Tien, 35 Trang Tien.

Banh Duc (steamed tasty rice cake in special sauce) – Mien tron (noodle made of Ornamental Pepper mixed with other ingredients).

8 Le Ngoc Han, Hai Ba Trung District.

Yogurt:

With Jackfruit: Alleyway at 24 Ba Trieu.
With café and other fruits:  29 Hang Than.
With red bean: 120C6 Nguyen Quy Duc, Thanh Xuan.
With purple sticky rice: 23 Hang Duong
With cacao: 80 Hang Non, Hoan Kiem

Sticky rice:  Delicious sticky rice!!

Xoi Yen - 35 Nguyen Huu Huan, Hoan Kiem District.

Banh cuon Phu Ly (Steamed rice powder roll with mushroom, pork and herbs inside)

39 Dao Duy Tu, Hoan Kiem Dist.

Mien luon (Noodle made of Ornamental Pepper cooked with eels)

Dong Thinh rest. 87 Hang Dieu, Hoan Kiem.

Grilled beef

Bo nuong Ma May – 47 Ma May, Hoan Kiem
Street food in Hanoi is an interesting and addictive way to dine (Don't get too hooked on it since - you won't have it at home – and you will end up missing it terribly!). It's literally everywhere and at any time. There are, however, some popular local areas such as Trang Tien for lunch street food and Hang Buom for night-time snacks. Discover them at your own pace and let yourself fall in love with this yummy street food culture.