Traveling by train in Vietnam
Adventure
A truly wonderful way to explore the natural wonders of Vietnam.
Traveling by train in Vietnam is an experience that you will remember for a lifetime as it will show you the scenery the country has to offer as well as it will give you insight in the local way of living.
When visiting Vietnam it is a good way to explore and experience the country and all its wonders by taking the train. All your senses will be activated when the Vietnam locals welcome you with open arms and help you achieve the ultimate travel experience that will last a lifetime.
It will be an eye opener to see the beautiful nature scenes, local lifestyle, pristine beaches and many more. While seeing all this, not only you will be pleasantly surprised by the scent of traditional Vietnamese food, but you will also have a chance to listen to the traditional music on every street, hear the locals communicating and showing their interest in getting to know more about you. Of course when you are ready satisfy your hunger by enjoying Vietnamese cuisine and dishes on one of the stops or in the restaurant section of the train. All the above things will make your stay on the train an unforgettable. One thing is for certain while traveling by train you will not miss out on anything!!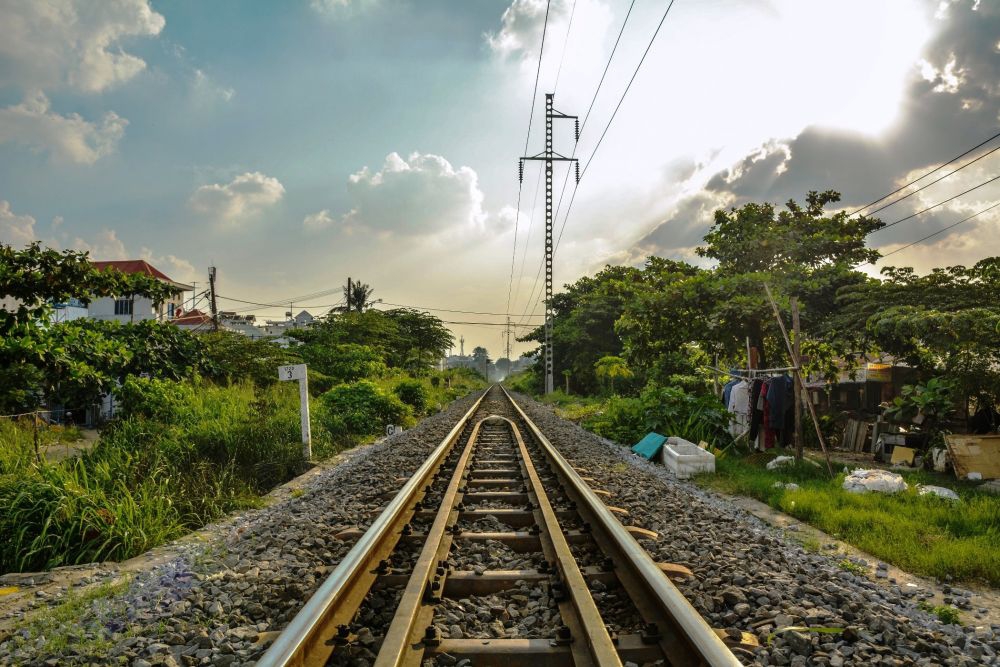 There are many trains traveling along the coastline on a daily basis, from Hanoi to Ho Chi Minh City or vice versa, there are 5 trains departing every day that can either be booked at the train station or at one of the many travel agencies located all over the country. These trains stop in all popular tourist destinations like Nha Trang, Da Nang, Hue, Ninh Binh, Hue and many more smaller but not less interesting cities.
When you decide to go to the train station to book the tickets on your own, it is advised to write down the specific places you want to visit since most of the train station workers are not well versed in English. Also, be sure to check if you received the right ticket. During the busy and hustling hours, waiting in line for one's turn is not something a typical Vietnamese local would do. So when your waiting number is called upon, make your way to the service desk as quickly as you can even if it means squeezing yourself through the crowd; otherwise if you wait patiently and let others get in front of you, you might never get the help that you are looking for. If you do not mind to miss out on this adventure it is advised to pay only a few extra dollars to let a travel agent arrange the trip for you.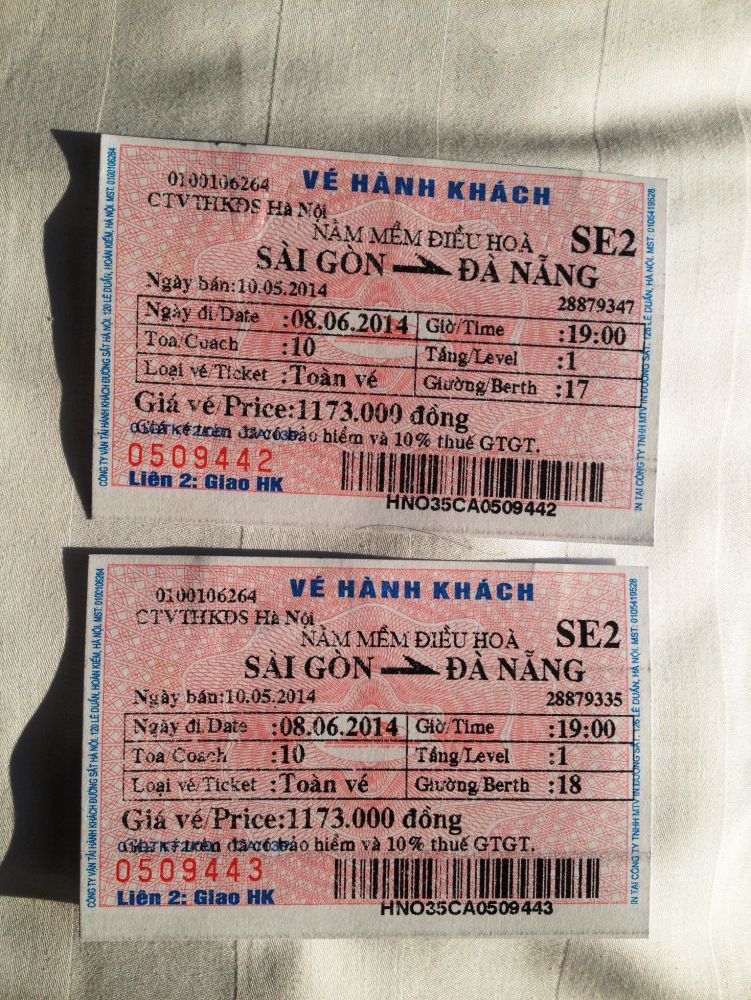 When traveling by train you have the choice of many different types of seats or beds. There are hard and soft seats as well as hard and soft sleepers. The hard seats are made of wood and occupy 3 persons on one bench without being divided by an armrest. The soft seats, on the other hand, are comparable to seats on a bus or an airplane and have 2 seats next to each other which have armrests and can also be reclined. Hard sleepers are placed in open compartments with 6 beds in each compartment and 3 bunk beds on top of each other, these compartments do have air-conditioning and the mattress is made of a kind of rubber. Soft sleepers are the most comfortable and are provided with a small table, air conditioning, soft mattress and a door with a lock. Soft sleepers come with only 4 beds with 2 bunk beds attached on each side.
Inside the train you can also find western style toilets which are located in the soft sleeper wagons, washing areas with sinks, free boiled water, a wagon which provides warm meals and drinks, power sockets and designated smoking areas.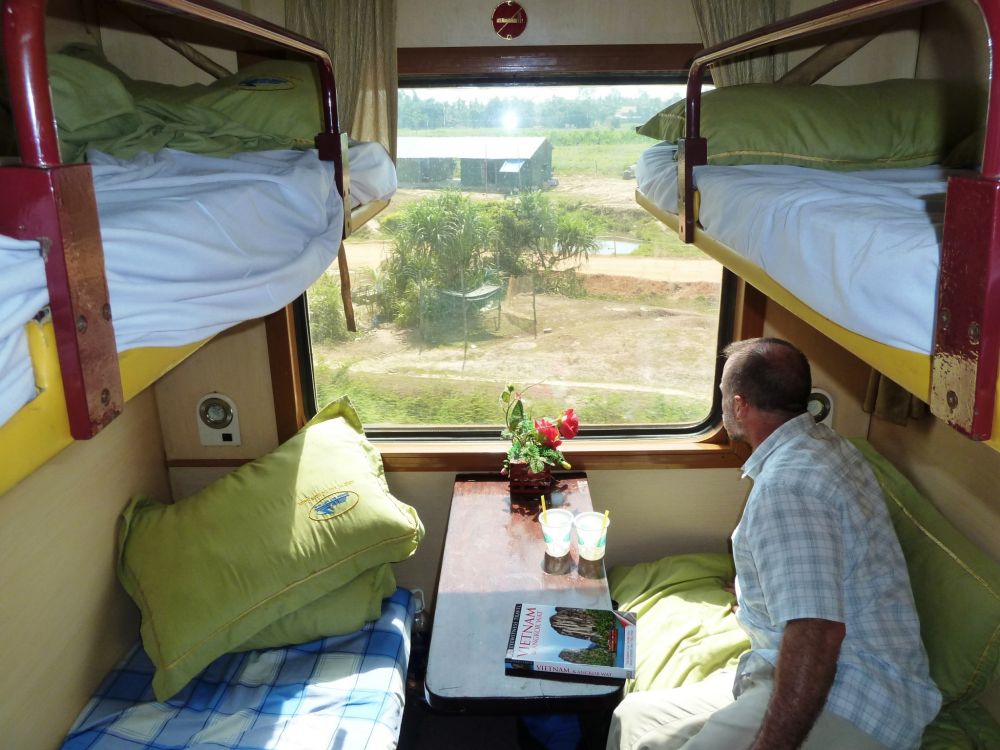 The train station (Ga Sai Gon) is located in district 3 on Nguyen Thong Street and in Hanoi (Ga Ha noi) it can be found on Le Duan Street for the southbound train and around the corner on Tran Quy Cap Street for travelers to Sapa.
On www.baolau.vn you can find schedules, prices and a booking system which is provided in English and therefore easy to use and understand. Also, schedules and prices for other types of transportation such as buses, ferries, and flights can be found on this website. It is advised to book in advance to ensure your spot, especially if you prefer to travel on the weekend.
One interesting point to note is that children younger than 5 years old can travel along on the train for free and that children ages from 5 to 9 can travel for half of the regular adult ticket price.
No matter which destinations you are heading to, one thing for certain is that if you wish to experience the Vietnamese culture and to see the wonderful surroundings, the train ride will definitely provide a great way to get closely in touch with the local's way of life.