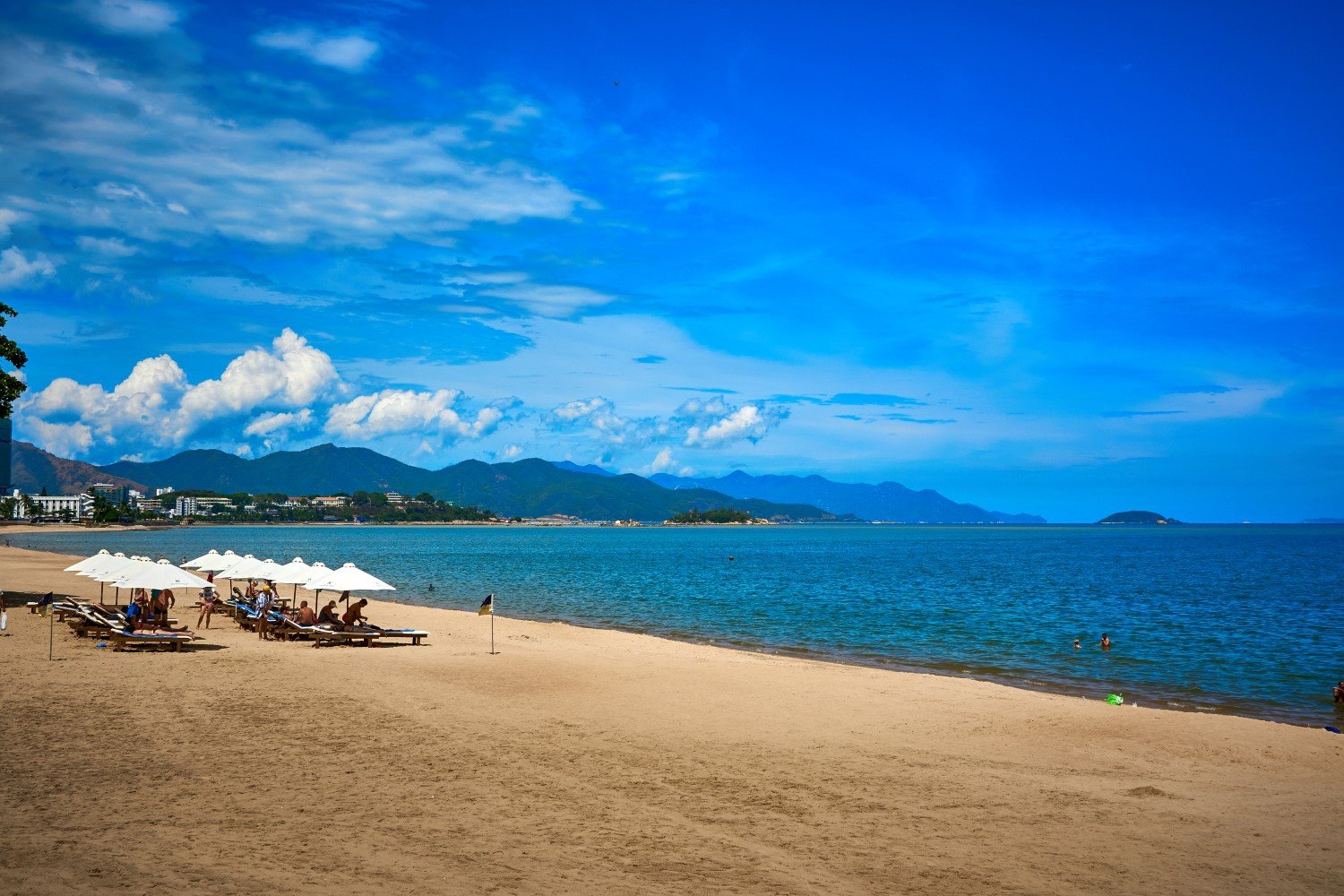 When you mention Nha Trang, one thing comes to mind: the beach.
Adventure
Nha Trang's pristine coastline runs along the eastern edge of the city, opening to beautiful beaches and azure waters. Long standing as Vietnam's most popular seaside destination, visitors come from near and far to soak in the region's tropical climate and warm, sunny appeal. Nha Trang, however, isn't just a beach-bumming destination. With a range of attractions, activities, and unique destinations beyond the beachfront, visitors to Nha Trang will be pleasantly surprised when it comes to filling their days (and nights!)



Cultural Adventures: A Taste of True Vietnam
Vietnam's culture, history, and heritage is one of its biggest attractions. People come from near and far to immerse themselves in this rich Southeast Asian country, with amazing food, super friendly locals, and endless historical sights to explore. When touring Nha Trang, visitors will not be disappointed in the cultural fields. In fact, one of the city's most unique and interesting places to visit is Po Nagar.


Po Nagar Cham Towers date back between the 7th and 12th centuries, when the Cham kingdom was flourishing in the central Vietnam region. The Cham peoples built impressive religious structures in dedication to Yan Po Nagar, a goddess that modern historians equate with the Hindu goddess Durga. Though only a few of the towers remain, these incredible structures are some of the best preserved Cham ruins in the country and are well worth a visit. Beware if visiting during peak hours of the day, when the crowds are thick and the sun is at its hottest, and bring your bargaining skills if you plan to make some purchases in the outlying areas.


Another excellent cultural visit in Nha Trang is Long Son Pagoda, located on a central hill in the midst of the city. A tumultuous history lies behind this Buddhist Temple, with cyclones and war doing considerable damage to the original pagoda. What stands today is a renovated extension from the first pagoda, plus its iconic Gautama Buddha statue (which generally captures the most attention.) The 24-meter whitewashed statue stands in place of the original pagoda (which was moved after the cyclone) and makes the sight visible from all over the city. There's a large reclining Buddha on site as well, in addition to some great vantage points providing excellent views over the city below.


For a more modern cultural visit, head to the central markets of Nha Trang. There's no better way to experience today's culture of Vietnam than to stroll through the stalls, alleys, and open air scenes where the Vietnamese pick up their daily purchases. For a more touristic experience, head to Dam Market (Chợ Đầm) where open air vendors sell everything from food and trinkets to clothes and kitschy souvenirs. If you're planning on doing some big shopping here, make sure you're driving a hard bargain! If you're interested in a more local market experience, head to Xom Moi Market (Chợ Xóm Mới) along Ngo Gia Tu. For those looking for a more comfortable, air-conditioned shopping experience (and where the young, modern Vietnamese will be hanging out,) head for the Nha Trang Centre Complex along Tran Phu Street.


Natural Escapes: The Great Outdoors
If you're looking for a glimpse into Nha Trang's natural wonders, you don't have to go too far. For a therapeutic visit, head for the Thap Ba Hot Springs, north of the Cai River along Ngo Den Street. The waters in this murky, muddy oasis are supposed to have remedial qualities that heal all sorts of aches and ailments. Another excellent natural visit are the waterfalls of Ba Ho. Though a bit of a drive outside the city, visitors can enjoy beautiful falls and some excellent trekking routes around the area.


If you're looking to stay more local, head for the beaches and dive (literally) into the pristine waters of the East Sea. Here you will find some amazing underwater life surrounding the islets jutting off Nha Trang's coast. Package tours can take you snorkeling or diving, accompanied by internationally certified dive masters who also offer PADI training courses. If you're prefer to stay above water, there are also fantastic sailing excursions that are available to tourists, bringing you comfortably around the tropical islets dotting the coast.


Man-made Escapes: Parks for All Interests
While Nha Trang, a beach-bumming destination, may be known for its natural beauty, it's also known for housing one of the country's most successful theme parks. VinPearl Land is a giant theme park located on the island of Hòn Tre, just off the southeastern coast of mainland Nha Trang. This complex houses a five star resort, water park, amusement park, and underwater world. A Guinness World Record breaking cable car extends from mainland Nha Trang to VinPearl Land (one of the few ways guests can access the site), providing some beautiful views over the city and coast. If you're looking for a fun few days or a family getaway from mainland Nha Trang, this might be a great trip.

In addition to VinPearl Land, Nha Trang also offers some excellent golf courses for those looking to hit the links during their visit. One world class class golf courses is found on mainland Nha Trang (Diamond Bay Golf- course design by Andy Dye), while the other is located on Hon Tra- part of VinPearl Land. Both are excellent courses and do a great job of capturing the beauty of Nha Trang.

Staying Satisfied: Food, Drink, and Entertainment
When it comes to these three crucial elements of travel, Nha Trang does not disappoint. Housing everything from Mediterranean and Indian to American, Italian, Japanese, and, of course, Vietnamese, you will never go hungry or uninspired when it comes to meal time in Nha Trang. Being on the ocean, do yourself a favor and enjoy some deliciously fresh seafood (BBQ's are the best!) at one of the local stalls… it's a Nha Trang - bumming experience all in itself!


For the thirsty lot, Nha Trang has plenty of watering holes to match all interests and expectations. From the beachfront Sailing Club and stunning rooftop bars to expat dives and even a Louisiane Brewhouse (beer brewed locally for the restaurant)… you will not go thirsty in this coastal enclave.


For the late night crowd, Nha Trang also offers a range of clubs, live music venues, pool bars, sports pubs, and the aforementioned Sailing Club and Louisiane Brewhouse (for fun on the beach). Nha Trang likes to stay up, so you won't have too much trouble nosing out a good time here.

Relax, Rejuvenate, and Enjoy!
Nha Trang is the ideal place in Vietnam to visit if you're looking to combine sun, salt, sand, and entertainment. When all the above are exhausted (along with yourself), remember that the most popular pastime here (among the tourists at least ) is lounging on the beach! If you're looking to beach it, the best time to visit Nha Trang is between late January-August when the weather is hot and dry. If you're looking to do some diving, the water clarity is best between March/April-August/September. Rainy season is between October-December/early January, so plan your beach vacations accordingly!


Regardless of what's bringing you to Nha Trang, you're bound to have an amazing time exploring this coastal gem. With national highways leading to the coast and an international airport connecting the city to the rest of the country, accessing Nha Trang is a breeze. So kick back, relax, bring your sunscreen, and enjoy the beautiful scenes of Vietnam's south central coast!

Author: Daniel Robbins
Photo: Khánh Hmoong, Daniel Koffijberg, Lawrence Aggrey - Fynn, Malingering, Boris G, Aleksei Tuiman, Sailing Club