No Place is Perfect
Adventure
No place is perfect but being eager to learn the different cultures will make you soon to be perfect
Our Top Experiences and Tours in Vietnam:
If youʻre booking your trip to Vietnam last minute, we have you covered. Below are some of the top tours and experiences!

We should start by saying that Vietnam as a country has one of the lowest crime rates around the world. You can feel safe being on the streets (or even alleys!) of even the largest cities of Ho Chi Minh City and Hanoi, at any hour of the day or night. Maybe a large part of this safety is due to the culture having roots in religions that do not tolerate harming others. Also, the fact that guns are not allowed to be owned by citizens positively strengthens the equality and safety among neighbors/citizens/tourists.

So to know that you will never be in real danger while traveling in Vietnam is relieving. Of course though, no place is perfect, and there are a few pesky things here too, to know how to avoid. One should remember that Vietnam is an emerging country/economy, and it has been exciting and tempting to see tourists flood in with money ready to spend. Thankfully, the majority of Vietnamese people welcome guests and treat them with utmost, world-class respect and care.

Now you only need to quickly educate yourself with our tips to not sweat any small potential issues- because now you will know what to expect and how to handle anything!

"Drive-by Motorbike Phone Snatchers:"

The Vietnamese government has taken this reported issue very seriously, and therefore the incidents are decreasing. Pick-pocketing has been reported in many cities around the world, and the perpetrator usually has a sneaky tactic. This is not the case here, as typical "pick-pocketing" isn't common. The way this can happen in Vietnam is for someone on a motorbike (often two younger guys), to drive-by and try to grab a cell phone out of someone's hand. Visible jewelry or handbags are also typical targets, so it is best to keep straps of bags held close to the body (or stowed in the compartment of a motorbike while driving). It's also smart to leave any flashy jewelry at home, so you can avoid drawing attention to yourself or feeling like you have something valuable to lose.

Therefore, it is quite simply to avoid, as it doesn't mean that you need to guard your pockets- but only be careful with what you swing around in the air! With a watchful eye and a careful grip on your valuables, you should not need to worry about this happening to you.

Local Tips:

1.     Leave your phone in your pocket or purse!

2.     Attach a strap, if you don't already have one, to your camera! (And maybe even your phone!)

3.     Leave your most important and valuable things (ex: passport) in your luggage/ do not bring out if you go out at night.

4.     If you need to check something on your phone while on the streets (for example, to take a picture or check a map), please do so with caution. The best way to do this is have someone watch your back for drivers-by, while you carefully hold your phone close to your body.

Lastly…If you are subject to an unfortunate incident like this, do not let it set the tone for your whole trip! Of course we understand that these things can feel frustrating, if not devastating in the moment…but if you let one persons' mistreatment get you down, you would be doing yourself a disservice if you shut down to all of the beautiful people and moments that Vietnam has in store for you!

Cyclo Tours:

Some cyclo drivers have had success in the past with charging tourists an overly high rate for their tour. You can enjoy a cyclo tour and not sweat this small potential issue by doing simply this:

1.     Make sure to set a fixed price (per person or per group!) for the tour.

2.     Set the range of time that the tour may run (for example, agree that the fixed price will be for the tour- no matter if it takes 1 hour or 4 hours).

3.     To make this decision completely clear, you could write down the agreement for both parties to look at and confirm!

4.     Also make sure to see the cyclo first, and make sure you and your group will have a comfortable amount of sitting room.

5.     Lastly, if you're going to be hopping off of the cyclo to go in to any location, creating waiting time for the driver- make sure to establish that waiting time is included in the agreement and that it cannot add any extra charge

Remember: Bargaining is a natural part of the buying process for both goods and services in Vietnam. Even if the original offering price seems nice, it is smart to still bargain a bit, as it shows that you aren't just going to go along with anything offered to you or be susceptible to any sneaky treatment!

Local Tip: It is best to book a cyclo tour with your hotel or tourism company! Then the negotiation will be handled for you, and you can rest assured that you are paying a fair price and getting a quality, English-speaking tour guide.

Taxis:

Cities in Vietnam surely are not the first cities in the world to have a bit of confusion surrounding taxi prices…luckily, the most ubiquitous and reputable taxi companies here, VinaSun and Mai Linh, both use meters! You can also feel comfortable using Hoang Long Taxi, Vina Taxi, Petrolimex, Future, and Saigon Tourist, they just aren't as ubiquitous as the first two companies we suggest. So please, avoid any potential price misunderstanding, and just use these taxi companies! Usually, you will only stand and wait on the street for just a minute or so before a taxi drives by.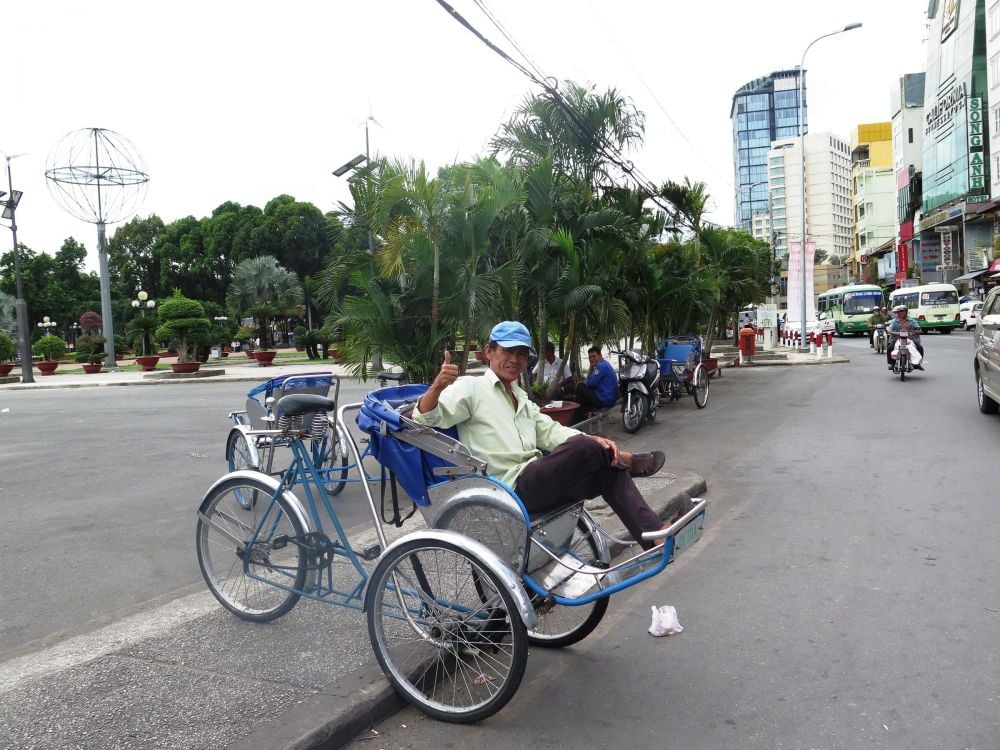 From the Airport:
This is the place that could be confusing for tourists to deal with a taxi decision- because it is the first transportation experience once you land in Vietnam. But don't sweat it! You are prepared with the knowledge about the two best taxi company options to use, and you shouldn't have any issue!
At the Tan Son Nhat Airport, as you walk out of international arrivals, you will see a taxi stand on your left. From the domestic terminal, you walk across the street to see the taxi attendant. At either place, you just tell the attendant that you want a Mai Linh or Vinasun taxi. You may be offered a Saigon Air Taxi, but just politely dismiss this or any other company. You can keep in mind that from the Tan Son Nhat Airport to most places in District 1, a taxi should be around the 150,000 VND mark. Not bad!
Local Tips on Taxi Meter Pricing: The legitimate taxi companies' meters start with a charge between 12,000 - 14,000 VND, and after the first kilometer or so, the fare goes up by 1,200 - 1,400 VND every additional 200 meters. Ho Chi Minh city is relatively small, and after a taxi ride or two, you will easily understand how much a reasonable fare is if you know approximately how far of a distance you are going.
How to tell driver your destination: The easiest way to convey your destination address is to show the map location on a device, or at least have the address written down correctly (as pronunciation in Vietnamese can be very difficult and could result in a misunderstanding).
Tipping: For taxis and cyclos, tipping is not expected. Even if a driver insinuates that they would like a tip, you do not have to feel obliged to give extra unless you feel that an extra appreciation is appropriate. If you do give the driver a tip, 5-10% of the total price is more than enough.
Just In Case:
If you happen to find yourself in a situation where a driver is creating any confusion about payment, you can try taking a photograph of them or their license plate. This signals to the driver that you would be willing to report any incident or miscommunication if you feel like you are being treated unfairly, and this tends to intimidate them if they know they are acting out of line. In any event that you feel physically threatened, you can say that you're going to call the police- and please have these emergency numbers on hand! 
Tourism is very important to the Vietnamese people and the country's economy, so the government has made it a priority to minimize any potential issues for tourists. And the people of Vietnam, as a whole, are usually so unbelievably kind (and definitely not greedy!), so it is highly unlikely that you will experience any issues. We hope you have the best time possible and enjoy all of your travels.