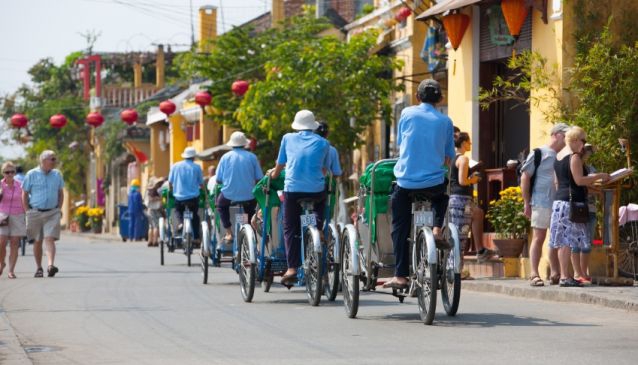 Vietnam's Most Unique Destination
Adventure
Vietnam's port city of Hoi An once ranked amongst the Southeast Asia's most important trade harbors. Ships from all over the globe sailed in off the East Sea and down the Thu Bon River to unload, reload and overnight in Hoi An's bustling, mango-colored streets. For centuries, the small city thrived along Vietnam's central coast. But at some point in the 19th century, the river's banks began to silt up. Large ships were unable to navigate the now shallow river, having drastic effects on Hoi An's trade. With business quickly moving to other locations, the area turned into a veritable ghost town. The waterfront streets, colorful Japanese bridge, merchant quarters, communal houses and assembly halls were all abandoned; Hoi An's thriving years had come to an end.
In the mid-1990's however, Vietnam started appearing on the world's travel maps. Amongst the multitude of attractions that drew visitors in (from breathtaking beaches and landscapes to amazing culture and history), was the tiny forgotten town of Hoi An. Wholly untouched from the hands of time, war and modernization, Hoi An looked the same way it did 200 years before. After winning UNESCO World Heritage status, the town was brought back to life and impeccably preserved.
Today, Hoi An has become one of traveler's favorite destinations in Southeast Asia. Strict rules and regulations keep the town looking uniquely ancient & charming, while catering to the tastes and needs of modern society. Visitors will be absolutely spellbound by the old Japanese Bridge, iconic merchant houses, Chinese Assembly Halls and Communal Houses, all traditionally decorated and perfectly frozen in time. From the bustling riverfront Bach Dang to the interconnecting, moss-covered alleyways, Hoi An wins the hearts of all its visitors.
Alongside its ancient appeal, Hoi An also has a plethora of other attractions that keep visitors staying for weeks on end. Pristine palm-lined beaches and crystal clear waters busy sun-loving nomads, while sprawling rice paddies, delicious restaurants and endless activities keep everyone else occupied. Whether you're looking to get some clothes tailor made (Hoi An's famous trade), take a cooking class, experience some world-class diving or just soak in the history of the "old town", Hoi An has something for every traveler.
If you're planning a trip to Southeast Asia and Vietnam, a visit to Hoi An is simply a must. If you want to get the most out of your trip, check out our new Hoi An Travel Guide, filled with all the best sites, activities, hotels, day trips, Old Town information and more. Book the ticket, take the plunge and embark on a vacation you'll never forget!