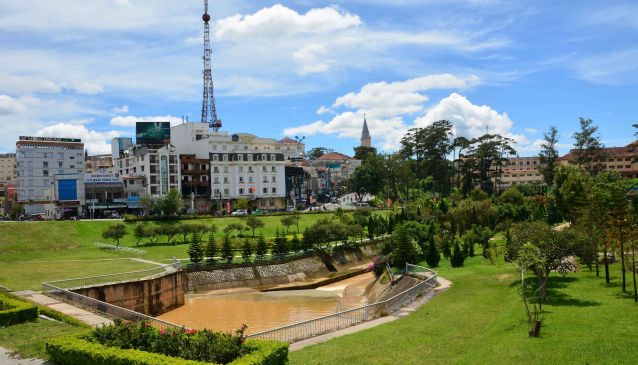 A short stay in Dalat
Adventure
A European styled city in Vietnam's cool Central Highlands
At a height of 1500m above sea level, Dalat wins the title of "the honeymoon capital of Vietnam" and most young girls yearn for the lush flower gardens, peaceful lakes, dense pine forests and cool weather which promotes the sharing body warmth with a loved one. The romantic city, where it seems to be spring time all year round, even has its own Eiffel Tower. Well, it's actually a red and white radio tower but looks strikingly similar and like the original, it's also admired by throngs of local and foreign tourists each year.
Way back when, during the 1890's, French physician Alexandre Yersin famously declared a resort be built at the location of modern day Dalat. Funnily enough, the resort town of Dalat was originally intended to be an escape from the sweltering coastal cities and for French officials only. They hastily built health spas, a golf course, parks, schools, hotels and lavish homes and the modern day population of 200,000 humble inhabitants look back at it's past with pride and embraces its European flavour and countless remnants of the early 20th century town can easily be found. A little distance outside the town centre, you'll see dozens of French Villas and homesteads still scattered throughout the surrounding hills - some are a little hidden after urban sprawl has enveloped them.
The most famous export from Dalat is a close tie between strawberries and flowers. If you buy any of these products in Vietnam, particularly hydrangea and golden everlasting flowers, there's a good chance they originated on the hillsides of Lam Dong Province. A large variety of the region's most gorgeous and fragrant blossoms are showcased at the always popular attraction - the Dalat Flower Garden.
No 'French' town would be complete without a locally produced vino and "Dalat Wine" is another well-known export and both the red and white varieties are not a bad drop. Dalat's actually a little too cold for the grapes so they're actually grown in a neighbouring province though the winery is still found beside a lake in Ward 9 of the city. The regions farmed hillsides, like almost anywhere in the Central Highlands area, are often strewn with coffee and tea plantations.
The weather in Dalat is very pleasant all year round with average daily temperatures floating between 15-25 °C. Like elsewhere in southern Vietnam, the misty mountains of Dalat also have two seasons - the dry lasts from December to March while the wet season skims from April to November. The rain in the wet season is like clockwork – sunny mornings with afternoon showers on downpours - so make sure you always pack a disposable raincoat.
Dalat has many beautiful sights and fun attractions but be warned you could get a bit of a kitsch overload at some spots. After the vibrant central market, a must see is the central Xuan Huong Lake, with it's very own fleet cute swan boats. Tip: Only about 5km from here is an even better lake named Tuyen Lam whose peaceful shores are surrounded by large hills, pines and the lavish Tuyen Lam Pagoda. A few other noteworthy religious stops in town are the churches of Domaine de Marie Church, perched high on a nearby hill and the Chin Toa Church, located at the heart of 'French' Dalat.
The beautiful art deco railway station was opened in 1932 and while most of the line to Phan Rang Thap Cham has long gone, 7km still remains to take you in old wooden carriages to the nearby town of Trai Mat – a small, local and very interesting town with some unique pagodas.
The famed mountains surrounding Dalat are also home to some much adored waterfalls. Datanla and Prenn are the closest falls to the city and therefore the busiest and they both have other things to do aside from the falls like toboggans, cable cars, ostrich rides, cafes and short hikes. The more impressive waterfalls such as Ponguor and Elephant are a little further from town – one hour in different directions – but well worth the trip. Please note: Some falls have little more than a trickle during the dry season and though less impressive, are still nice places to visit.
The lofty peak of Langbiang Mountain overlooks Dalat city from about a 20 minute ride away. After paying a 20,000 entry fee, there is a 5km road heading to the top which only accessed by either a six-seater four wheel drive (300,000VND/return trip) or a steep but pleasant hike and once on top you have the option of a viewing area with café, or a guided hike through the jungle to the higher peak. On a clear day, the views are amazing and if you ever wanted a photo with a horse painted in zebra stripes, it's here you can get your fix!
For those who are a bit more active, you'll be happy to hear that Dalat is actually fast becoming the adventure sport capital of Vietnam. Companies such as Dalat Canyoning and Dalat Passion Tours specialise in canyoning, hiking and cycling tours and all seem to be centrally located on Truong Cong Dinh St but shop around to find what package and price suits you.
With almost all of Dalat's famous sights outside of the city itself, I'd strongly recommend renting a motorbike if you're confident enough. It gives you more freedom and a chance to stop at will but please take care on the roads as they're often off camber, wet and full of other crazy riders like us! Available through almost any guesthouse for about 100,000VND (5USD) a day and you should plan your general direction before you take off with a map – road signs are as minimal as English is spoken.
Dalat is a special place for Vietnamese, a firm favourite for most foreign travellers who visit and in my opinion it's probably the most liveable city in Vietnam. Outside of peak holiday times it's relatively quiet and much fewer motorbikes and chaos on the twisting hillside streets than other places in Vietnam. Easy to get lost, explore and find a place of your own to relax and contemplate, Dalat is an ideal city to step back in time and escape the vigorous rush others seem to be in.