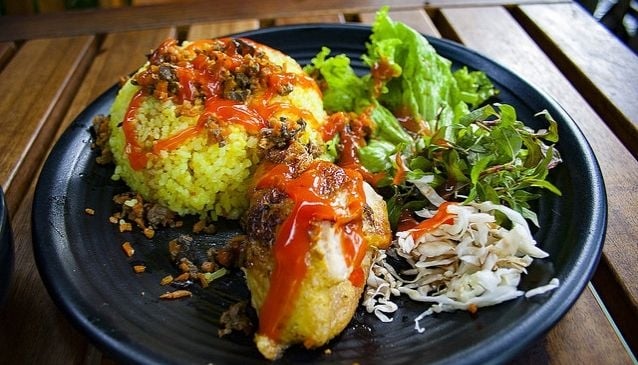 A Culinary Guide to Da Nang
Food & Drink
Whether you're a total foodie or just a hungry traveler, Da Nang will not let you down!
Vietnam's central city of Da Nang has a lot to offer its visitors. Immaculate beaches, beautiful hotels and resorts, unique attractions… and loads to eat! When it comes to food choices and culinary art in Da Nang, no visitor will go hungry. However, if you don't know your way around the city, you may be forced to slip into an uninspiring routine of eating the same nearby meals.
This guide is meant to act as your map to eating around the city, featuring a little bit of everything for even the pickiest tastebuds.
Many visitors coming to Da Nang are going to be looking for one local specialty: the seafood! The majority of Da Nang's notable seafood restaurants are located along Vo Nguyen Giap street (the beach road) leading out to Hoang Sa street in Son Tra district. Nothing screams "local" like pulling up a plastic chair at a plastic table, ordering a range of fresh options and throwing the scraps, newspaper napkins and empty cans on the ground below you. Prices are commensurate on the daily catch and availabilities.
How to find the best seafood restaurant in Da Nang? Ignore the tour buses and look for the seafood restaurants with the most patrons and motorbikes out front. A traveler's rule of thumb: Always follow the locals to the best local eateries!
Not interested in seafood?
Madame Lan's (4 Bach Dang) is a classic option for delicious, traditional and hygienically prepared Vietnamese dishes.
Nuong Da Thanh (105-107 Nguyen Van Linh) offers the city's most delicious Vietnamese Barbecue option, with an sizable range of options to choose from.
Local Meals:
Mi Quang: Quang Nam Noodles with veggies, herbs and a selection of meat or shrimp (1A Hai Phong)
Bo Ne: Hotplate-cooked beef and fried egg, soup and bread! Great for breakfast (41 Hoang Van Thu)
Com Ga: Literally- Chicken and Rice; delicious local combination! (100 Thai Phien St)
Banh Xeo: Crispy fried Vietnamese (savory) pancakes filled with all sorts of goodness! (Ba Duong's on Hoang Dieu Street)
"Dirty Chicken": The ultimate street-side barbecued chicken! (Look for Ga Nuong at the end of Nguyen Van Thoai, just before the roundabout)
If you're looking to get outside the standard Vietnamese fare, Da Nang has a great selection of international foods to choose from:

In the past few years there has been a great influx of Japanese coming to Da Nang for work. The result has been a small range of authentic Japanese eateries, established, trained and often managed by Japanese owners.
Sky Sushi Bar Manten- Full Menu (31 Nguyen Tat Thanh)
Koi Sushi- Sushi and Bento Boxes (#53 An Thuong 2)
Bushido- Full Menu including Japanese-style BBQ (90 2/9 Street)
Aji Ichi- Full Menu including authentic Ramen Noodles (3 Hoang Van Thu)

Restaurants serving regional favorites, traditional go-to's, Vietnamese fusion or a bit of everything! All restaurants listed below are an excellent, time-tested option:
Waterfront Restaurant and Bar- Excellent international and Vietnamese food options (150-152 Bach Dang)
Fat Fish- Pizza, Mediterranean and Asian Fusion Cuisine (439 Tran Hung Dao)
My Casa- Spanish/Italian/Malaysian fusion : Great food, excellent staff and delicious cocktails (52 Vo Nghia)
Red Sky Bar and Restaurant- Excellent menu of high quality steaks, salads and great international options (248 Tran Phu)
Le Rendez Vouz Restaurant and Wine Bar- French cuisine at its finest! (20 Ly Thuong Kiet)
Le Bambino: Upscale French/European cuisine (122/11 Quang Trung Street)
Taiwanese/ Mexican:
Taco Ngon: Strange cutural combination ? Maybe. Must-try in Da Nang ? Yes. Delicious tacos with amazing ingredients made with love (60 Chau Thi Vinh Te)
Spanish:
Oasis Tapas Bar- Delicious tapas bar and great atmosphere (An Thuong 4)
Merkat- Authentic Spanish and Mediterranean cuisine (79 Le Loi)
Family Restaurant- Arguably Da Nang's best Indian Food (231 Ho Nghinh)
Mumtaz Restaurant: Great mix of Indian, Halal Asian Food (231 Tran Phu)
Burgers:
Burger Bros- Masters of the burger… so delicious!! (#18 An Thuong 4)
Luna Pub- Amazing pizza, delicious Italian food and fun atmosphere! (9A Tran Phu)
Nha Leo- Pizza and Cakes in a relaxed setting (11 Ha Chuong)
Traditional English:
Eastside Fish and Chips- Classic Fish and Chips! (119 Nguyen Van Thoai)
Da Nang has a growing list of fabulous hotels and resorts with great food options that are open to outside guests. Whether you're looking for a meal with a view or a taste of the luxurious life in Da Nang, the following are excellent options:
Intercontinental Resort: Located on the tip of Son Tra Peninsula (15-20 minute taxi ride), the Intercontinental Resort has the city's most extravagant Sunday Buffet. You won't get views like this anywhere else in Da Nang!
Pullman Da Nang: Excellent oceanfront dining is available at Pullman's Azure Restaurant. Selection is fresh and inspiring with very reasonable prices. Located along Vo Nguyen Giap Street.
A La Carte: A high-rise hotel along Vo Nguyen Giap Street, A La Carte offers a dining experience with amazing panoramic views of the city.
Grand Mercure Da Nang: If you fancy Dim Sum, the Grand Mercure offers a daily all-you-can-eat Dim Sum buffet that's out of this world! (Green Island/Hoa Cuong Bac, Da Nang)

Whether you're a total foodie or just a hungry traveler, the culinary choices in Da Nang will not let you down! During you stay, try and sample a bit of everything the city has to offer: Vietnamese favorites, upscale dining, international fare and local Da Nang specialties. Not sure where to dine? Do what the savvy travelers do: look for the locals!

Cover photo : Com ga. Copyright Pham Minh Khanh