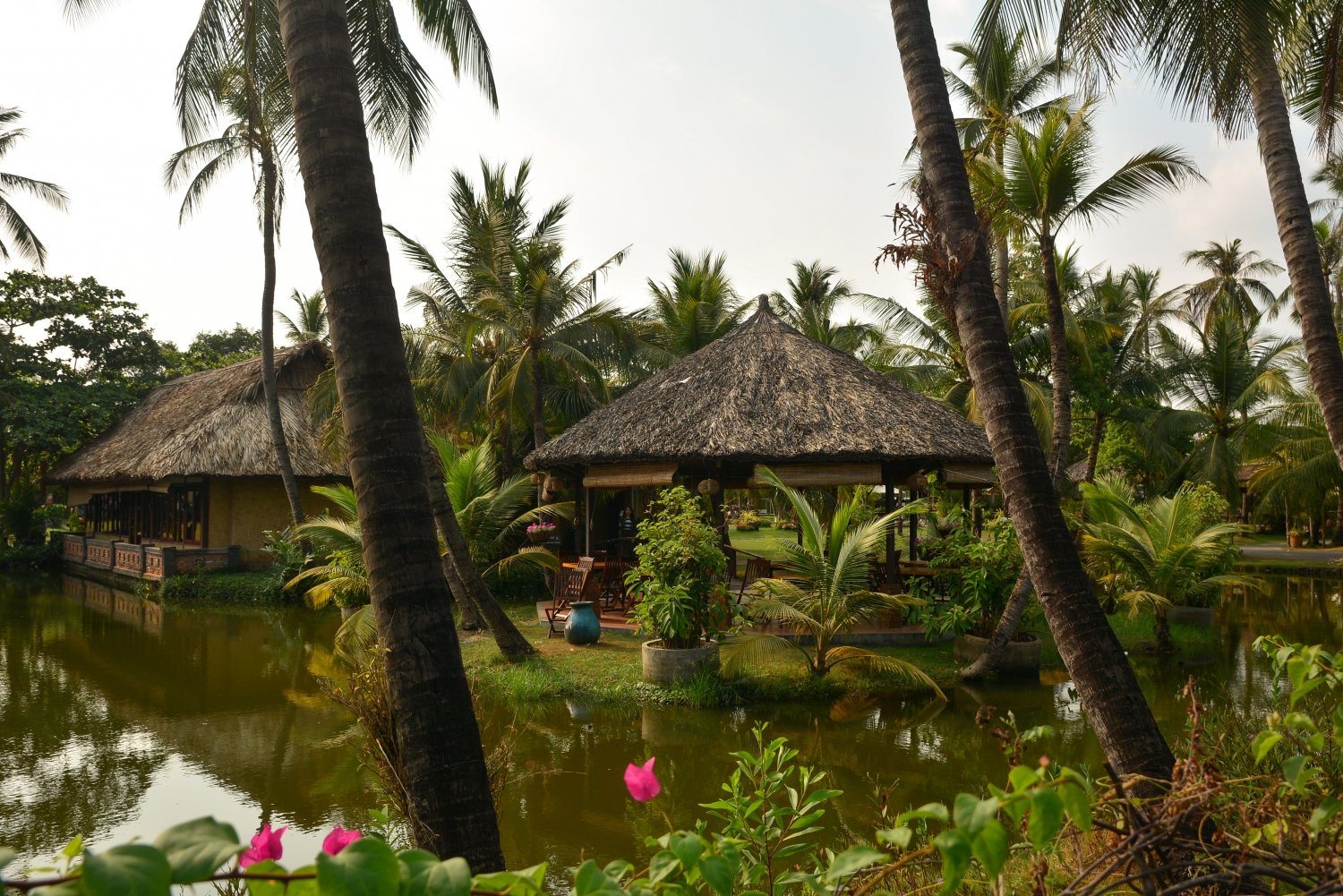 Saigon Neighborhoods: Thanh Da
Editorial
Home to Saigon's most beloved tourist parks
Fish Farms
Most younger day Saigonese know Thanh Da for its fish farms. Most of these 'farms' are actually restaurants with enough deck space and tables for large families and groups to eat drink and be merry. Fishing between meals is encouraged and Karaoke can be heard blasting out from the center of the crowd, when the desire arises. Most of the farms are literally built over rivers or in the center of mangrove forests, which create quiet and beautifully shady refuges from the outside world.
Câu Cá Giải Trí Thu Nga 1
Thu Nga 1 is a large fish farm and entertainment complex that usually hosts families and large groups on the weekends, though anyone is welcome to come and enjoy the atmosphere here.
Ao Cá Số 1 (Map)
A smaller farm and a little down the road from Thu Nga it's a quiet, simple affair here, though a very relaxing spot.
Tourist Villages
Thanh Da' tourist villages are a bit better known to the older generation. Back during the 1970's when
Binh Quoi Tourist Village
was built, the area was well and truly 'out there' and even though you can see modern housing and buildings on the opposite shore these days, it's still idyllic.
The gardens are meticulously maintained and very popular with young lovers for pre-wedding photos and remain free of charge to wander around. Engaging in some other activities such as small boat trips, fishing, traditional games and folk music help you experience some unique aspects of rural life in Vietnam.
Binh Quoi Tourist Village has grown since its humble beginnings and now actually comprises of three sites: Binh Quoi 1, 2 and 3. Well known for it's weekend buffets, Binh Quoi 1 is the place to try some delicious food, particularly southern cuisine, and is right beside Binh Quoi 2. We recommend checking them both out on the one visit.
Eat/Drink
Aside from the Binh Quoi complexes there are plenty of good spots to eat and drink Thanh Da, though big restaurants are a little harder to find here than District 1. Try the food at a small stall or shop; better still, there are some lovely spots along the southern bank of the island.
- Ben Song Restaurant/Relax Garden Bar
-
12AB Khu Dau Khi St
, Thanh Da, Binh Thanh.
A popular restaurant and bar with views across the Saigon River to Thao Dien, District two. A quiet and peaceful spot.
- Tre Xanh – 2 Thanh Da, Binh Thanh
A simple, open air café that serves simple and tasty dishes. Comfortable seats and good location beside the river. Not far from the Relax Garden Bar.
- Song Trang Restaurant
– 233A Binh Quoi, Thanh Da, Binh Thanh.
Here is where you'll witness some of the most incredible views of the Saigon River. The large deck at
Song Trang
allows almost everyone a glimpse and the extensive menus offers some great food from all over Vietnam.
"Cháo Vịt" –
Duck Rice Porridge
No trip to Thanh Da is complete without devouring a bowl of Chao Vit which this suburb is also famous for. Chao is a delicious stew-like rice porridge, usually served with chicken, pork or intestines, rarely duck. It's harder to find places that serve it these days, so it's lucky there is one large and famous shop on the right as you come over the bridge.
Market/Thanh Da Condominiums
Fancy yourself a lover of architecture and street life? Make sure you visit Thanh Da market and the unique condominiums that surround. Built before 1975, they are reportedly the oldest apartments in the city and make you feel like you've been sucked into a time warp. Whilst they are not tall, they house a lot of families and make for vibrant market in the surrounding alleys. Best time to visit the apartments is 4-7pm, as the air becomes cool and locals go out collecting groceries.
Accommodation
Saigon Domain
The luxury residences of
Saigon Domain
are not just Thanh Da's but also vies for the title of the city's best accommodation. Being out this direction in the city allows for some spectacular views over along the Saigon River though it seems far away from the action of District 1. With a regular and free shuttle bus and boat service to and from the city center you shouldn't find this problem.
Getting there
Thanh Da is approximately 20 minutes away from downtown Ho Chi Minh City (Ben Thanh Market)
Bus number 44 from Ben Thanh Market: 5-6,000VND
Taxi from Ben Thanh Market: 150-200,000VND
Author: Ratcliff Mark
Photo: Ratcliff Mark