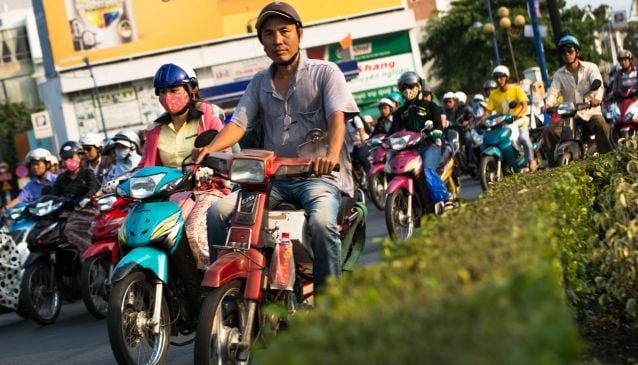 Motorbikes in Saigon
Adventure
The closeness of the Saigonese is even more charming when you join the sea of two-wheeled dare-devil
Most people can only describe the crowded and fast paced streets of Saigon as "organized chaos". With all it's distraction and craziness, who could disagree? Almost six of Vietnam's thirty eight million registered motorbikes belong to the heaving southern metropolis which explains why the organization quite often seems to disappear and plain old chaos is all that remains.
Renting a Bike
Saigon's fun, fast-paced, dangerous and seemingly lawless streets are a great place for some slow paced but exciting riding – though the tarmac here is definitely not the place for a novice rider.
Renting a bike couldn't be easier than in Saigon. Whether you're after a clutch-less semi-manual or an automatic scooter, have a short wander around the Bui Vien/Pham Ngu Lao Streets backpacker area and your sure to stumble across one of a dozen café's or shop fronts with a row of bikes outside on offer.
All you'll need to get rolling is your passport (sometimes a photocopy is ok) and often a small deposit. Please read the paperwork, dates, times and prices before riding away and be aware that you are financially responsible if the bike suffers any damage or theft. Shops like Flamingo Travel and Tigit Motorbikes (District 4) are popular and even offer larger bikes and one-way rentals to Hanoi.
Prices: Semi-manual – 80-120,000 VND/day. Automatic – 100,000-150,000 VND/day
Buying a Bike
If you're considering buying a motorbike in Saigon you're either an expat living here or a travellers going north to Hanoi. If you're the latter you're probably going to want to find a cheap but reliable and comfortable bike.
Craigslist Vietnam can be good place to find a decent bike for travel, like the popular 'real motorbike' Honda Win, but there are also a number of bike shops like Saigon Minsk and Tigit Motorbikes that are popular and trusted for sales of several types of bikes. Many other shop fronts are also found randomly around Bui Vien St. Other than that, travellers often post their bikes on flyers outside their accommodation or with a sign outside the pub or cafe where they just happen to be.
Semi-automatics like a Honda Wave or Yamaha Sirius are also quite good on Vietnam's roads and like the Honda Wins, spare parts are easily found. Fully automatic scooters like the Honda Nouvo are also popular but are harder to repair when on the road and use a lot more fuel in comparison. Spend a bit more if need be and look for a a bike that has received a bit of maintenance and repairs recently.
Honda Win $150-350, Semi Automatic $150-300, Nouvo (Full Automatic) $200-$350
Xe Om/Motorbike Tax
Like I said before, if you have little or no experience on a motorbike, do not begin in Vietnam, especially in Saigon! A visit to this city though is not complete until you've been zipped around it on two wheels and "Xe Om's" (Hug bikes) are motorbike taxis and you can usually find their riders sitting (or sleeping!) on their bikes beside most city corners or alley entrances, usually wearing a dark blue long sleeve shirt. Negotiate the price before taking a seat and if you feel as though he's overcharging, walk away and try another down the road.
Prices: Short trips should be between 20-30,000 VND – Never more than 50,000VND
Hire - if offered a tour of Saigon, even other districts, 100,000VND/hour is plenty.
Licenses/ Insurance /Blue cards
Now the bad news. At the time of writing, licensing in Vietnam is…. complicated. If you have a motorbike license in your home country or even an International Driving Permit – neither is valid.
The only form of license valid at the moment is a Vietnamese License which is a long process to apply and it only lasts the length of your visa. Keep in mind that if you're injured riding a bike in a country where you're unlicensed, most travel insurance companies will not support potential claims.
What is even more unfortunate if you were involved in an accident resulting in damage, injury or death, you are entirely responsible for all costs as you are both unlicensed and uninsured.
The good news: As long as you behave yourself or don't get involved in a major accident, you'll be fine. If you do happen to get pulled over for doing something wrong expect a small fine of between 100,000 – 300,000VND, depending on your violation.
Every bike should legally have a "blue card" clarifying registration, relevant numbers and ownership. A bike without a 'Blue Card' could be taken from you by the authorities and it should be sold for a lot cheaper than if it has one.
Dangerous roads/rules
Vietnam's roads are among the world's most dangerous. Small and congested roads see motorbikes side by side with large trucks on highways and sharing intimate space with buses and cars in cities. The positive to come out of it is that roads are not high speed – cities are under 40km/h and the National Highways are under 60km/h. Keep enjoying Vietnam's roads by remaining slow, sensible and alert at all times.
The huge amount of traffic makes law enforcement of broken road rules very difficult so it's up to the individual to pay attention to one way streets, traffic lights, in addition to your blinker put your hand out to signal a turn if safe to do so. Always check your blind spots, don't rely on mirrors and generally 'follow the crowd'. Hide beside cars when creeping across busy intersections and cutting corners is quite normal – so people know where you're going and adjust themselves to suit. Right turns are allowed at red lights (only in Saigon) so stay away from the very right hand side of the road and always be wary of entering traffic.
Sometimes the best experiences in life can be the most dangerous ones, in saying that, Saigon's roads are actually not as scary or treacherous as you might imagine. As long as you remain alert with a calm mind they're actually a great example of how you can actually find a strong connection with a busy city – hop on a bike and discover it for yourself.