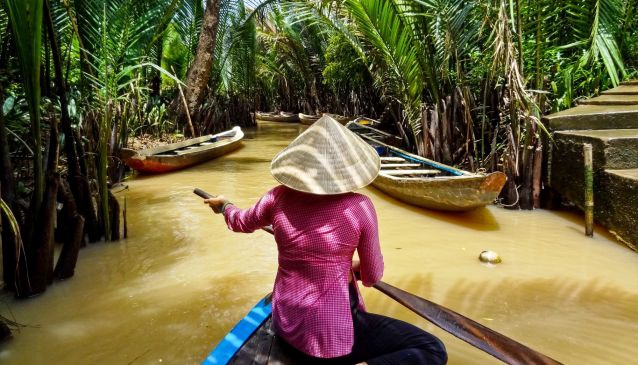 Experience the wonders of My Tho
Adventure
Bring your key as you discover the gateway to the mighty Mekong
Escape the hustle and bustle of Ho Chi Minh City where the air is cooler, food is fresher and the life a little less chaotic. Only a hop, skip and a jump from Vietnam's biggest city, My Tho is a perfect introduction to Vietnam's famed 'Rice Basket' that is the Mekong Delta.
My Tho (pronounced 'Me-toh') is the capital city of Tien Giang Province. Being less than two hours south of Ho Chi Minh City it's often overlooked by travellers for destinations further afield but I can assure you, it's one that should not be missed.
Shaped by a rich history of early Chinese settlement and more recently, French colonisation, modern day My Tho has a population of about 220,000 with an eclectic mix of Vietnamese, Chinese, Khmer ethnicities.
Mekong Discovery Boat Tours: The easiest and most popular option for most is to book a one day Mekong's wonders tour through a hotel or travel centre in Ho Chi Minh City. Prices will vary from 18 USD to 60 USD per person but all include an English speaking guide, bus transport and boat transfers to several small islands. Also included are fruit tastings, lunch, entertainment, a visit to a local honey farm and coconut candy Factory. You may even get the chance to visit one of several crocodile farms in the area!
Boat trips can also be independently booked at the My Tho Tourist Boat Station along the waterfront on Ba Muoi Thang Tu Street but take some friends or find others to join you as you'll usually pay for the use of the whole boat.
These tours are a great opportunity to really get up under the water coconut trees and experience the close relationship these people have with the jungle and waterways.
Vinh Trang Pagoda: Without a doubt the most beautiful and unique pagoda you will see on your trip to My Tho, possibly Vietnam! It's a large, peaceful place popular with locals and tourists alike due to it's mix of Khmer, Chinese, Vietnamese and European design features. There are some remarkably large statues of Buddha and some just as equally stunning gardens surrounding them. Only a short walk from the city centre on Nguyen Trung Truc Street, it's free to visit but small donations at the prayer 'altar' are very much appreciated.
Dong Tam Snake Farm: About 6 kms from My Tho City centre is the surprising Dong Tam Snake farm; one of the biggest suppliers of anti-venom in Vietnam! Run by the military, the medicinal, breeding and research centre is set-up as a small zoo and open to the public to raise funds and awareness. Cobras, green trees snakes and large pythons can be seen up-close as well as a number of monkeys, bears, ostriches and a giant albino turtle. The enclosures here can be quite crude by western standards but I do believe the animals here to be quite respected and well-cared for.
My Tho Waterfront:. The Tien River is the uppermost tributary of the Mekong Delta and is a spectacular place any time of day. The waterfront promenade in the city centre is a perfect vantage point to see the cargo boats and passenger ferries go about their daily business. I must say that the area is at its most glorious as sunset approaches and local families flock down there to appreciate the cool evening breezes. You'll find plenty of drink stalls and cafés there and if you're keen on rooftop bars there's a great one to be found at the nearby Minh Quan Hotel.
Markets: There are some popular markets in the area and your time in My Tho is not complete until you have visited one. Set-up either on or beside the waterways, markets on the Mekong are unlike any other in the country.
My Tho Central Market: Located as the name suggests, it's smack bang in the centre of it all and a great place to come and see local products and people. I encourage you try the area's specialty fruits like Longan, Rambutan and the famous Star apples (which are called 'breast milk' in Vietnamese!).

My Tho Food Market (Night): If you're hungry from a big day on the river or feeling a bit peckish after watching the sunset, wander along to the tourist boat stations and you'll find dozens of makeshift food stalls. Choose from hundreds of reasonably priced dishes cooked right in front of your eyes! It's a great place to soak up the environment and get a fresh, delicious and cheap Mekong dinner.

Cai Be Floating Market: Cai Be is located about 40km West of My Tho and can be reached within an hour by local bus, taxi, hire car or motorbike. The floating markets here are the closest you'll find to Ho Chi Minh City and while smaller than the famous Can Tho Markets, it's much more authentic. Tourist boats can be hired any time of day in Cai Be but my tip would be get there at not too long after sunrise to see it at its liveliest!
Getting to My Tho –
If a tour is booked, buses will usually pick you up from your hotel in Ho Chi Minh City. This is a perfect option if you time is limited but for the traveller with a bit more, you will not be disappointed staying in My Tho a little longer.
Public buses are available every half an hour from Ho Chi Minh City's 'Mien Tay' Bus station at a cost of about 60,000 VND (3 USD) and My Tho's bus station is about 2 km's west from the city centre and waterfront.
Another convenient option is a private car (under 100 USD per day) or for the experienced adventurer - do as the locals do and hop on a motorbike!

All that's left is to wish you a safe and happy holiday. I hope you enjoy what My Tho and the upper Mekong Delta has to offer!