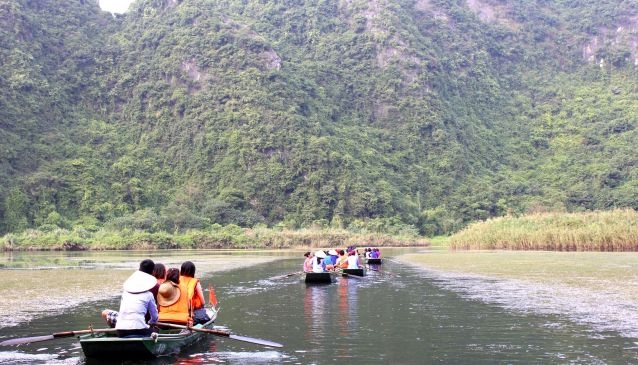 8 Reasons Why Tourists Adore Vietnam
Adventure
Vietnam offers the world's most fascinating culture and unforgettable adventures.
Planning for a new vacation, it always takes a lot of time, you have to think about your budget, your schedule, your destinations, things you want to do … we can help! Check out these top reasons that make tourists adore Vietnam, while at it, get some ideas to help creating your checklist. US news website Business Insider's survey has ranked Vietnam as the top 30 best places to travel in the world. Read on to uncover the intriguing destinations, fun activities, and some ideas which you can use as guidelines to plan your travel getaway.
Although Vietnam is a small country but the latent beauty of the nature will bring surprise and passion to your discovery. It's truly a gem with World Heritage Sites like Phong Nha-Ke Bang National Park, Ha Long Bay, My Son Sanctuary, Hoi An Ancient Town, Dong Van Karst Plateau Geopark …
Besides that, you will be overwhelmed by the world's largest cave Son Doong, terraces in Sapa … or extremely excited with floating market in Mekong Delta ... During the time here, you will realize there is so much to discover. The unforgettable moments and the experience to gain are endless from the time you set foot onto Vietnam.
What is the most relaxing feeling? You can get away from the busy life and stay in the gorgeous islands Phu Quoc, Con Dao … or look at the sunrise with your friends, your family at Nha Trang, Mui Ne, Quy Nhon, Nam Du … or simply walking along the stretch of sand and listening to the waves.
For those of you who are thrill seekers, water sport activities might be of your interest. You can explore the open water by scuba diving, surfing, snorkeling, kite surfing … If you are eager to add further enjoyment to your fun-filled day, make it more perfect by visiting the original fishing village around the block and order your special seafood dinner.
As you might know, Vietnam is the second largest coffee producer in the world. Vietnamese coffee is very rich and strong, the flavor is unique too with Robusta coffee bean. The best grades are from Buon Ma Thuot where the beans are roasted in butter. Most people enjoy coffee everyday with or without condensed milk, it's a custom that you can easily notice everywhere. Take your time, choose a seat at a street corner and order a glass of iced coffee (ca phe da) or milk coffee (ca phe sua da). Soon you will want to return to enjoy the peaceful morning sipping your favorite cup of coffee just like the natives.
Ever wonder where you can try insanely tasty meals other than restaurants? Take a look at the street sidewalks or alley , you can find surprisingly delicious food , called street food. Enjoying a meal out on the street is the most accessible way to explore the daily life which locals are accustomed to. You can easily find street food just about everywhere at a lower price serve with fresh ingredients.
You can try broken rice with grilled pork, bread, sticky rice, fresh spring rolls, grilled food, noodles … Everything is tasty and delicious, you will never forget and want to go back for more many times after the initial try. And don't be surprised if you see people of all ages enjoy street food because it's comfortable and convenient to take home or just stay for a quick meal at any hour of the day.
Many people are asking themselves about Asia's culinary secret, how it can be wonderfully delicious. If you stay a bit longer in Vietnam, you will realize that a meal should be balanced the flavor of sour, sweet, salty and salad, soup, simmered food (fish, pork ...).
Regarding traditional Vietnamese cuisine, tourists are surprised because of the different tastes between each region. The North is a bit salty with many rustic dishes, the Centre is a bit spicy, the South is a bit sweet and enjoy with many kinds of herbs, fresh fish from Mekong Delta...
Particularly, you will fall in love with featured food of Vietnam such as: Beef noodles (Pho Bo), Spring rolls (Cha Gio), Vietnamese Pancake (Banh Xeo), Sweet soup (Che) ... The best way to immerse yourself in discovering new culture is eating traditional food.
Check your schedule carefully and enjoy your trip. You won't have to worry about spending too much money here because Vietnam was ranked on the list of countries for travelling with the lowest price in the world. You can get by with about $12/ day, and it includes a guest house (dorm room or also private room), local food (noodles, bread, sticky rice …), transport (bus, motorbike …) and drink (sugar cane juice, iced tea, iced coffee, smoothie …)
Besides that, it's easy to find a hostel or hotel with a fair expected quality and the reasonable price like: Beepub, Yolo hostel in Da Lat, Backpackers Hostel, Happy Homestay in Hue, Little Leo Homestay and Hostel in Hoi An, Little Ha Noi, Tomodachi House in Ha Noi… or you can find homestay where you can have better opportunities to learn more about Vietnamese culture.
Vietnamese culture has long tradition of colorful festivals with the simple aim like maintaining ancient traditions, commemorating remarkable events to express reverence... Beyond the national events, many local festivals take place throughout the year around the country. These festivals can feature puppet shows, folk songs, traditional music, local dances, wrestling, rowing, chess playing, cock fighting, buffalo fighting…
For example: Bai Dinh Pagoda Festival, Buffalo Sacrifice Festival, Mid-Autumn's Festival, Ba Chua Xu Temple Festival, Lunar New Year Festival … It's so amazing that you can even join in on one of the acts and cherish a meaningful, unforgettable memory.
For those of you who are not yet fluent in Vietnamese, don't let the language barrier stop you. Vietnamese people will welcome you with friendly smiles and warm greetings. Everyone is generous, kind and enthusiastic. If you get lost or need some help, they will be honest to help you with their pleasure. Remember that there's no need to be shy. If you want to know more information or inquire about something, just be confident, try to communicate and explore, learn new things, you will be pleasantly surprised to find the local Vietnamese are kind and friendly.