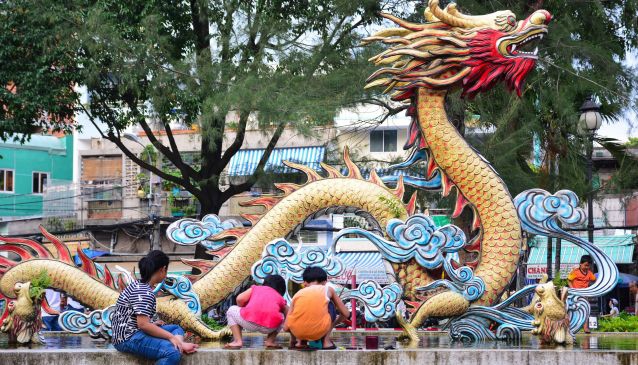 Chợ Lớn - Saigon's Chinatown
Arts & Culture
The Chinese have been settled here longer than the city itself!
"Chợ Lớn" is the beating heart of Saigon's thriving Chinatown, but it also helps to bond the entire Chinese community living in Southern Vietnam. Quite different to the city's other districts, its congested streets and alleys are a great place to spend an afternoon. It's bi-lingual signs, special foods, ancients pagodas and unique blend of culture give Cho Lon a very distinct feel and charm that local Vietnamese even find quite novel when they visit.
During the Tay Son Rebellion, helpless Chinese communities fled neighboring areas and in 1778, settled in a small village near Gia Dinh (modern day Saigon). They began to build embankments along the river and build small canals near this new trading area that would soon become known as "Chợ Lớn" ('Big Market').
In 1879 urban sprawl forced the individual towns to merge and the name "Sai Gon" remained most popular with locals.
These days Cho Lon/Chinatown isn't a district as such but an individual area which takes up the western side of District 5 and parts of the bordering District 6. Most popular with Chinese and Taiwanese tourists, the area offers many hotels to choose from and most staff must speak multiple languages.
Getting there
Easily accessible from District one, it's a 15 minute taxi ride or the #1 public bus that runs from Ben Thanh Market Terminal then west along Tran Hung Dao St . The bus terminates at Cho Lon bus terminal, is cheap (5,000 dong /US$0.25), air conditioned and a lot more personal.
Binh Tay Market ("Chợ Bình Tây")
Cho Lon's epicentre, Binh Tay Market, was built in 1928, a few blocks away from the original which had previously burnt down. While the lower level of Binh Tay Market is a wholesale market, supplying larger quantities to sellers from other markets and shops, upstairs you will find smaller stalls and a great place to find a unique souvenir amongst the household goods, skin care and clothing.
Binh Tay Market is more than shopping. Make sure you take some time here to admire the bygone architecture, wander the upper balconies and weave in and out of the humid, narrow alleys, which are often stacked with goods towering above your head. The workers here are friendly but busy; hence they aren't overly happy when a dazed tourist gets in their way, so keep an ear out and make sure you give them room to do their job!
Local tip: The centre of the market has one of the city's most beautiful memorial courtyards, dedicated to the Chinese businessman who financed its construction.
Pagoda – A Buddhist temple dedicated for the worship of Buddha.
Temple – A building dedicated to the worship of a God or Gods or any other religious object.
While many Buddhist Pagodas in Vietnam take their styling cues from Chinese designs, those in Cho Lon are particularly special. Their timeworn walls encase dark and enchanting grottos, while their hazy courtyards are sanctuaries of calm, completely untroubled by the consuming modern world. The temples can be a little tricky to find but all easily accessed by foot from the bus station or market.
Many of these decorative prayer houses are there not to worship Buddha but other Gods associated with Chinese Zen culture. For example, 'Lady Thien Hau' from "Thien Hau Temple" is the Goddess of seafarers. She is the protector of the oceans and keeps an eye over certain husbands while they're far away from their worried wives. 'Ong Bon' from the "Ong Bon Temple" is the Guardian of Happiness and Wealth, so people usually come here to burn piles of paper money for him, hoping to get more of the real stuff in return one day.
When visiting any place of worship, particularly in Vietnam, remember to dress respectfully (clothes cover the elbows and knees, before you enter the main gates, remove your hat and once inside, speak softly and don't joke about.
Local tip: Most small pagoda's actually close at dusk unless it's a special holiday and almost all Temples, Pagodas and Churches in Vietnam are FREE to enter, regardless of what some may say.
Click these links below for a few more Pagoda /Temple locations in Cho Lon:
1. Quan Am/On Lang Temple (Goddess of Mercy)
2. Tam Son Hoy Quan Temple (Goddess of Fertility)
3. Nghia An Hoi Quan Temple (Dedicated to "General Quan Cong", an ancient Chinese military leader)
Food
Chinese cuisine is loved all over the world, for good reason, and it's highly appreciated in Vietnam. So much so, they have a saying about their ideal life: "Happiness is eating Chinese food, marrying a Japanese woman and living in a Western house." Many familiar Vietnamese dishes can also be found in Cho Lon but usually with a unique twist on their northern neighbors recipes.
"Há Cảo/Steamed Dumplings" – Undoubtedly, the most popular street snack around these parts. These small pork dumplings are steamed and served in a shallow plate, swimming in the vendor's own variety of blended soy sauce.
12,000-20,000 VND for six pieces.
"Peking Duck" – These especially juicy and delicious ducks can be seen hanging in street carts and shop fronts throughout Vietnam but the Chinese were the first to tempt us all with the meat from this force-fed bird. This famous dish is often more thick and crispy skin than actual meat but it's mouth-wateringly delicious, especially on a sandwich (Bánh mì).
"Bánh Bao/Pork Bun" –The famous Banh Bao is the most popular steamed snack all across Vietnam and the juiciest in the country are found right here in Saigon's Cho Lon. Prices at small Banh Bao bakeries can be double the price of others on the street, but trust me, they're worth it. They also have sweet Banh Bao stuffed with green and red bean!
10,000-25,000 VND/bun